If you've ever ordered anything online, you've probably scoured the internet for coupons or discount codes prior to putting in your payment information at checkout.
Of course, there are web browser extensions like Honey that promise to do the work for you, but some contest that even automatic solutions like this don't always find every single code a retailer uses on the internet.
Sometimes, it takes a little bit of snooping, or relying on word of mouth, and if you're a Domino's customer, then this video posted by TikToker Jordan (@jordan_the_stallion3) might be of interest to you.
The viral creator posted a stitched clip in response to another TikToker, Dohyun Kim (@youraveragetechbro) who asked, "What's something that's a weird flex in your world that no one understands?"
"I have not paid full price for a pizza in over 20 years," Jordan responds in his stitched clip. "And as president of the fast-food secrets club, I'm going to share with you guys the Domino's pizza fast-food secret."
Jordan explains that for customers ordering large pizzas online, there's a code they can use that lets them get a discount. He says to place the order as a carryout item, and then add three toppings of your choice to the pizza.
"Now, before you actually pay for the pizza, type in the coupon code '9174.' It takes off 40% off each large pizza that has 3 toppings on it," Jordan claims. "Now, if you guys like medium pizzas put 5 toppings on it and then type in the code '5162.' That is a 40% off coupon for any medium pizzas with 5 toppings on it."
However, one TikTok user thought that Jordan's video was less of a helpful tip that he was sharing with his followers and more of a paid advertisement/partnership he has with Domino's Pizza, presumably given Jordan's redoubtable social media following. "Bro is ABSOLUTELY getting paid for this," they wrote in the comments section.
Another remarked that the codes were disabled after Jordan shared this information online, writing, "Aaaand now those codes are removed lol."
But someone else chimed in and said the chain often offers a variety of different discount codes that customers can use at any given time.
"Dude I work for dominos there's about 15 different coupons you can get constantly online or over phone or in person lol," they said.
Others said they were excited to try the code and see if it works. "Not me trying to order a pizza at 5:40am to see if the coupon works," a user shared.
This writer placed an order for a large Brooklyn-style pizza with extra cheese, grilled chicken, and onions. Before attempting to apply the coupon code, the total for the pie came out to $28.77.
However, after applying the code, an online prompt stated that the code wasn't available for delivery orders, but for carryout only.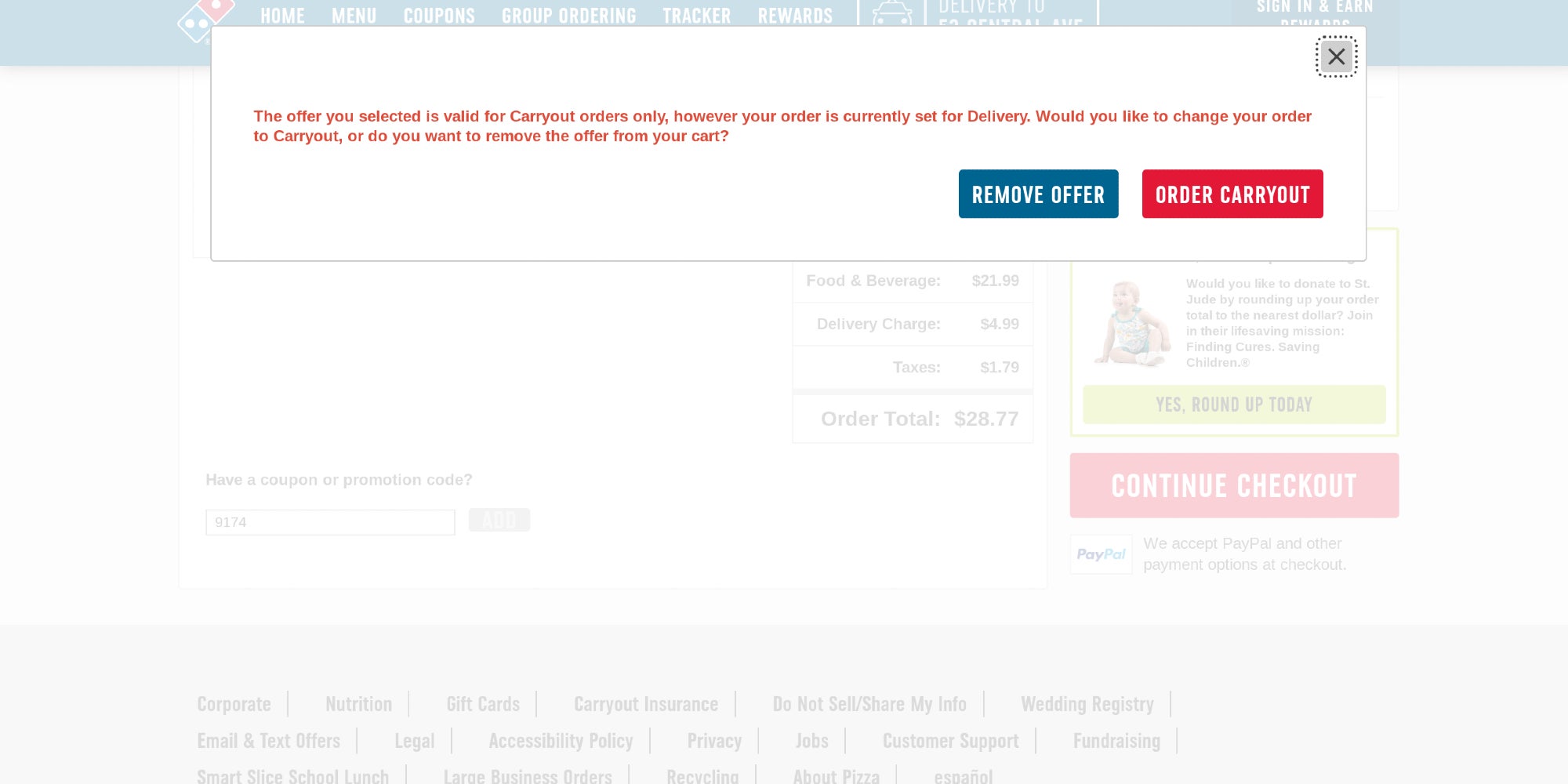 Upon confirming the "Order Carryout" option, the renewed total for the pie read that it would cost $14.38 and listed the carryout location that would be preparing the pizza.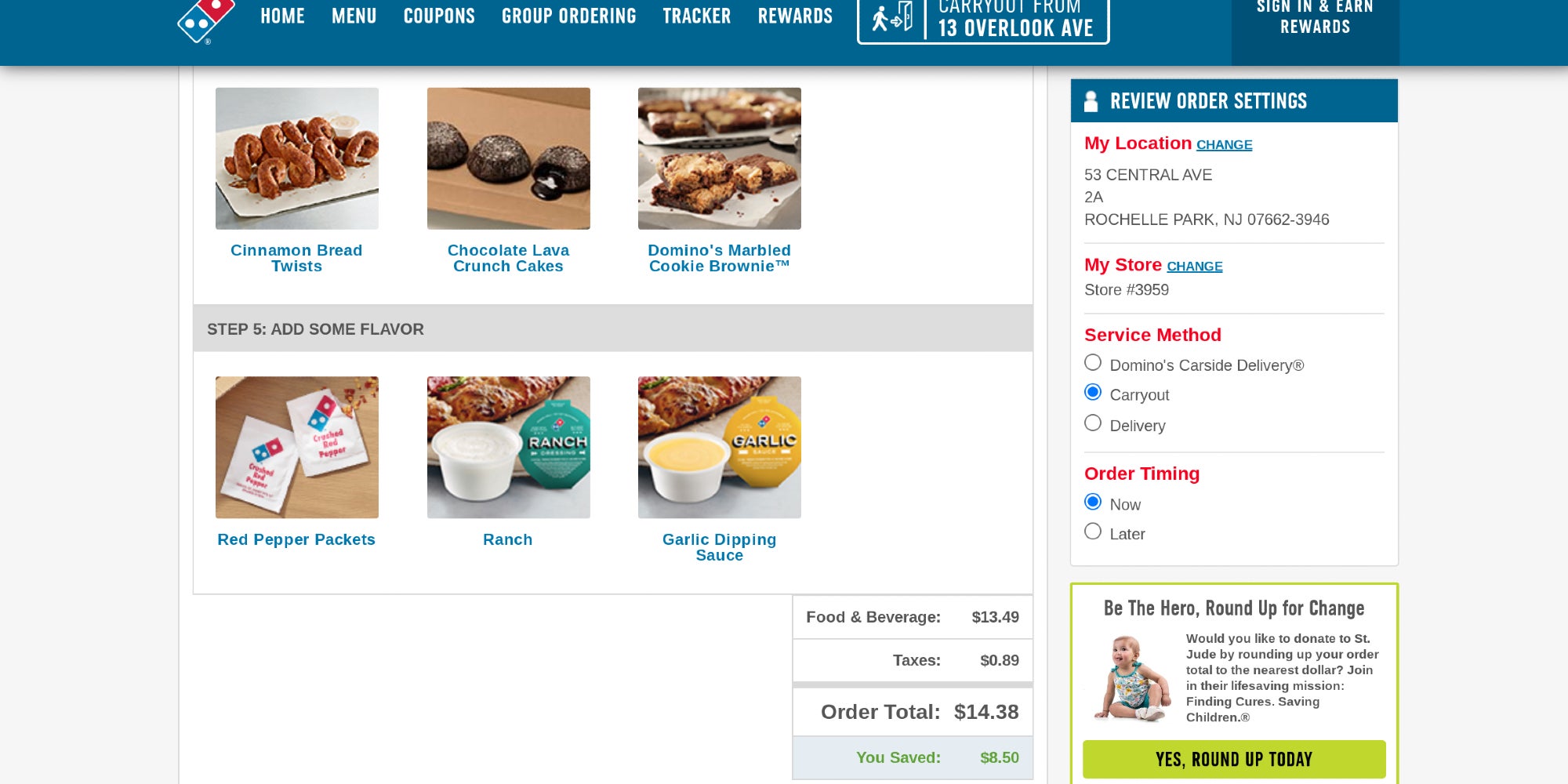 The Daily Dot has reached out to Jordan and Domino's via email for further comment.

We crawl the web so you don't have to.
Sign up for the Daily Dot newsletter to get the best and worst of the internet in your inbox every day.