Nothing signals a good time on the Internet like an Amazon review brigade. Nothing brings out the snark like the sexual objectification of women.
And when the snark calls for women with advanced degrees to provide the retorts, you know you're in for a treat.
The purveyor of "Delicious Women's Phd Darling Sexy Costume" (yes, really) on Amazon is currently being hammered after actual women with actual degrees found the costume and decided to weigh in. 
Here's what they're up against: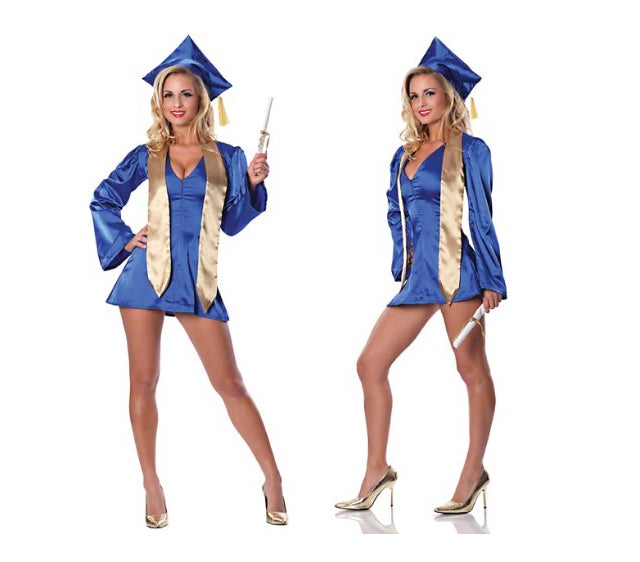 Photos via Amazon
The comments section is currently full of women pointing out that the costume's blatant objectification is not only stupid, it's inaccurate.
"Sleeves are too short & have no stripes. Costume does not feature a hood. This is a 'sexy BA' at best," writes Alyssa Picard. Reviewer J. Bloom got even more specific: 
I really wanted to like this enough to order it. However, it's not exactly accurate. It should come with a pack of stale cigarettes and some ramen noodles. The robe needs armpit stains and some random splashes of laser cartridge toner down the front. Overall, the ensemble doesn't capture that unique combination of exhaustion, resignation, and despair achieved after the degree is conferred and the first loan bill has arrived four months after the wearer sent out 75 job applications to which she has not yet received any response aside from three affirmative action cards from the same HR department at Northeast Western Montana State College. I do commend the designer, however, for suggesting an alternative funding model for that grim day when the stipend runs out.
"Wow, I think her tenure track is showing," snarked Biochemistry Prof.
But the reviews aren't all wardrobe complaints. Many are positive! Mary from MN chimes in:
When I left my nursing job for graduate school, I was so distressed. I mean what was I going to wear? There were plenty of sexy nurse costumes that I could wear to honor my accomplishments in that profession, but after I attained my PhD there was something missing. I was better educated, but not sexy. Until now. Thank you, Delicious Costumes, for filling the void. You've given women like me who have worked our asses off earning our degrees a way to show our asses off, too. 
Mr. C. praised the costume's inspirational qualities:
My daughters were struggling to stay focused (or even care, really) about school, but since we got them both Sexy PhD costumes this Halloween, they're totally into it. They've both decided to get PhDs, one in astrology and the other in cosmetology. Harvard here we come!
The vendor, Delicious, seems to specialize in cute-sexy Halloween costumes for women, all along similar lines, like the "Howling Hottie" and the "Sexy Snow White." At a glance, none of the review sections for the other costumes suffered from the same invade-and-parody reaction. But perhaps it's only a matter of time. After all, as reviewer Mary B pointed out, the ladies with doctorates aren't alone. 
Dear Lady Ph.Ds:

Welcome to the fold.

Love,

Librarians
H/T The Independent | Photos via Amazon