If you have rock-hard abs and three cute kids, there's a pretty good chance that you're going to post pictures of them on Facebook. You might even get some positive responses along with all the seething envy. But fitness blogger Maria Kang took it to the next level. 
In a professionally shot photo, Kang poses with her three preschool-age children and asks you, the casual Facebook user, "What's your excuse?" That is, why do you not have the abs of an olympic gymnast? (One user's response: "Cancer.")
Needless to say, it sparked a near-instantaneous Facebook discussion about the merits of "fitspiration" culture, and whether this kind of image does more harm than good.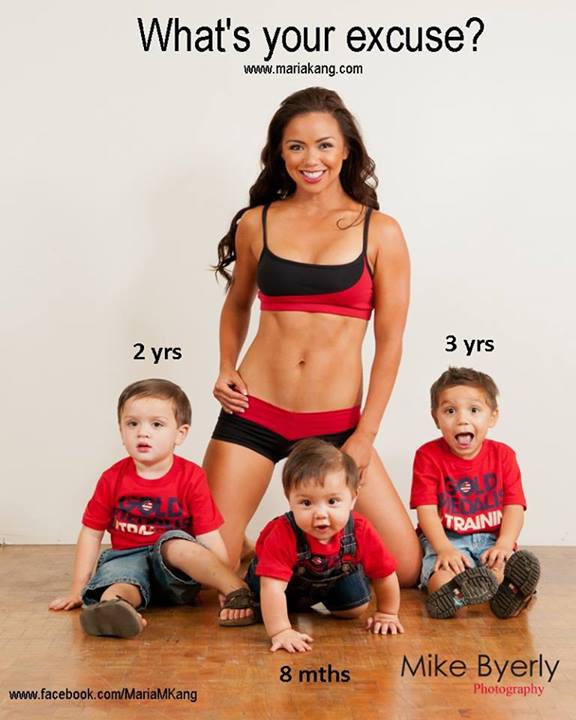 Photo via Maria Kang/Facebook
The photo has racked up over 16 million views in the past couple of weeks, landing Kang TV interviews and appearances. The response from Facebook commenters was overwhelmingly positive, with many citing her as an inspiration to lose weight. Still, the aggressive nature of the "What's your excuse?" slogan is typical of online fitspiration campaigns, which some find more negative than inspiring. Fitspiration websites tend to combine pictures of super-fit athletes with motivational slogans like "CRAWLING is unacceptable, CRYING is unacceptable," a meme that was recently parodied with Reddit's series of "drunkspiration" posters.
A common response to Kang's original photo was people pointing out that in fact, they had very valid excuses not to have washboard abs. As many commenters explained, not everyone has the time, money, or physical ability to obtain a body like Maria Kang's. Not only that, but photos like this just make people feel bad about their bodies, particularly if they aren't actually able to follow Kang's example. 
"If you really cared to promote health you wouldn't need to be half naked," one user wrote. "You can show health by being dressed. The fact you chose attire such as this is that you were promoting appearance."
While most of the comments are supportive—"[You're] an inspiration!!! Anyone who says different is probably Fat, Lazy and just plain jealous!!!!"—Kang took time to respond to criticism in a rather unapologetic apology:
What you interpret is not MY fault. It's Yours. The first step in owning your life, your body and your destiny is to OWN the thoughts that come out of your own head. I didn't create them. You created them. So if you want to continue 'hating' this image, get used to hating many other things for the rest of your life. You can either blame, complain or obtain a new level of thought by challenging the negative words that come out of your own brain.

With that said, obesity and those who struggle with health-related diseases is literally a 'bigger' issue than this photo. Maybe it's time we stop tip-toeing around people's feelings and get to the point. So What's Your Excuse?
She also mentions that she used to have an eating disorder, distancing herself from suggestions that her photo promotes unhealthy attitudes to weight loss. The advice on her Facebook page actually does seem to support this, recommending a regular but moderate diet and exercise routine for post-pregnancy weight loss. "I NEVER eat just 1200 calories," she writes. "Especially when active and especially if I'm starting a new program." Her main advice seems to center around determination and setting personal goals, rather than going to extremes to reach an ideal body shape.
However, not all of Kang's readers were impressed. "Even a child would know that 'I'm sorry you were offended' isn't an actual apology," writes commenter Robyn Hines. "It's intended to invalidate the other person's feelings and make them feel guilty for being upset with you, because that way it doesn't matter if you said something to hurt people. This is not the correct way to go about things, hon. If you don't want to apologize then don't."
H/T Jezebel | Photo via Maria Kang/Facebook