In a move that's been followed by thousands of comments about edging and even some hexes from WitchTok, Republican presidential candidate hopeful Vivek Ramaswamy joined TikTok last week.
Ramaswamy launches TikTok account
Ramaswamy announced the creation of his official TikTok account with a video in which he talks about hoping to reach young voters. The entrepreneur is running for the Republican nomination in the 2024 presidential election and describes himself as a leader in the conservative, anti-woke movement touted by many other GOP candidates, including Florida Gov. Ron Desantis and former President Donald Trump.
All of Ramaswamy's videos, including his collab with Jake Paul, are calls to connect with young voters. He also specifies in his most recent TikTok that to be able to vote, all American citizens should have to pass a civics test or serve for six months in the U.S. military.
Why are people 'edging' to Ramaswamy?
The majority of the comments on all of Ramaswamy's TikToks don't engage with his talking points, though. Instead, TikTokers are telling Ramaswamy that they are "edging" to his videos. Edging is a sexual practice that involves delaying orgasm.
"Vivek I edge to you," one commenter wrote on Ramaswamy's latest video.
"Vivek can you give me a detailed description of what this edging thing is about?" another asked. "I feel like I'm almost there, just a little further."
Comments like these have popped up in response to all of Ramaswamy's TikToks, leading his videos to get ratioed, which means there are more comments on some of his videos than likes: There are over 20,000 comments on Ramaswamy's first TikTok video, compared to the video's less than 11,500 likes.
At the time of publication, none of Ramaswamy's videos had received 1 million views on TikTok.
Ramaswamy has not directly addressed the comments about edging. When one commenter wrote about the phenomenon and wrote that Ramaswamy "is not prepared for the comment section," Ramaswamy rerouted the conversation to voting.
"Keep the comments flowing, I'll keep the answers coming," Ramaswamy says in his TikTok. "We're ready, we face off with anybody. And I'm excited for it."
Other TikTokers have made videos about all the alleged edging that is happening as a result of Ramaswamy's videos.
Yeganeh Mafaher (@littleyeg), a creator whose videos focus on politics, said in a TikTok that the association between Ramaswamy and edging has become so popular that when she types "Vivek" into her TikTok search bar, the second search after his name is "Vivek I edge to you."
Plus, when she watched one of Ramaswamy's videos, TikTok's suggested search was, "Vivek I edge to you meaning."
When this reporter watched one of Ramaswamy's recent TikToks, TikTok's suggested search was "GenZ Vivek Edging."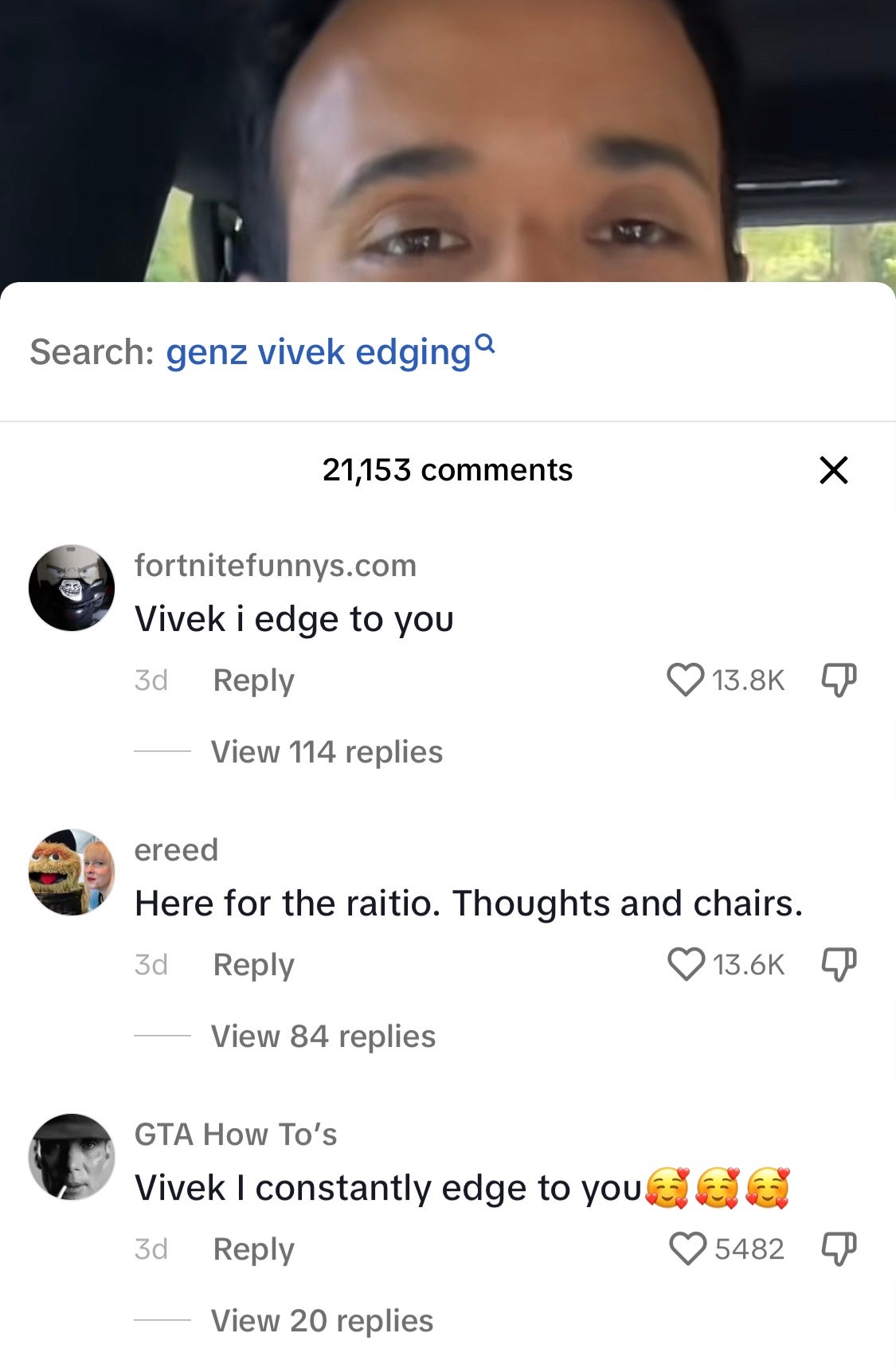 An artist who goes by Blisss said in a video that Ramaswamy was leaving himself vulnerable to the trolling.
"The fact that somebody running for the president of the United States has their [TikTok] stitches and duets on is so f*cking funny," Blisss says in their TikTok. "I will not be voting for Vivek, but I will be edging to him."
WitchTok is hexing Ramaswamy with spells
The edging discourse isn't even the end of Ramaswamy's woes on TikTok.
WitchTok, or a subset of TikTok creators who consider themselves witches and create content about spells, hexes, and the supernatural world, has cast multiple spells on Ramaswamy.
In a now-deleted TikTok, WitchTok creator @witchycannamom put a hex on Ramaswamy. Their video shows a piece of paper with Ramaswamy's name written on it three times, which @witchycannamom is holding over an open flame.
In their other hex videos, they complete the process by crumpling up the paper and throwing it into the fire.
"Vivek Ramaswamy joined TikTok 4 days ago," reporter Amrita Khalid said, "and a horde of Gen Z TikTok witches are already trying to hex him."
User @witchycannamom has cast other spells into the universe that involve Ramaswamy. After he rapped part of Eminem's "Lose Yourself" at a campaign rally, representatives from Eminem's record label sent Ramaswamy a letter requesting that his campaign not use any of the rapper's music.
Right-wing pundit Candace Owens called the debacle "gay," and @witchycannamom cast a protection spell in support of Eminem.
"When you decide to summon the ancestors from the '90s to aid Eminem," @witchycannamom said.
Members of Gen Z and intensely online individuals of any age who use TikTok have shown their might in creating political mishaps.
In 2020, TikTokers and K-Pop fans reserved seats at a former President Donald Trump campaign rally en masse, resulting in the rally having a lower turnout than expected as tickets were reserved by individuals who didn't actually plan on attending.
So as long as Ramaswamy keeps up with his TikTok presence and allows other users to duet and stitch his videos, he's probably got a big storm comin'—and that's not even counting future hexes.


We crawl the web so you don't have to.
Sign up for the Daily Dot newsletter to get the best and worst of the internet in your inbox every day.