Employees at a Jimmy John's franchise in Georgia filmed made a noose out of dough and filmed themselves imitating a hanging, a viral video shows. The employees were fired, the sandwich company said.
In the 15-second clip, a white employee is seen laughing as another employee places the noose made of dough around his neck. Other employees are heard laughing in the background. The incident took place at the sandwich shop location in Woodstock, Georgia.
Their conversation in the video is mostly inaudible, though one employee can be heard saying sarcastically, "you have disrespected [inaudible]" while others laugh.
Tweets show that the video was shared on Snapchat with a "Happy 4th of July" sticker.
The Jimmy John's Twitter account replied to user @urwildlol's tweet about the video on Sunday.
"Sorry to cause you pain and I hear you," Jimmy John's wrote in a tweet. "The independent owner is aware and my team is on it."

But the sandwich company faced backlash for its initial response.
"'Sorry to cause you pain' I'm sorry what?" one user wrote.
"It didn't cause u pain?" wrote another.
The company has since responded to tweets with another statement but hasn't made a standalone post about the dough noose video.
"We have zero tolerance for racism or discrimination in any form. The franchisee has taken immediate action and the employees have been terminated," the company's statement said. "The actions seen in this video are completely unacceptable and do not represent the Jimmy John's brand."
User @urwildlol, who shared a video of the incident that received more than 15,000 retweets, was available until noon on Monday but was later deactivated. The account page reads "This account doesn't exist," which suggests the account owner removed it themself.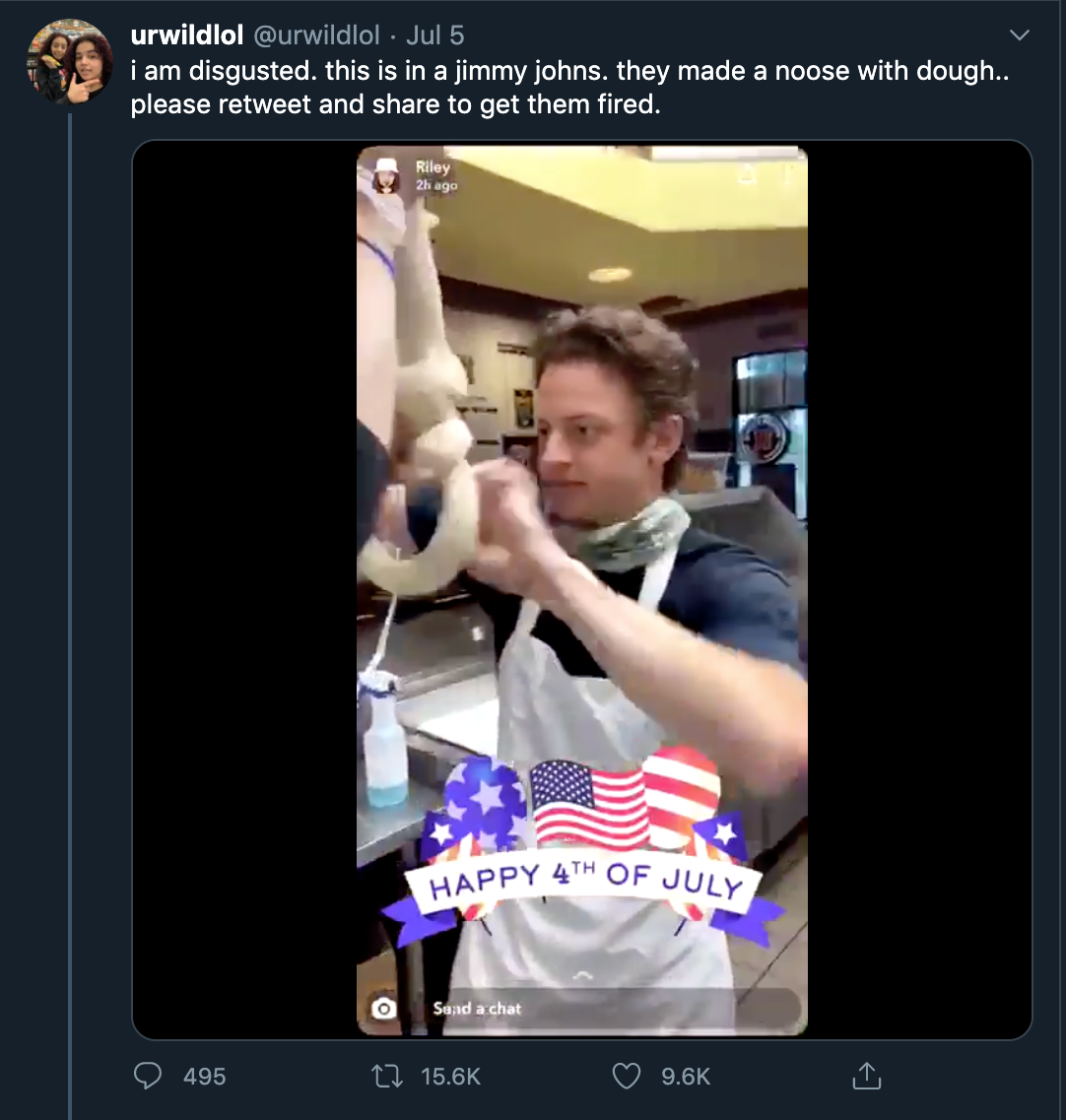 Users continue to demand accountability for the racist video.
"Until I hear that they were fired, and your company releases a statement a/b this (independent owner or not), we won't be using your catering services at our youth program anymore," one user wrote to Jimmy John's.
"No one, even the camera person, should still have a job at your franchise after this video. Aside from the blatant racism portrayed in this clip, their actions violate basic food safety guidelines," wrote another.
Some tweets called for a boycott and said the founder of the sandwich company, Jimmy John Liautaud, is himself racist. Liautaud and his wife donated $100,000 to President Donald Trump's reelection campaign, Business Insider reports.
"BOYCOTT JIMMY JOHNS anyway," one tweet said. "They are huge contributors to Trump!!!!!"
READ MORE: