In the summer of 2013, while he was on a weeklong work-study gig in an astronomy lab, Tom Wagg noticed a little dip in the light coming from a distant star. He noticed a few, actually, from several different stars. But he had a strong feeling that one of those little dips was a planet, circling the star, signaling in its own kind of Morse code that it existed.
Wagg, now 17, became known as the whiz kid from Staffordshire, England, who discovered a planet. The planet, still unnamed, orbits its star about 1,000 light-years, or 5,880 trillion miles, away. Wagg found it after just a few days of combing through data from the multinational Wide Angle Search for Planets (WASP) observatories.
Well-mannered, bright, and with a mop of sandy blond hair, Wagg told the Daily Dot he's been interested in space for a long time. He started taking an interest in stargazing around age 10, and became bewitched by physics around 12 years old. His physics teacher connected him with the work-experience program at Keele University.
He said he was pleasantly surprised by the atmosphere in the lab. "It was different from how I imagined; it wasn't so scary. Everyone was really nice and a bit more relaxed," Wagg said.
He spent the first day of the work-study learning what to look for in the data and getting the hang of the procedure. "There's loads of things you have to check," before you can entertain the idea of finding an exoplanet, Wagg said.
By Wednesday, he was off and running.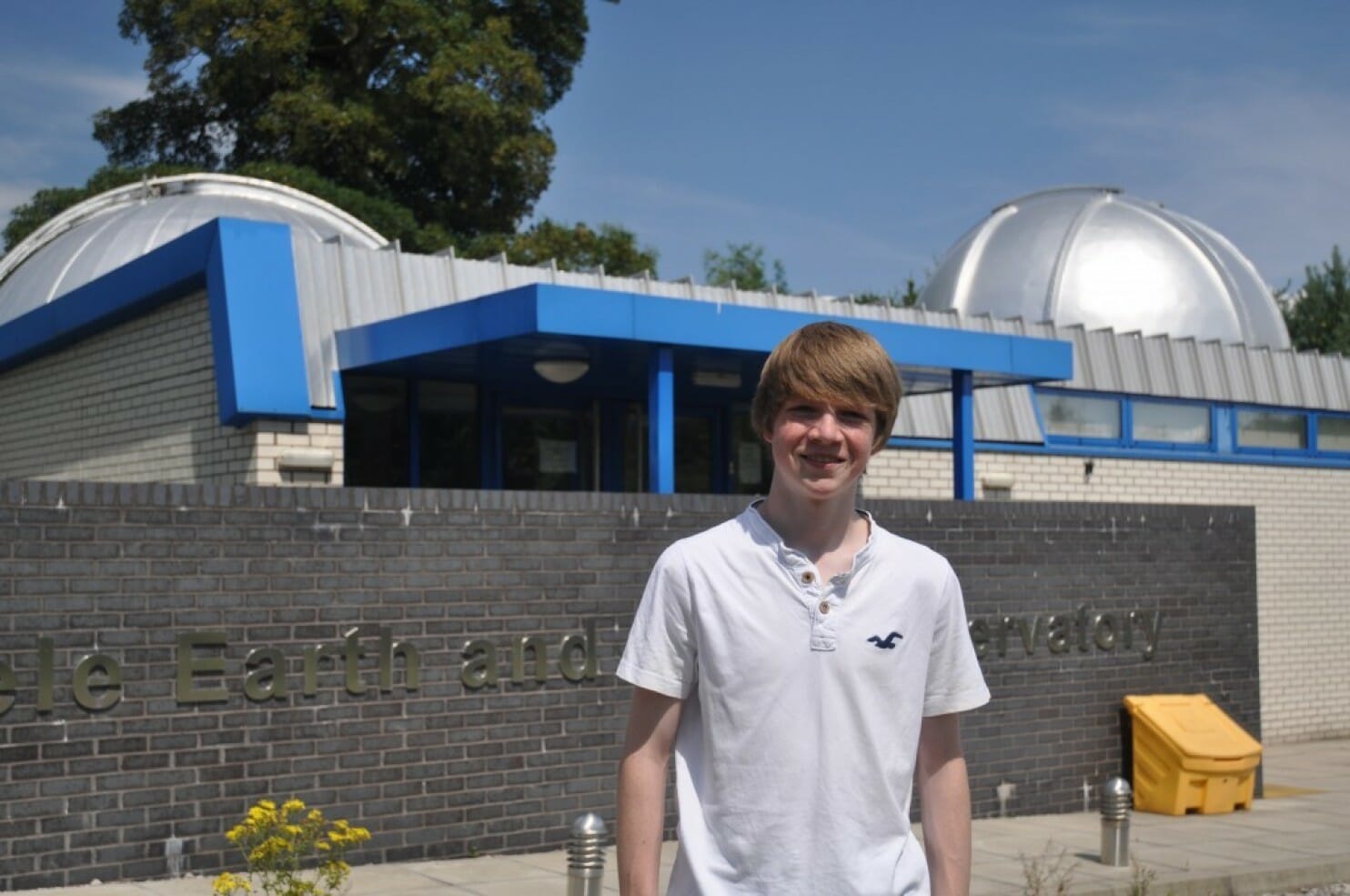 He came to his adviser, Coel Hellier, with a few candidate planets—worlds that may have the capacity to support life. Hellier remembers he came up with around 30 of them. "Tom had done well in learning how to do things," he told the Daily Dot. The two narrowed the candidates down to five, which, along with a few other candidates, were monitored for the next 18 months for confirmation.
Wagg remembered Hellier was open-minded to the possibility Wagg had found some good candidates in such a short time. "He was a bit surprised. He was a bit excited too. He did all the checks that I'd done, and we sent it off for extra processing. We decided it was a really good candidate," Wagg said.
Over the next two years, Wagg kept in touch with Hellier, as the WASP waited for the moments in time where the planet would pass in front of the star again. After double-checking Wagg's work, they felt confident that he had discovered an exoplanet.
"I like the idea that you can look at something so infinitesimally small and realize it affects the entire world."
"We used a bigger telescope to get a high-quality light curve of the planet transit," Hellier said. He added that the team used a spectrograph to help determine the star's gravitational pull, which helped them determine the mass of the planet.
During that time, Wagg hadn't spoken of the potential discovery very much to his peers. "I kind of hinted to it to a few people, but I didn't want to tell them in case it got rejected," he said. Instead, he filled his time with regular teenage stuff: sticking with his studies, hanging out with his friends, or playing hockey and cricket. In his downtime, which he doesn't have much of, Wagg read or or played games like Halo and Assassin's Creed on his XBox.
But when the news broke that he had discovered a planet, there was no more hiding it. The BBC showed up at Wagg's school one day to interview him about his discovery.
"Everyone tried to get on the camera," he laughed. "It was quite exciting." Naturally, his parents were very proud of him.
Despite the flurry of fame, Wagg remains humble and studious. He's currently preparing for his role as Fagin in the upcoming school production of Oliver!. He's also in the throes of applying to universities. He said his top choice is Oxford, but he's also interested in Manchester University, the University of Birmingham, and a few others. He hasn't decided if he'll pursue particle physics or astrophysics, but he knows he wants to become a scientist.
Hellier thinks Wagg is a natural. "He needed to learn quickly, to absorb a lot of information and new techniques in a couple of days," Hellier said. "He did well to master it all sufficiently to find some good new candidates. That all means he is bright, learns fast, and has a good intuition about physics and astronomy."
Hellier even said he'd be happy to have Wagg back in the lab once he becomes a Ph.D. student.
Wagg said he'll decide between particle physics or astrophysics once he's halfway done with his first degree. Though he loves stargazing and pondering the infinite expanse of the universe, he's also fascinated by the other extreme.
"I like the idea that you can look at something so infinitesimally small and realize it affects the entire world," he said.
He's excited by the prospect of one day playing a role in discovering the nature of dark matter, finding the Grand Unified Theory, or "anything, really." He just wants to be a part of it.
Illustration by Tiffany Pai