Look, it's easy to post something embarrassing on Tinder. You're trying to immediately impress strangers, which is a weird, gross feeling to begin with, and pressure is high. Selfies are stupid, group shots make it hard to tell which one is you. Getting your picture game on point is tough, but there are some mistakes that actually seem simple to avoid, like not being overtly racist in your profile picture.
Stop White People: Tinder Edition is a gobsmacking collection of photos of white people doing racist stuff in the photos they've selected to represent them to strangers for romantic consideration. The digital gallery may make you cringe. 
Many of the images show white girls in fashion bindis, an insensitive move pioneered by cultural appropriation expert Gwen Stefani. It's dumb to wear a fashion bindi, but far more indicative of cluelessness than racial malice. Other images are in a completely different league. There are people in straight-up blackface.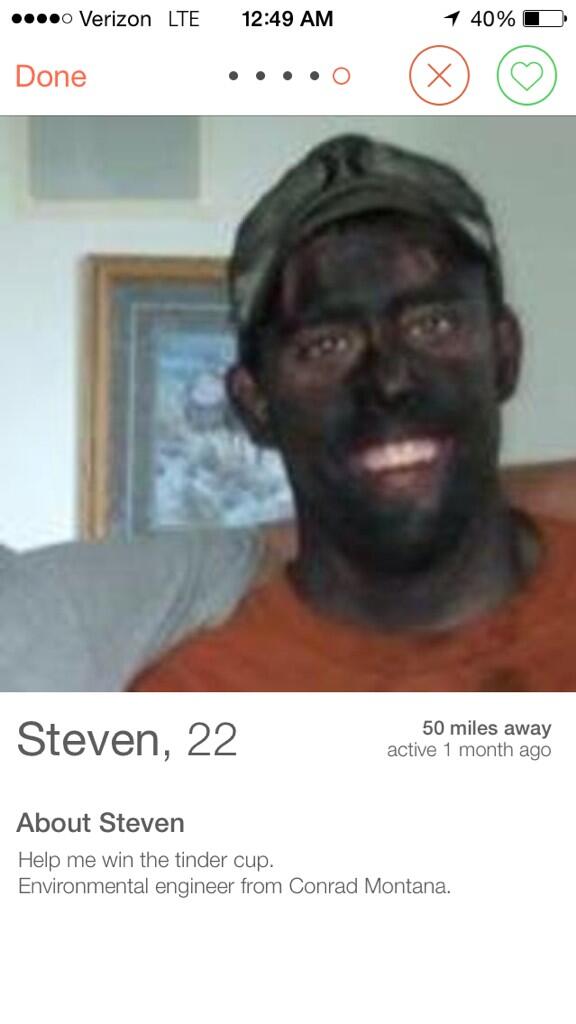 A girl posted a photo with a phrase that's so offensive I need to just show it to you: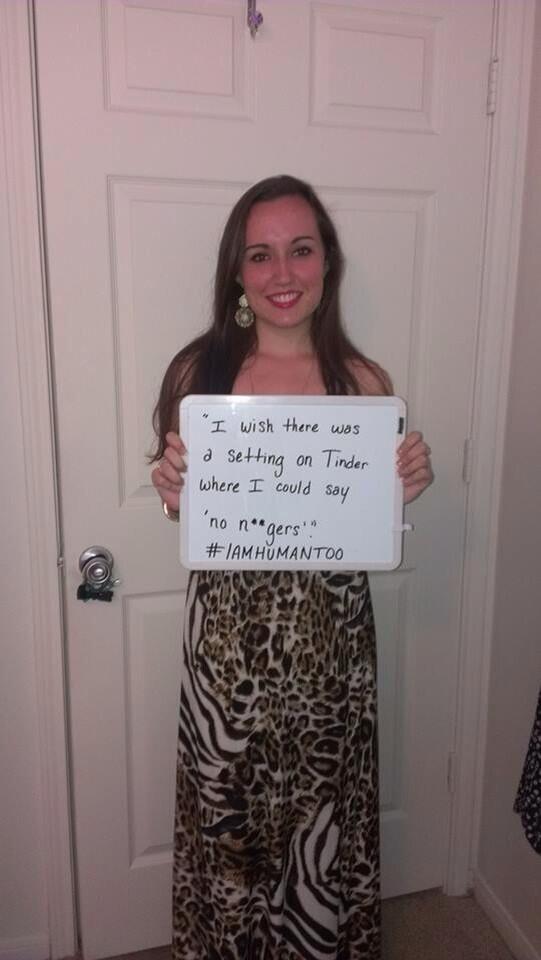 The girl who posted it was showing an example of racism for a hashtag campaign called #Iamhumantoo, but from just glancing at her profile, it would make her look racist… so basically, bad choice for a profile photo.
Some of the images are defendable. The Tumblr calls out a white guy who posted a picture of himself getting kissed by two black girls. He looks psyched. I don't know why it's immediately racist to post this photo. Those girls might be his friends. It seems like an odd assumption to assume people are being used as accessorized or fetishized just because a white person took a picture with them. They also post a picture of a white man posed in what looks like a family photo with two black children. Those could very well be his children (if he's not one of the humanitarian Tinder power users). If they are indeed his kids, then this isn't racist… though his potential wife/mother of these children might be less than thrilled. 
Despite the occasionally sketchy assumptions, the Tumblr underlines how necessary it is to continue having conversations about how to be respectful of other races and cultures. Many people still need to hear it.
H/T Complex | Photo via Flickr/Julia P (CC BY-SA 2.0)