The TikTok account @pubertyhelper101 is being called out by users for potential "grooming" after posting a number of videos that people are calling "red flags."
The account appears to have been created with the intent to give advice to children about their changing bodies. The bio of the account reads "I'm here for you young or older girls. Puberty is hard and I will help you learn." Video topics include how to wear tampons and pads when starting a menstrual cycle. The target audience for the account's content seems to include kids approaching or in puberty, typically between the ages of eight to 14.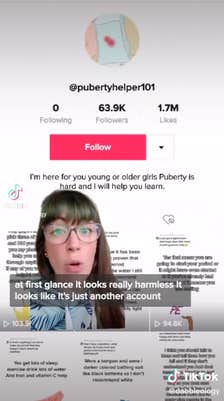 Some users claim that the account looks helpful and innocuous at first, but a lot of the advice it gives is inaccurate or incorrect. For example, one "instructional" tampon video from the account didn't actually teach people how to use a tampon correctly, TikToker @dabbleology pointed out. The now-deleted video utilized a teddy bear with a single slit cut into the bottom to deposit the tampon, which does not anatomically match a menstruating person's body.
"We have a urethra, a vagina, and an anus, that bear had one opening cut into it," @dabbleology said in a video. "The problematic video that is on this app currently suggests that we have a cloaca. From that standpoint alone it doesn't matter if it's a child or an adult who is running that page."
In addition to @dabbleology, TikTokers @seansvv, @the_great_londini, and @jjones451 all posted viral videos raising awareness about @pubertyhelper101's seemingly suspicious behavior, specifically pointing to one of the "advice" account's videos attempting to personally contact its pubescent followers as evidence of attempted grooming.
Grooming, according to the American Bar Association, is defined "as a method used by offenders that involves building trust with a child and the adults around a child in an effort to gain access to and time alone with her/him."
The video that the creators said was a "red flag" has been taken down, but it implied that the person behind @pubertyhelper101 wanted to give some of their followers their personal phone number to "talk you through anything you need."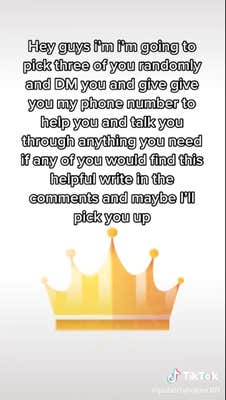 "This is an issue that needs to be solved right now," @seansvv said in his video about the phone number giveaway. "And if this is just a miscommunication on this person's end, which I don't know how this could be a miscommunication, this needs to be resolved immediately.
Some commenters responding to the @seansvv video speculated that the tampon video showed an adult man's hands, suggesting that the account may have been run by one.


The identity of the user behind the account is unknown, but as of May 23, the account is banned from TikTok for violating community guidelines.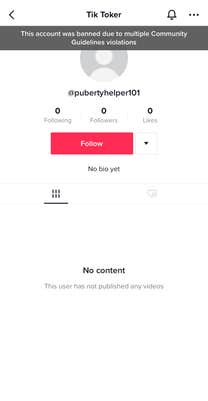 The Daily Dot has reached out to TikTok for comment.