Have you been harassed, groped, or intimidated on the street? According to a new study, you're not alone.
Last week, Stop Street Harassment, a Virginia-based nonprofit, released the results of their national study. SSH commissioned Gfk, a market research group, to survey 2,000 Americans—1,058 men and 982 women, ages 18 and up—about their experiences with street harassment. According to their findings, 65 percent of women have experienced a form of harassment in their lifetimes, and roughly 50 percent of harassed women and men had experienced an incident by age 17.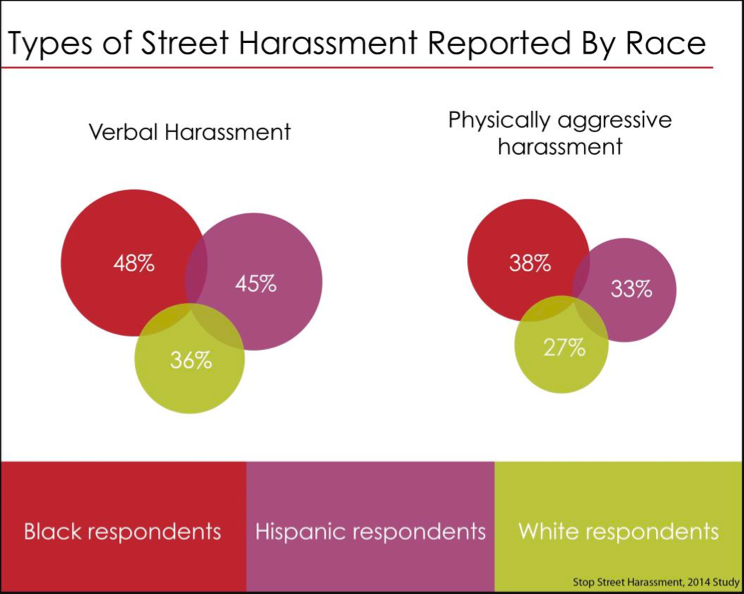 Further, by age 17, 49 percent of straight people had experienced street harassment, but 70 percent of LGBT youth had. LGBT participants also experience a higher instance of verbal harassment (57 percent) and physically aggressive harassment (45 percent), compared to heterosexual participants.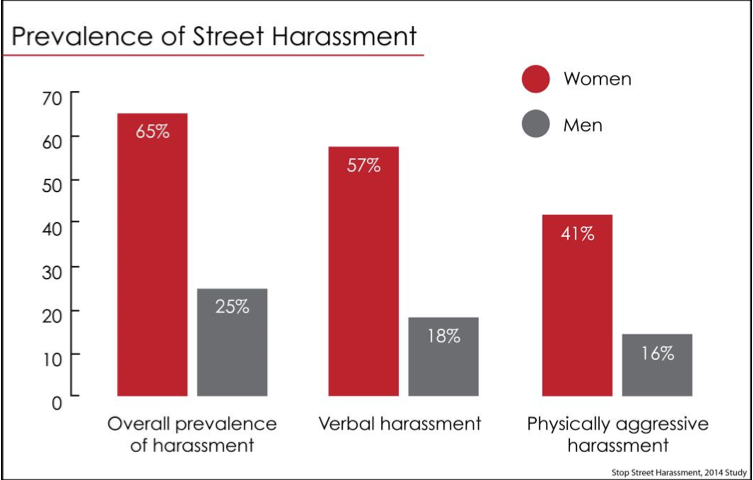 In the study, the question of why men—whom the study pinpoints as the main perpetrators of street harassment—sexually harass in public spaces was brought up. Shira Tarrant, a PhD at California State University, Long Beach, explained:
First, our culture repeatedly tells boys and men that one way to prove their masculinity is by putting someone else down. This is a form of hypermasculinity that relies on exerting power over people who are perceived as less valuable. Harassment is a way to make that happen.

Second, so many of our pop culture images—things we see and hear in music, TV, videos, movies—tell men and boys they have permission to think about women as sexually available. Mainstream pop culture use tropes and old stereotypes about beauty and gender that [teach] us to judge women on the basis of how sexy we think they are. Our culture sends chronic messages to boys and men that they are entitled to access other people's bodies, invade personal space, and even to violate our most intimate realms with impunity or lack of awareness if that other person is perceived to be less powerful.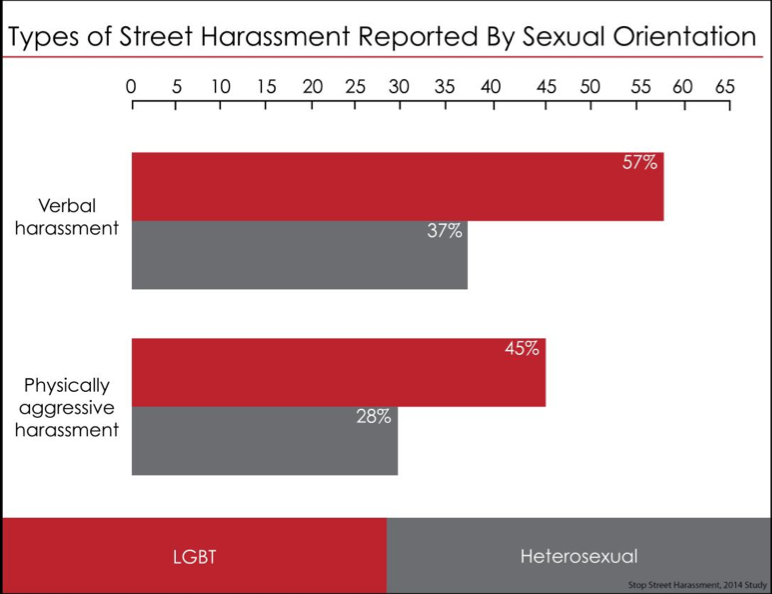 Documenting street harassment has become more prevalent on the Internet over the last couple years. There are Twitter accounts devoted to sharing stories of harassment in public spaces, and empowering the harassed. Art projects like Stop Telling Women to Smile take that message of empowerment back to the street. Of course, technology is adding an ominous new layer to the issue, and harassment is now taking place in virtual spaces, like Twitter. 
The whole study is worth reading and absorbing. That 65 percent statistic is illuminating, though, somehow, I expected it to be higher. Perhaps street harassment has become so common, we don't identify it as such. 
Photo via Georgie Pauwels/Flickr (CC BY 2.0)