For a man whose identity is a mystery, Banksy sure knows how to brand himself.
For the past couple weeks, the British street artist has been leading fans, critics, and casual bystanders on an elaborate Rube Goldbergian hunt around New York City, as part of his "Better Out Than In" residency. The chase included his art being sold by a street vendor, and a pug infamously urinating on his 9/11 tribute. That chase continues with the appearance of a new website, called Steal Banksy NY.
The site maps out all the areas across New York City where his pieces are just waiting to be swiped up, "before the MOMA gets it." Click on one of the "free" tags, and you'll find out whether the piece is "in stock" or "out of stock."
Some pieces have already been defaced and are being offered at a "discount."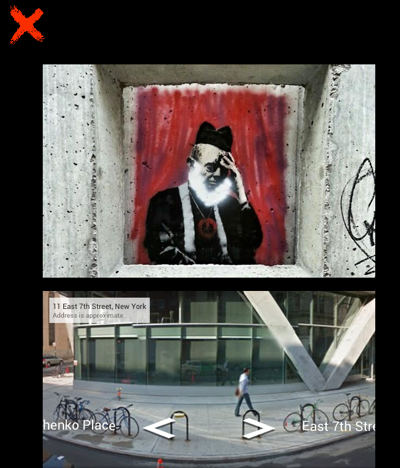 Of course, who's actually behind the site is as murky as Banksy's identity. There's even a group selling fake Banksys, complete with a "certificate of inauthenticity," though this might also be part of the whole production.
Last week, Death and Taxes posted an interesting piece titled "Banksy brings out the worst in New York: Is that the point?" DJ Pangburn, the author, explores what his residency really means for art collectors, but more telling, how Banksy's wild ride is forcing different socioeconomic classes to interact as well:
"The flock will follow him around the city for another 14 days, like a regiment of dunces skipping and zig-zagging behind a pied piper; gawking, documenting with smartphones, saying 'I was there!' and 'what social commentary!', all the while encroaching on streets they do not lift up in any other way but as temporary tourists."
Banksy's art has always subtly skewered to more bourgeois, the more militaristic. The goal of this map might well be to help people steal "free" art, but it's also a comment on the value we place on art, whether it's real or fake.
This much is certain: If residents of New York do flock to pieces of Banksy's street art with saws or hammers, someone will be documenting it.
Update: According to ANIMAL New York, Banksy's "sphinx" piece in Queens has been dismantled.
Update 12:20pm, Aug. 22, 2019: The URL of the above website, stealbanksyny.com, has since been sold to another owner, replacing the content from the site. An archived version of the site lacks the Google Maps plugin, rendering it useless, but there's a screenshot of what it looked like on the Inspiration Room.
Photo via timtimes/Flickr