A Starbucks on H Street in Washington, D.C. will be reopening this fall as the company's first U.S. "Signing Store" location, completely redesigned for the deaf and hard of hearing.
Starbucks opened its first signing store in Kuala Lumpur, Malaysia, in 2016, and is now doing the same in D.C., with decoration, store design, and staff all focused around making the store accessible to deaf customers. The company will be hiring between 20 and 25 deaf, hard of hearing, and ASL-fluent hearing employees for the D.C. location, and says it hopes this will raise awareness for deaf and hard of hearing people in the workforce.
The store will also be physically redesigned in order to facilitate communication. Surfaces will have reduced glare to make it easier for people to see each other and sign to each other. There will also be visual displays for ordering and checkout, and a visual display to let customers know when their drinks are ready, rather than having employees shout out the customer's name.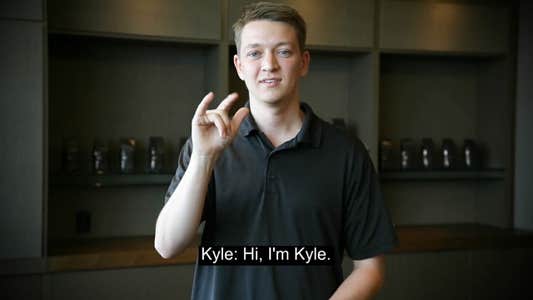 Besides being accessible, they also hope to use the new store to uplift and celebrate the deaf community, as well as provide them with opportunities to work with Starbucks. The artwork on the walls of the store will be created by a deaf artist, and there will be a custom mug exclusive to the store created by a deaf artist. The baristas will also wear an apron with "Starbucks" embroidered in ASL, produced by a deaf supplier. The store will be located near Gallaudet University, the only college in the world designed for deaf and hard of hearing students.
im so happy theres gonna be an ASL starbucks near Gallaudet University. this makes me so happy yall dont even know

— thereal6syd (@marvomary) July 20, 2018
"This is a historic moment in Starbucks ongoing journey to connect with the deaf and hard of hearing community, hire and engage deaf and hard of hearing partners, and continue to find ways to be more inclusive, accessible and welcoming to all," said executive vice-president Rossann Williams.
H/T DCist