In multiple places on Reddit, you'll find a photo gallery of a random Sochi Olympics volunteer, including beach photos, glamour shots, and pictures taken with friends. It's gotten thousands of views over the past week.
But we're not linking to it. Here's why.
Last Thursday an Associated Press photographer snapped a photo of a female Olympics volunteer. She's leaning against a railing before a backdrop of fresh snow, casually sporting bright, loose cargo pants, colorful socks, and a midriff-revealing top. The photo appeared in Washington Post and Atlantic galleries about athletes and workers at Sochi enjoying unexpectedly warm weather.
Some people on the Internet saw something different. When they read that the volunteer was standing next to a sign that read "Sochi 2014—Hot. Cool. Yours," they assumed more than just the banner was on display.
The photograph landed on the Reddit forums r/randomsexiness and r/Ohlympics, a forum for "Anything that makes you go 'Oh' or is sexually invigorating from the Olympic games."
Other photos from the same event at Sochi popped up, including one that contained a shot of the woman's staff badge: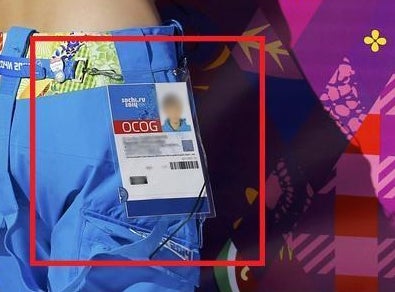 Photo via Imgur
The Internet's well-oiled machine for doxing people—tracking down and publishing personal information—went to work. Users found the volunteer's social media accounts and scoured them for more sexy photos of the woman in question.
The Imgur gallery contains two dozen pics, along with her real name. And the comments—many heavily downvoted, thank God—go something like this:


Screengrabs via Reddit
On r/Ohlympics, members of the Reddit community roundly criticized the compilation of the photo gallery. But such incidents are all too familiar in an online forum where a rule against publishing personal information is disregarded because, hey, she's hot. Not to mention Reddit's "creepshots" problem: This is a site where sexualized images of women and underage girls are spread freely, without the subjects' consent—and with Reddit admins' knowledge.
The Russian volunteer isn't a professional athlete. She might also be underage. But when Sochi took the world stage, perhaps inevitably, she—and her body—have become players. And the Internet has become even more unsafe for women who have the audacity to be seen in public.
Photo via Imgur