For the first time, over half of Americans support the decriminalization of sex work, and two-thirds of voters aged 18 to 44 back the initiative. The statistic comes from a Data for Progress study published Thursday that sheds further insight into Americans' changing views around sex workers' rights.
The study, Decriminalizing Survival: Policy Platform and Polling on the Decriminalization of Sex Work, analyzes a Data for Progress and YouGov Blue survey from late November on sex work. Studying responses from 1,029 U.S. voters across race, age, ethnicity, region, and their 2016 presidential vote, author Nina Luo reveals that American support for decriminalization jumped from 45 to 52% between May and November 2019.
Luo argues the issue is "ripening" between support or opposition, a sign that public discourse is leading voters to have a better understanding of the arguments surrounding decriminalization beyond fearmongering around sex trafficking. "The conversation on sex work has just completely changed over the last two years," Luo, a Data for Progress fellow and co-founder of Decrim NY, told the Daily Dot. "After SESTA-FOSTA, we saw coverage really shift thanks to the grassroots work of people in the movement."
Democrats are nearly twice as likely as Republicans to support decriminalization, and younger voters generally show stronger support for decriminalization than older Americans. Among respondents aged 18 to 29, 65% support decriminalization, compared to 42% among people aged 65 or older.
Overall, only 36% of American voters oppose decriminalization.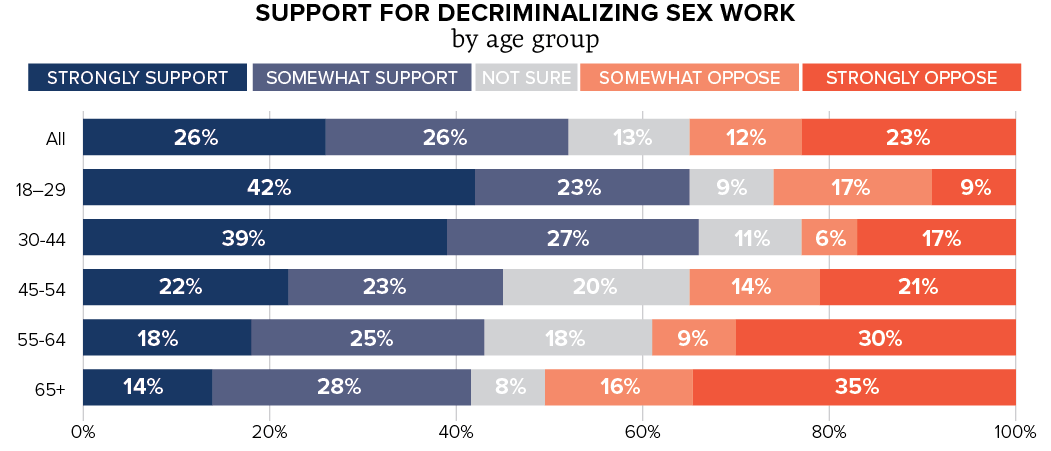 Support for decriminalizing sex work certainly comes from many sources. Decriminalizing Survival itself is backed by over two dozen civil rights organizations, including the Women's March, Mijente, the National Black Justice Coalition, the National Center for Transgender Equality, and the Transgender Law Center. Intersectionality remains a core part of sex workers' rights, and Luo's study looks at how law enforcement "disproportionately and often deliberately" uses criminalization to harm Black, Latinx, Native American, and immigrant communities.
She also notes how decriminalization would protect young LGBTQ Americans, who are are more likely to work in the sex trade compared to their straight, cisgender peers. Additionally, the report tackles misinformation around human trafficking, identifying how "most participants in the sex trades are not victims of trafficking as the term is defined." Just 19.3% of trafficking victims are trafficked into the sex trade, the study notes.
When asked about support for decriminalization among Gen Z, Millennial, and Gen X voters in the 18 to 44 bracket, Luo argued young voters are dealing with myriad hardships. Economic disparity, severe healthcare expenses, student debt, and homelessness have all encouraged less stigma toward doing sex work. Additionally, because younger Americans rely on information sources like the internet, social media, fellow activists, and friends, their values are more likely to be informed by their peers over institutions like the church, law enforcement, or even their parents. For example, Luo argues Black Lives Matter proved to many young Americans how policing causes serious harm to marginalized communities.
Online sex work's approachability also makes it a common income source for many internet users, especially young, queer Americans. Through camming, sexting, DIY clip sites, or subscription-based services like OnlyFans, millennials and Gen Zers are increasingly turning to sex work to pay the bills. This makes decriminalization a much more approachable issue for young voters. Suddenly, sex workers are no longer an abstract symbol but a friend, family member, or loved one trying to survive.
"You know the saying 'everyone knows a sex worker, you just don't know that you know a sex worker?' But I think for young people it's actually just, 'everyone knows a sex worker,'" Luo said. "There's just a ton of destigmatization happening across the board on a lot of issues, like mental health, disability, long-term illness… So I think there is more of a culture around talking about sex work, talking about [how] different factors in your life contribute to what you're doing, I think that's a huge part of it."
Support for decriminalization may not automatically transfer to policy changes. But it does suggest the American people are increasingly on sex workers' side, in part because young voters may be in the sex industry themselves.
"Sex work is an issue of controversy because it forces us to reckon with the realities of economic, racial, and gender injustice," the study notes. "Decriminalizing sex work is only the first step toward rights and safety for all people in the sex trades, but it is also the only legal model that immediately reduces the harms of policing, incarceration, deportation, and criminal records in the lives of sex workers and trafficking survivors."
Read Decriminalizing Survival here.
READ MORE: