Yesterday, the Urban Institute released an extremely comprehensive, 339-page study on the economics of the underground commercial sex industry. Commissioned by the National Institute of Justice, the study provides a fascinating glimpse into the structure of the illegal sex trade, from high-end escort services to street prostitution, in eight different cities, including Miami, Denver, Dallas, and Atlanta. Yet one of the most interesting findings from the report was how much the Internet and social media have altered the fabric of the contemporary sex industry.
It might not surprise anyone to learn that the advent of the Internet has taken sex work indoors: The study reports that more than half of sex workers and traffickers advertise on sites like Backpage and Craigslist, rather than negotiating transactions on the street. Yet because these sites are frequently targeted by police, sex workers are forced to advertise on social platforms that are more difficult for law enforcement to access, such as Myspace, Facebook, and the gaming website MocoSpace.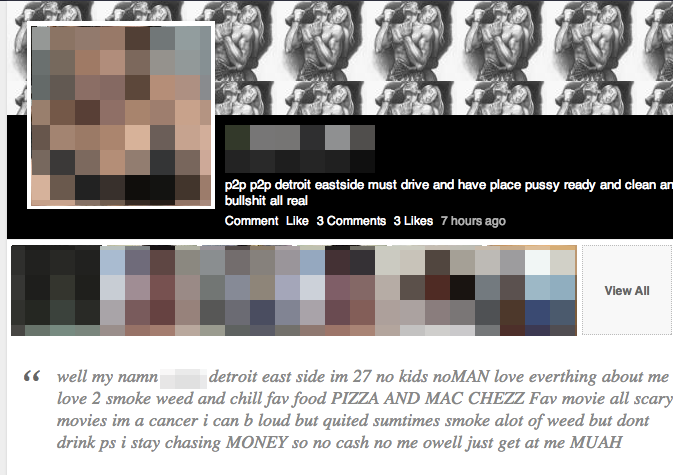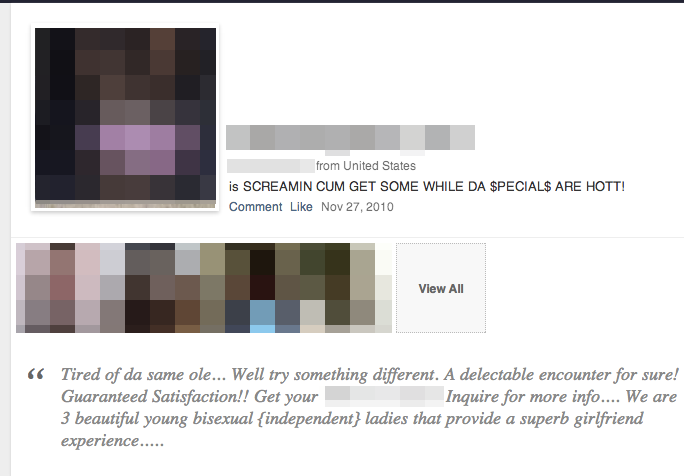 Screengrabs via MocoSpace
If your first reaction was, "Wait, people actually still use Myspace?!?!," you're not alone. A Dallas law enforcement official interviewed for the study was similarly shocked when he discovered pimps were using Myspace and MocoSpace as recruitment platforms to reach out to new girls:
Believe it or not, people still use them, and the ones that are using them are usually younger, and pimps are on there like crazy. We just had one two weeks ago, that we got a call from [police department] and when we interviewed the girl, she took the laptop and opened it up, showed us, and there she was taking self-pictures of her in her thong and a little top on and I'm like, "Ok, and who put these on?" She says, "Oh I did." She goes, "Yeah, this is a hook-up site." That's what she was using as a hook-up site.
The researchers also found that the task of social media recruitment often falls to the "bottom girl," usually a top-earning prostitute who serves a second-in-command of sorts to her pimp. They'll also set up Facebook and Myspace profiles to recruit new girls, usually under the guise of a modeling or talent agent. One law enforcement department even found that traffickers will communicate with the sex workers via Facebook, often posting pictures of "their money, dope, and girls together."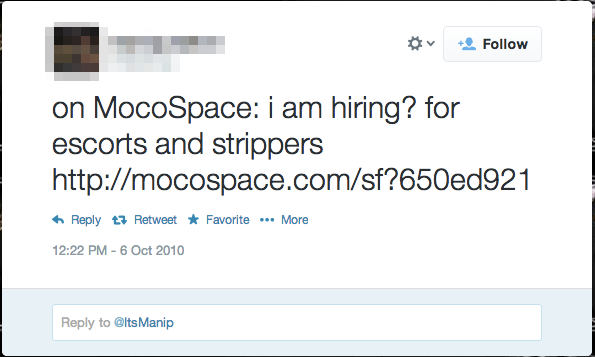 Screengrabs via MocoSpace, Twitter
In addition to its function as a recruitment tool, Facebook and Myspace are also used to connect sex workers with potential clientele. Of course, because selling sex is illegal in most of the United States, these profiles are couched in innuendo, with sex workers using coded terms such as "date," "girlfriend experience," and "P2P" (short for "pay-to-play") to avoid law enforcement detection.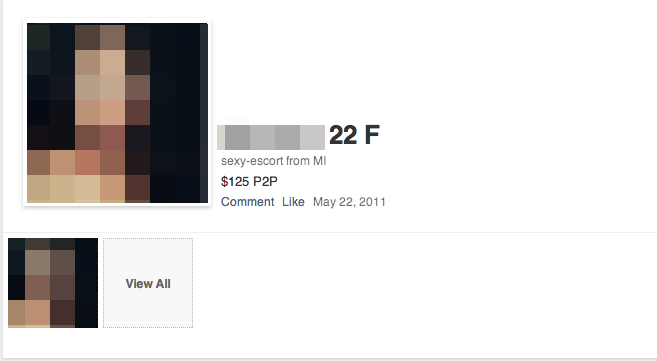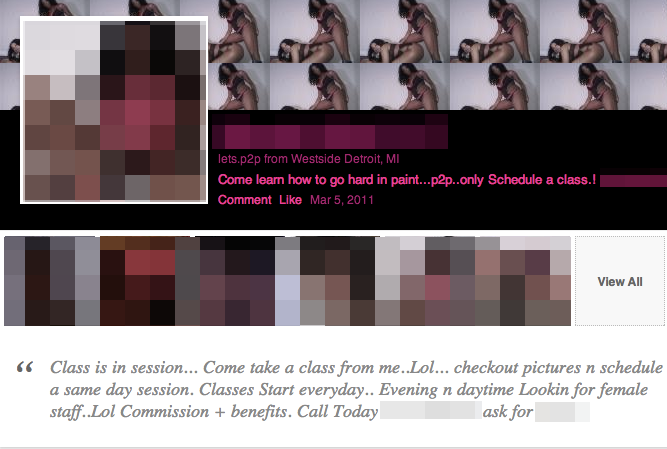 As one former sex worker notes in the study:
There are so many ways to sell [sex] and they are thinking of new things now. Facebook, you wouldn't think. 'Hi, my name is Suzy and I'm from CA. Looking to have a good time.' Friend them, once you make a connection, you let them know what the deal is. It's [sex] for sale. Myspace, all that, it's just a disguise. You might say, "Hey man, I'm looking to have a good time tonight." GFE—girlfriend experience. Codes mean, "Hey man, money."
The mobile gaming community MocoSpace, which investigators have referred to as the "most dangerous social networking site" for children, seems to be a particularly popular advertising and recruiting tactic for sex workers and pimps alike. The website has also been implicated in a number of criminal cases, including a trafficking bust in San Antonio and a string of sexual assault cases in Detroit, where the victims claimed to have met the perpetrator on MocoSpace.
If you're interested in learning more about the study's findings, you can read an abstract on the Urban Institute's website, as well as the full report here.
H/T New York Times | Photo by Quinn Dombrowski/Flickr (CC BY – SA 2.0)