On Saturday, Oct. 26, an estimated 50 women got behind the wheel to protest a state-wide ban on Saudi women driving. An official website was created for the event, and a parody video lampooning the ban made international headlines. By almost all accounts, the day was a tremendous success, especially in terms of raising awareness.
On Saturday, however, the website was hacked, and it remains that way as of Monday morning.
If you visit oct26driving.com, you'll now find a background of ominous red lightning bolts and a message that reads, "Hacked by G6Raat Hacker. Freedom for KSA." The email for the organization was replaced by the hacker's, and portions of emails to the site asking for comment were published on the front page. Although the site now reads in English, a translation on Saturday declared: "Reason for the hacking: I am against women driving in the land of the two holy shrines."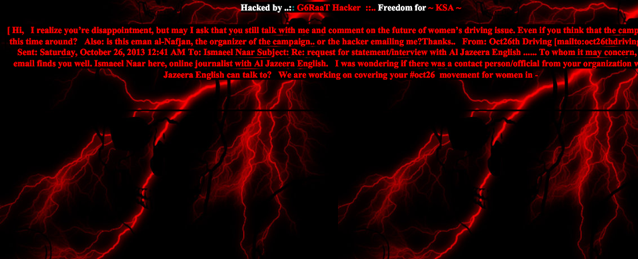 According to Al Jazeera, the website was censored by an Internet watchdog within the Saudi kingdom, though it's not clear whether the site was hacked by government officials, religious clerics, or a rogue group. The Saudi Ministry of Interior also warned that anyone posting videos of women driving could be subject to the country's cyber laws:
"When asked to clarify what would happen to those who were caught posting videos online of women driving, [Interior Minister Turki] al-Faisal said legal measures would be taken 'against whoever violates the anti-cyber crime law,' an offence punishable by a five-year prison sentence."
In 2010, the Saudi Ministry of Interior introduced a program that could allow men to track their wives via text message.
Over the weekend, a new hashtag in support of Saudi women driving was created, referencing Nov. 31. Since November only has 30 days, this was seen as a way to keep the protest alive beyond one day:
#Nov31Driving Hey everybody, It's an open-ended driving campaign. From now till death. PLEASE don't stop it!

— Samerah Almutairi (@SameraAlmutairi) October 25, 2013
Brave Saudi women are determined and unstoppable. This time there is no way back. Thus #Nov31Driving #Women2Drive

— تماضر اليامي Tamador (@TamadorAlyami) October 27, 2013
Meanwhile, Saudi activist Hisham Fageeh's "No Woman, No Drive" video has racked up more than 3 million views. And women continue to get behind the wheel.
Photo via Newtown graffiti/Flickr