Looks like someone's going to need a bigger surfboard.
According to Reddit, where an initially unassuming Imgur photo has gotten over 800,000 views in under 18 hours, an unknown man attached a camera to his surfboard as he cruised the waters off the coast of Far Rockaway Beach in New York City.
Doubtless plenty of bizarre objects lurk in the murky North Atlantic water, but when the surfer scanned his photos later, he got a Spielberg-sized shock:
There, in the sludge-green waters just a few feet below his dangling arms and legs, was what appeared to be a great white shark.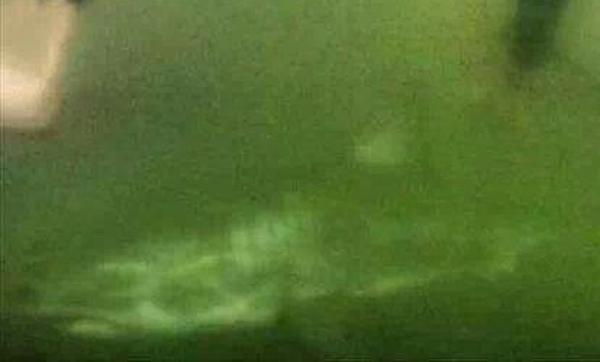 On r/pics, where the image was posted, several commenters, including a self-proclaimed ichthyologist, declared that the shark wasn't actually a great white, but a smaller, less aggressive shark called a porbeagle.  But most of the Redditors dismissed the idea, noting the size and shape of the fin.
Of course, it helps that the picture is actually 8 months old, originally posted to the same subreddit by user bem135. The Daily Mail reportedly confirmed in January that the shark was in fact a great white. And while great whites aren't normally found this far north in the Atlantic, chronic overfishing and shark finning may have driven this one out of its native waters.
But the oldness of the photo hasn't stopped it from going viral a second time, or from scaring countless viewers. "Let's just all appreciate that the shark didn't bite the surfer? Isn't that the point?" commented Instagram user BellaAthena.
While it's definitely a good thing for the lucky surfer that they escaped unharmed, it's also a reminder for the rest of us that, in the words of Redditor ZanderTirade from the original thread:
Everything in the ocean wants you dead. Everything.
Photo via hdude/Flickr