It's one of the most obnoxious cliches in television crime dramas—enhancing photographs to impossible levels of detail.
When redditor parachuteout got hit by a car while on a bicycle, he only had one piece of evidence—a photograph of the car's license plate (above), washed out thanks to the camera's brilliant flash. Montreal Police scoffed at it: "[We] don't have any of that CSI shit," they allegedly told the redditor.
Reddit has a whole bunch of that CSI shit, however, as parachuteout discovered after asking the social news site for help. And after watching Reddit's photo detective work in action, we have to admit that all those "enhance!" scenes on TV seem just a little less fantastical.
Here's how parachuteout explained his accident:
"I got hit by a couple of tanned suburban princesses in a black Mercedes SUV while on my bike on Friday night. The witness assured me he took down all the necessary info, but all I got was this shitty photo."
A squad of Photoshop-savvy redditors lined up to help. They passed the photo through filters, converted it to alpha channels, used a grid to align the numbers, and otherwise poked and prodded it with every photo-enhancing instrument they could find. It was a mad science experiment in crowd-sourced CSI.
The final five letters were the first to be deciphered: 06 BWQ. Those were easy. But what was the first letter? In the original photograph it appeared completely washed out by the light. There was a hint of a line stroke at the top, however: Was it a 7 or a J or Z? Redditors weren't sure
The last salvo of photoshop wizardry was fired off by likely_controversial, who had the answer: Z. The license plate was Z06 BWQ. Without a doubt. The redditor used this picture to prove it: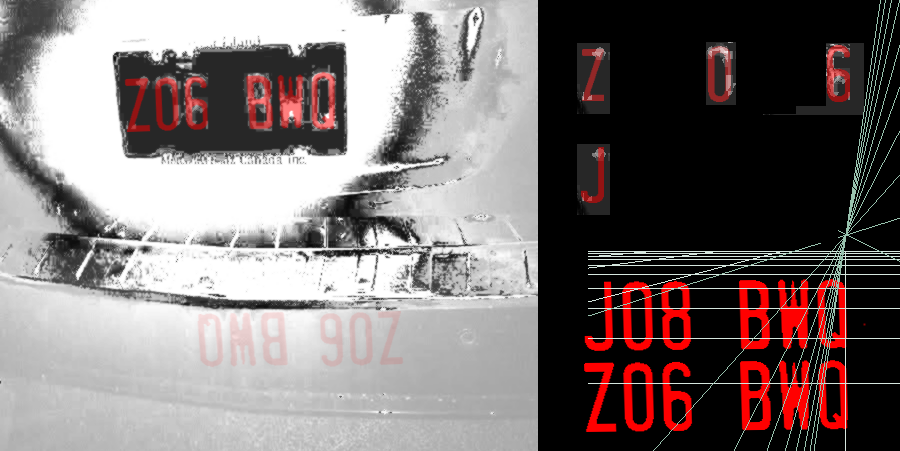 Here's how likely_controversial described the process, a series of layered steps that will likely only make sense to the more Photoshop-savvy of our readers:
"I lowered the contrast, made everything slightly duller, converted RGB to alpha channels, put it on a black background, then fiddled around with letters to angle them and see which ones fit best.

"The perspective grid was to keep the letters angled with the number plate and reflection, I meant to remove it though.I didn't sharpen or blur anything because that would add and remove bits, which isn't helpful.Then I put the 3 letters that were eligible on the right and tried J, Z, 2 and 7 for the first letter, 8 and 0 and D for the second, 8 and 0 for the last then uploaded it when I thought I had found the correct letters. Z fit best with the small parts of it that were visible."
"WE HAVE A WINNER" parachuteout declared. "Z06 BWQ. Thank you all SO MUCH!!!"
It's not clear exactly what the redditor meant by "winner," however. Did the police confirm the number? Or, like the rest of Reddit, did he simply find likely_controversial's explanation the most believable?
We've reached out to parachuteout to find out what happened.
Photo via parachuteout