A Canadian man wanted for the murder of his ex-girlfriend allegedly has posted his confession and perspective on Reddit.
According to archived and cached versions of the now-deleted post, a redditor by the username of Redasblue101 claimed to be 24-year-old Ager Hasan, who is wanted for the murder of 22-year-old Melinda Vasilije from Kitchener, Ontario.
In the early morning of April 28, Waterloo Regional Police officers for the region encompassing Kitchener found Vasilije stabbed to death in her apartment, GlobalNews.ca reported. Hasan has been charged with second-degree murder for Vasilije's death, as well as three counts of breach of recognizance. The two reportedly dated for about a year.
Waterloo officials reported that Hasan crossed the U.S.-Canada border into Buffalo, New York around 5:45am that day. He was last observed around 10am in a Walmart parking lot in Erie County, Pennsylvania, stealing a state license plate and attaching it to his car. However, the post alleges that Hasan is not running from police.
"I understand the early judgements (sic) made by society, distancing myself makes it seem like I am trying to escape a crime. I'm not. I'm only trying to give myself some space and fully take in what happened before I turn myself in," the redditor claiming to be Hasan wrote. "The fact is no one is more destroyed than I am. She was more than a girlfriend, a soon to be fiance, she was my everything. What happened that night was nothing but tragic."
In the post made on May 2, Hasan wrote about the night of Vasilije's death, explaining that he had visited her apartment on mutually agreed upon terms. The couple had been broken up for nearly a month, Hasan wrote, and got back together that night. However, the two began fighting after Vasilije had learned Hasan had seen other people while they were apart, he claimed.
That's when Hasan alleged that Vasilije came at him with a knife. She cut his hands, but he was able to "grab one" knife to protect himself. Then he said he stabbed her in self defense:
I go up to her to try and give her a hug, almost out [of] nowhere she grabs a knife by the sink … She comes at me in full force, aiming towards my face. I tell her to stop. She doesn't, I tried grabbing the knife but ended up cutting my hands. After a few cuts I lost it. I freaked out, I was scared and in a state of shock. Never in a hundred years did I think she would use a knife against me. Out of shock and fear I grab one. I hit her with it, almost blindly. A few times. I didn't know what happened. I was confused, shocked and scared. I had no intentions of that happening."
In an unclear portion of his claim, Hasan wrote that when he left her, he thought Vasilije had "just passed out," but then he saw blood and ran.
"When I left I honestly thought she just passed out. Then I looked at the blood, and started freaking out and just ran. I didn't [know] for sure she had died until the next day. I honestly had no intentions of ever doing that to her. I was protecting myself," he wrote.
In the post, Hasan also defended his year-long relationship with Vasilije and said he had never abused her, but he said she sometimes hit or slapped him when he'd say "something stupid." He claimed Vasilije's roommate, Anna, was using her, and he said he'd gotten into a confrontation with Anna's boyfriend and brother when he tried to see Vasilije in early April.
"At this stage I knew if we were to patch things up it would be rough. We didn't see each other for a few weeks," Hasan wrote about their month-long break after the altercation.
However, according to KitchenerPost.ca, Hasan was charged with breaking and entering into Vasilije's apartment and with two counts of assault on April 3, presumably with Anna's boyfriend and brother. Hasan was given a restraining order from entering the Waterloo region and from contacting Vasilije.
According to Inspector Mike Haffner via GlobalNews.ca, the three counts of breaking recognizance in addition to the murder charge are related to Hasan breaking the restraints.
While the Reddit post has since been removed and Hasan's alleged user account has been suspended, photos and screenshots of text messages leading up to Vasilije's murder uploaded to Imgur to verify Hasan's identity remain online. Each post of six text messages and nearly 40 photos—the couple's selfies, Snapchat screenshots, and more—has been viewed more than 14,000 times.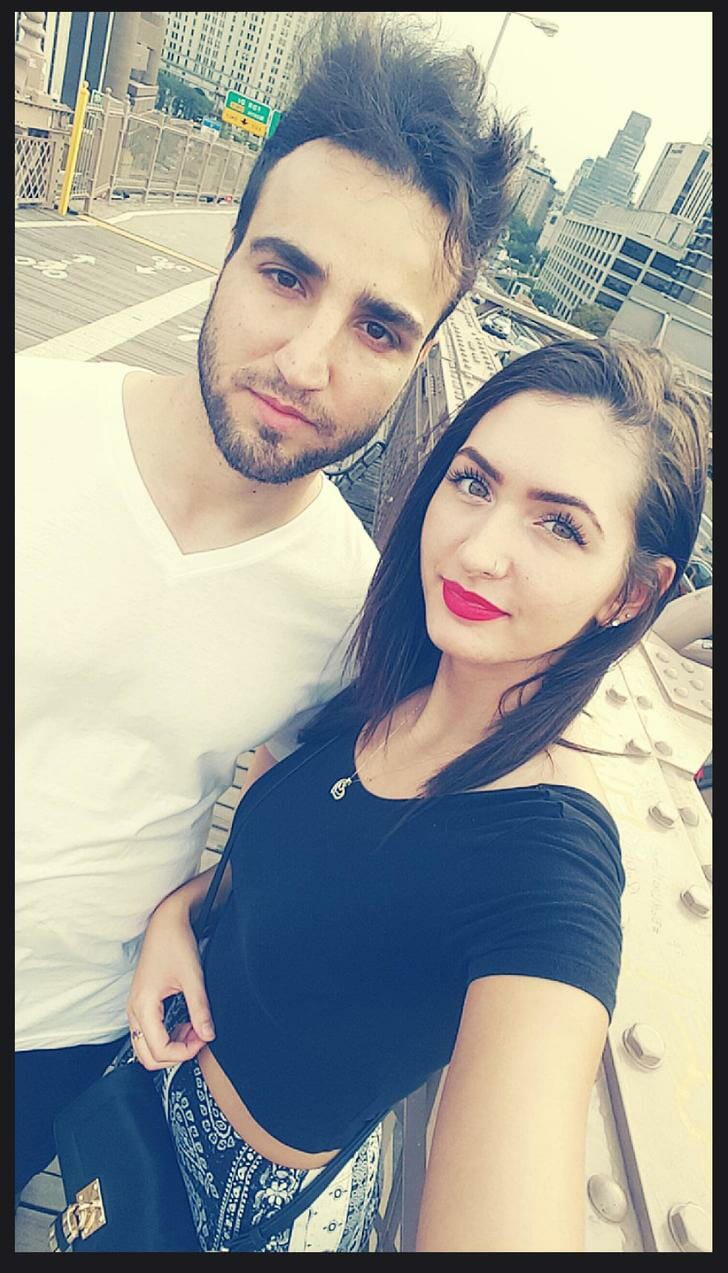 As of May 3, Waterloo authorities said they're evaluating the Reddit post, but they have not formally connected the post to the investigation.
A GoFundMe page honoring Vasilije has been set up to cover her funeral costs. So far, more than $16,000 has been donated in her name.
"For all who knew her she had such an uplifting personality and made everyone around her happy. We will never forget her, her memory lives through all of us," the crowdfunding page reads. "Rest in the sweetest peace Melinda Vasilije."
H/T BuzzFeed News