On PuffPuffChat (PPC), the chatroom for stoners, teens and young adults bond over their love of green—then find they were too baked to exchange contact details.
Launched in May 2014 after "years of half-assed work" by 22-year-old Eric (also known on as Cherry Garcia on Reddit), PuffPuffChat is like Omegle or Chatroulette, only more chilled-out.
"Unsurprisingly, I got the idea for PuffPuffChat while under the influence of cannabis," Eric wrote back in a surprisingly prompt manner.
"I love having high conversations with my friends, and I thought a website that provides a similar experience with random Internet people would be a lot of fun."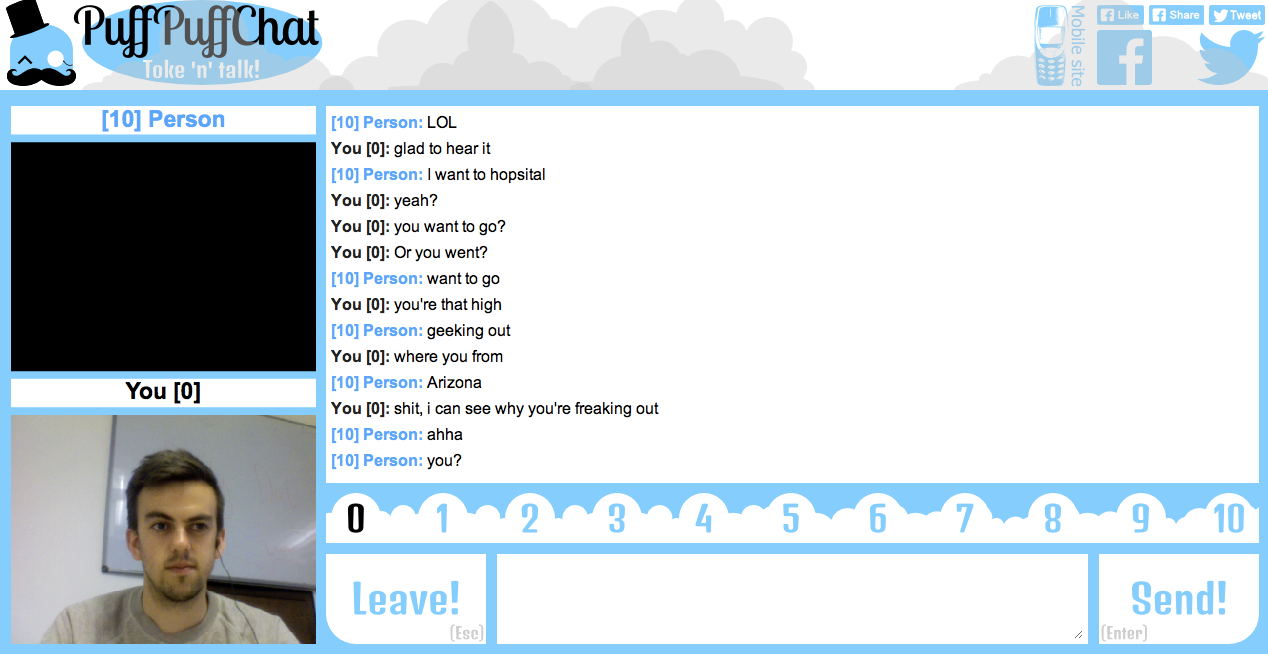 Screengrab via Rob Price 
The design is more fresh and accommodating than Chatroulette, and doesn't have problems with spammers, prostitutes, and male nudity, which plague pretty much every other video-chat hub. Eric's site also has the unique function of asking users to rate how stoned they are on a scale of one to ten before joining a conversation. Often these numbers fluctuate as chatters get progressively more toked.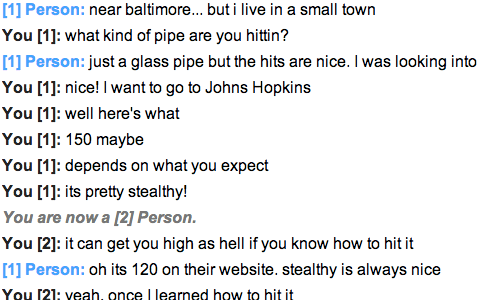 "This is great for loner stoners who can't find like minded people to talk with," said redditor Bodie217 shortly after the launch. "I could really see this catching on." 
Sure enough, a scan through the r/trees subreddit—Reddit's premier kush forum—demonstrates that the weed community has embraced PuffPuffChat.
Reported redditor Skweeky:
"I've just been chatting to people on their for like an hour now and ive never had such great conversation which someone i dont know, Once the conversation gets flowing its great."
In the two months since its launch, Eric says the site has hosted tens of thousands of conversations. Most users prefer text chat to video. Only three people have reported a "bummer," or bad experience.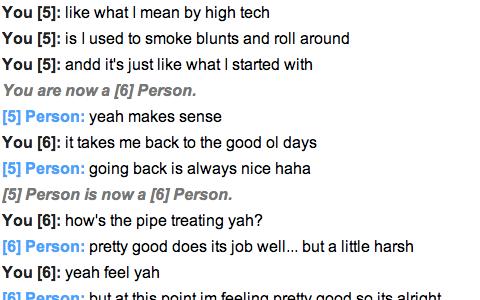 Since its audience is mostly from North America, the site can be quiet when the U.S. population is sleeping, but gets busy around 4:20pm and in the late evenings when stoners are lighting up. The only problem so far: Users who get along struggle to find one another once their chat is over. But a few chatters have come up with an old-fashioned solution.
Reddit has created a Missed Connections page for PuffPuffChat users who were too baked to exchange contact details. In "Nora from Massachussetts this is Brett fron Louisiana [sic]," the poster wonders where Nora went that time: 
"You were 18 im 16 we talked about Kelsey and the importsnt things in life."
Two months ago, Alex from Wisconsin appealed for his buddy Alexis in California to get back in touch: "Hey my phone died when we were talking about high school. Pm me!" 
Alas, he told me, she never did.
The r/PuffPuffChat subreddit is also used for missed connections. 
"Just chatted with a lady at a solid [5] from a city like 45 minutes from me up North. I randomly hopped on and instantly was connected to someone super local. Being at a [2] I accidentally closed the window… but just wanted to say what a top notch service ha. Thanks for making it."
Eric says he doesn't make any money from PuffPuffChat. "[It's] meant to celebrate and enjoy the miracle of human conversation, and, of course, weed.
"I'm just thrilled to see people having fun with it, and can only hope it brings yet more solidarity into the cannabis community, as well as to the general community.
"Non-smokers are very welcome to the site too, whether just to have a good chat or to experience the anthropological thrill of seeing stoners in their natural habitat."
Photo via ytimg