Pornhub has a history of media stunts that are as cheeky as they are innovative. First it was a safe-for-work (SFW) Super Bowl Ad that was banned by CBS. Then the porn tube giant decided to give back with unlimited free porn on Valentine's Day and planting trees in the name of orgasams.
Not one to rest on their laurels, Pornhub announced in March that it was turning things over to their some 35 million daily users for help with its latest nationwide SFW campaign. The media-savvy porn tube site put out a crowdsourcing call, looking for a catchy, clever SFW ad. What it got in return were some 3,000 submissions by more than 2,000 entrants, all of whom were no doubt allured by the contest's grand prize, a paid one-year contract as Pornhub's official creative director.
After the submissions were culled down to the 15 sharpest, Pornhub asked fans to vote on which they thought best encapsulated the "brand" of the a site whose user's comments can easily make you lose faith in humanity. Pornhub has finally chosen its winner, naming Nuri Gulver of Istanbul as the company's first creative director. The 24-year-old merged the two undeniable truths of this world, the Beatles and porn, in his winning campaign submission, "All You Need is Hand."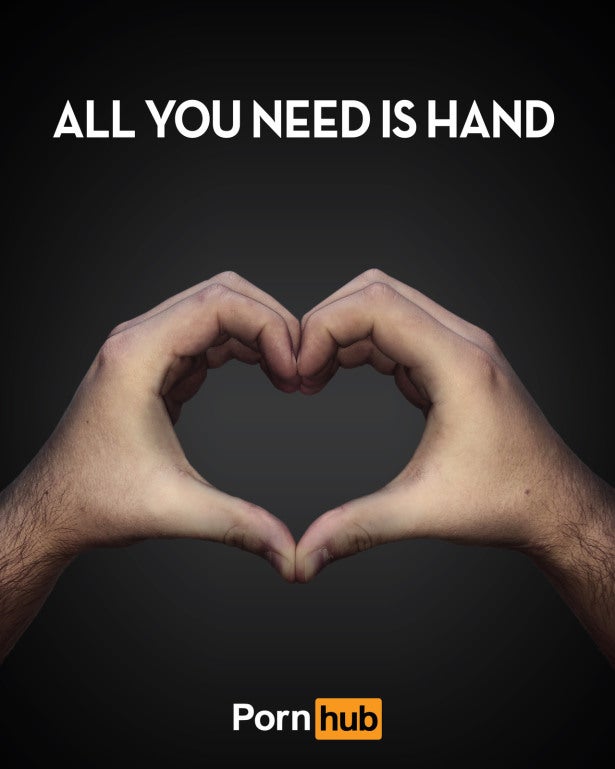 As Gulver explained in his campaign submission summary: 
Because of our icon is a hand, our campaign will easily integrated into any media. Because everyone has it or familiar it. And they use it often in their daily life. So, with our effective insight, we will announce "Pornhub" name to the whole world in a short time.
Gulver, who works as copywriter for an advertising agency in Turkey, is elated with his new job. "I used to think I was lucky, but now I think I am the luckiest person on earth," he said in a press release.
With strategies for TV, radio, Internet, and outdoor campaigns, it'll be interesting to see how Gulver's work fairs in the real world, not to mention how successful Pornhub will be at getting the rights for the Beatles "All You Need is Love." At the very least, it's fun to imagine Don Draper and Peggy Olson pitching this campaign with all the emotion they can muster to a room full of porn honchos. 
All photos via Pornhub