In the wake of the widespread and debilitating federal shutdown, one arm of the government may have issued an amusing cry for help yesterday.
The National Weather Service, which has been working its usual round-the-clock schedule to update listeners on hurricanes and other storm and potentially dangerous weather patterns, hasn't gotten paid since the government went dark.
But that hasn't kept some of its employees from exercising a sense of humor about the whole thing—albeit a grim one.
The Washington Post reported yesterday that one of the service's frequent weather updates, held more than just a typical update on Alaskan rain patterns. The 11-line statement, titled "FXAK68 PAFC 041245," appears about halfway down this page of updates on the NWS website. The first letter of each line in the update contains an anagram reading, "PLEASE PAY US."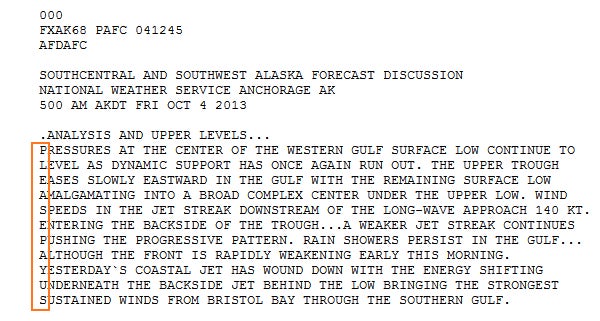 Screengrab via nws.noaa.gov
It's difficult to know whether the humorous anagram was intentional or not. Later updates substituted different wording for the brief, which could indicate only changing weather patterns.
Then again, National Weather Service employees probably want to get paid just as much as the rest of the government's 800,000 furloughed employees.
So perhaps the NWS simply decided it might not be wise to bite the hand that currently isn't feeding them.
H/T Slate; Photo by Marcelo J. Albuquerque/Flickr