Hal Lasko's style is uniquely his own, a sort of digital pointillism forged by a rare combination of skill and circumstance.
A retired typographer and graphic designer, Lasko spent decades creating custom lettering from scratch for advertising campaigns for the Cleveland Browns and Goodyear tires. About 15 years ago, his family got a computer, loaded with Microsoft Paint, and in 2005, he was diagnosed with wet macular degeneration, which causes blindness in the center of one's vision.
"When I lost my eyesight, I thought my painting days were over," Lasko says in the Vimeo documentary about his work, The Pixel Painter.
Instead, Lasko just zooms in further on his computer screen. He completes his digital paintings in pieces, creating detailed and nostalgic landscape portraits—one pixel at a time.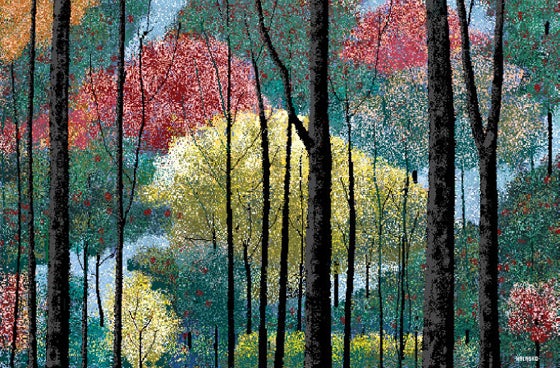 "If it takes me two years to do a part," he says in the film, "I've got a lot of patience."
The Pixel Painter—coproduced by his grandson, Ryan, and running just over eight minutes—follows Lasko for a weekend as he interacts with his family for his birthday and attends an exhibition of his work the local senior center in Rocky River, Ohio. There's a sparkle in his eyes throughout, and it's clear how much of himself he puts into the work. He's even developed a personal relationship with the printer at the FedEx Kinko's.
While the video has been online since July, it merits repeat viewing, especially considering it just took home the People's Choice Award at the Imagine Science Film Festival in New York this weekend.
Prints of Hal's work are available on his site.
Screengrab via Vimeo