There's a scene in the new Coen brothers film Inside Llewyn Davis where our frumpy folk hero Llewyn finds himself stranded on the side of a highway with his guitar and cat. Certain he won't be able to hitch a ride if he brings along his fuzzy, marmalade companion, Davis makes a tough call: He leaves the cat behind to face an uncertain, wintery doom in a broken-down car with a heroin-addled jazz aficionado.
For many, the scene was too much. If there was ever any hope for redemption of the already profoundly unlovable folk singer, it was lost. Who, after all, would do such an unthinkable thing to a poor cat? Especially in the dead of winter.
As it turns out, Llewyn's behavior might not be so uncommon as we'd hoped. As Jezebel reported, someone in the Lefferts Gardens neighborhood of Brooklyn who moved out of their apartment this week jettisoned their cat in the building's lobby, according to a Craigslist post that went up Tuesday night.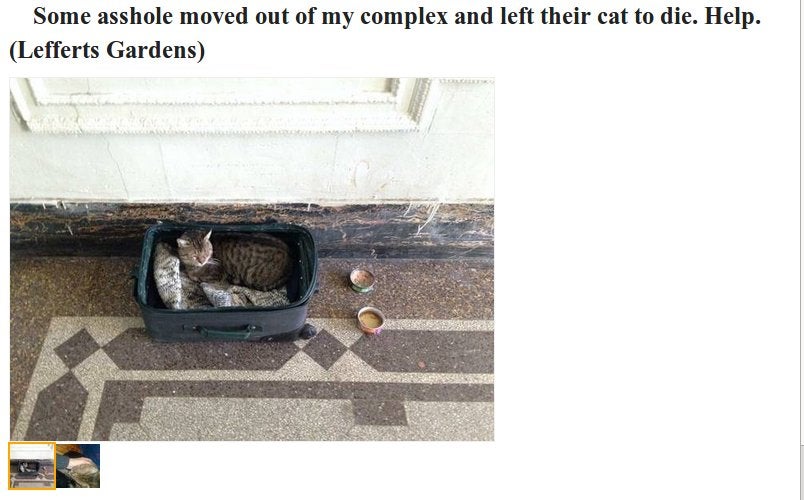 "Someone in my community moved out right before the blizzard and just left their cat," the post read.
"Predictably, management evicted the cat and she's just been sitting out in the patio area, freezing, and waiting for her owners to come home.

She is the sweetest cat in the world. I have seriously never encountered such an affectionate animal. Unfortunately, however, I am not allowed to have a pet by conditions of my lease."
As a parting gift, the owner left two small cans of cat food. For those of you not following the cosmic scandal sweeping the North East known as the polar vortex, it was a particularly unfortunate week for a cat to be left outside: Nighttime temperatures have fallen into the single digits. Luckily, the cat was adopted today, according to Jezebel.
Photo via Craigslist