Taking a trip through scenic nature environments is always exhilarating, but whether you're seeing snow-capped mountains or endless forest floors, there is one convenience that the great outdoors rarely if ever offer: a comfortable spot to sit down. Faced with this dilemma, friends and adventurers Andy Fuhrmann, Dave Fine, and Becca D'Agostine nipped the problem in the bud by bringing a futon with them wherever they went.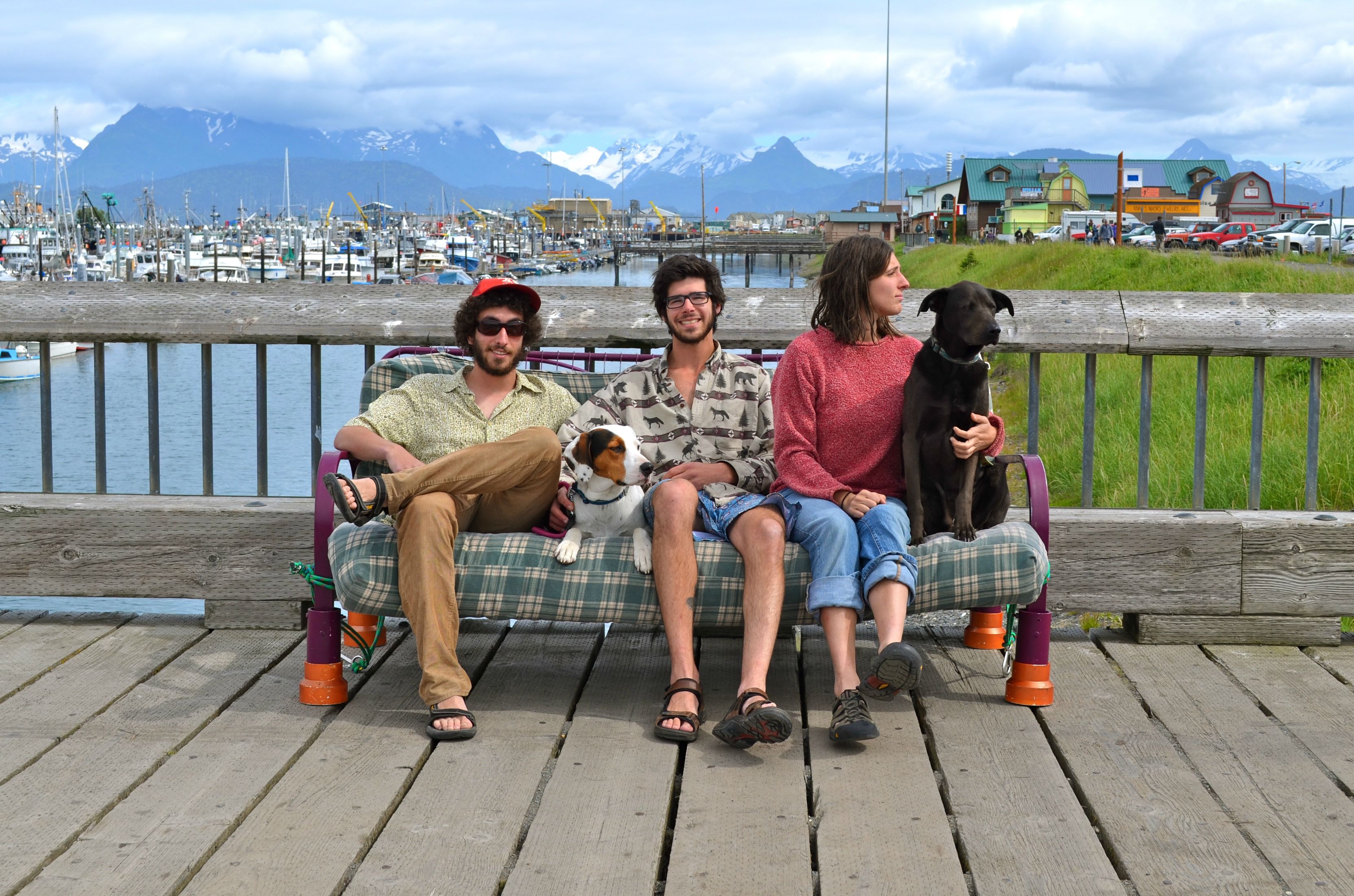 Even more fortunately for them, their friend Zach is a redditor and shared their adventures with the r/pics community . Naturally, due to the bizarrely breathtaking nature of the images, the post quickly reached the front page and received an overwhelming response from the community.
"We were shocked," D'Agostine told the Daily Dot via email when asked about the photos going viral on Reddit. "The pictures were put on Facebook just to show friends and family. We hadn't planned on putting it up on Reddit or anything like that."
"We kept getting texts and calls from friends who recognized us. It's pretty weird and also cool to see our faces on so many different websites and blogs. We are happy that it was so well received and we hope it inspires more people to travel and take weird pictures of themselves."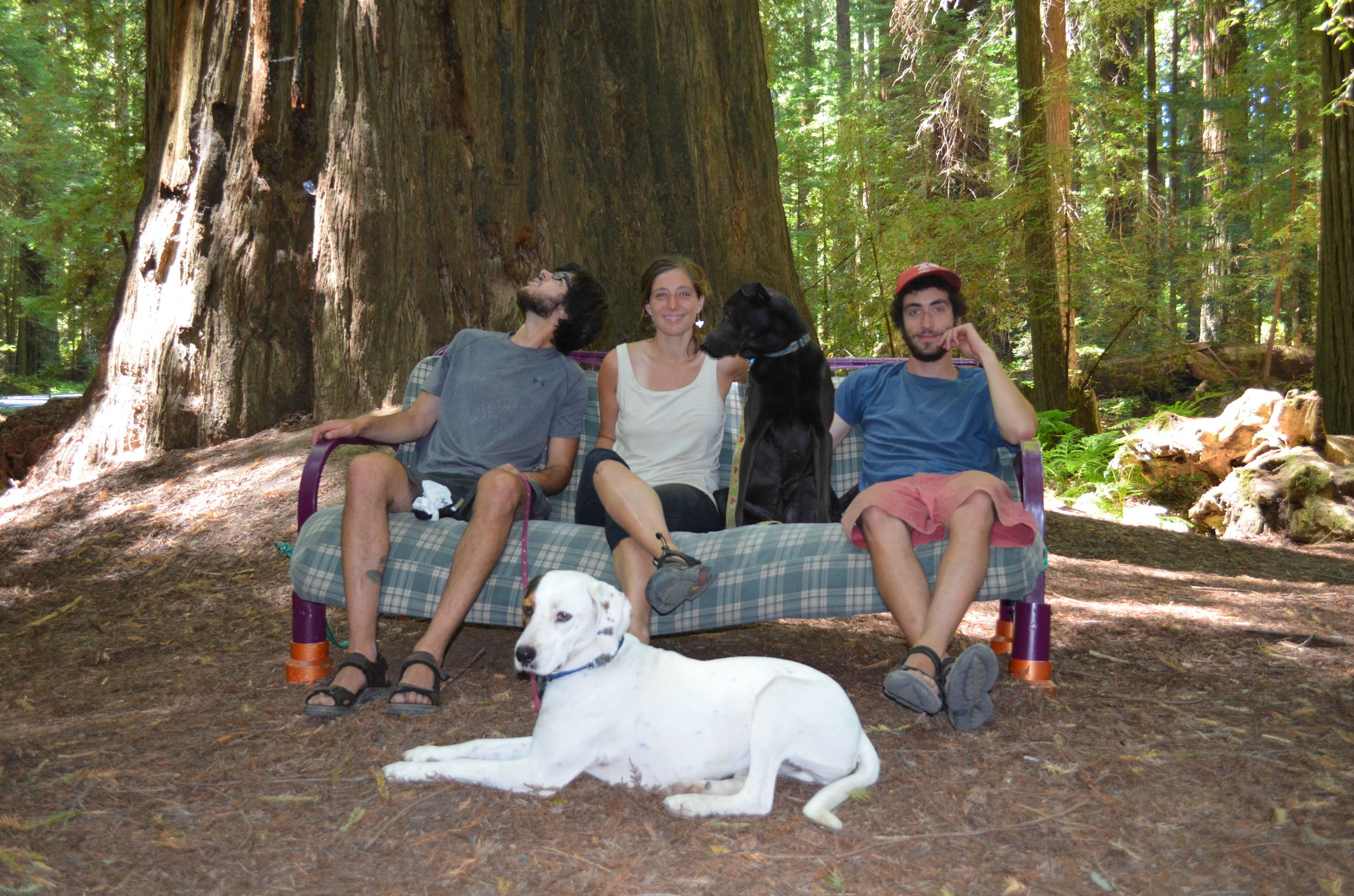 The group traveled to scenic locales in California, Wyoming, and even Alaska. The photograph that received the most attention, in D'Agostine's estimation, was one taken near the Seward Highway in Alaska. There, the trio set up their site on an actual working set of railroad tracks.
"We didn't realize just how dangerous that shot was," D'Agostine said, "until a nearly silent train came chugging along just a few minutes after we snapped the photo. Oops."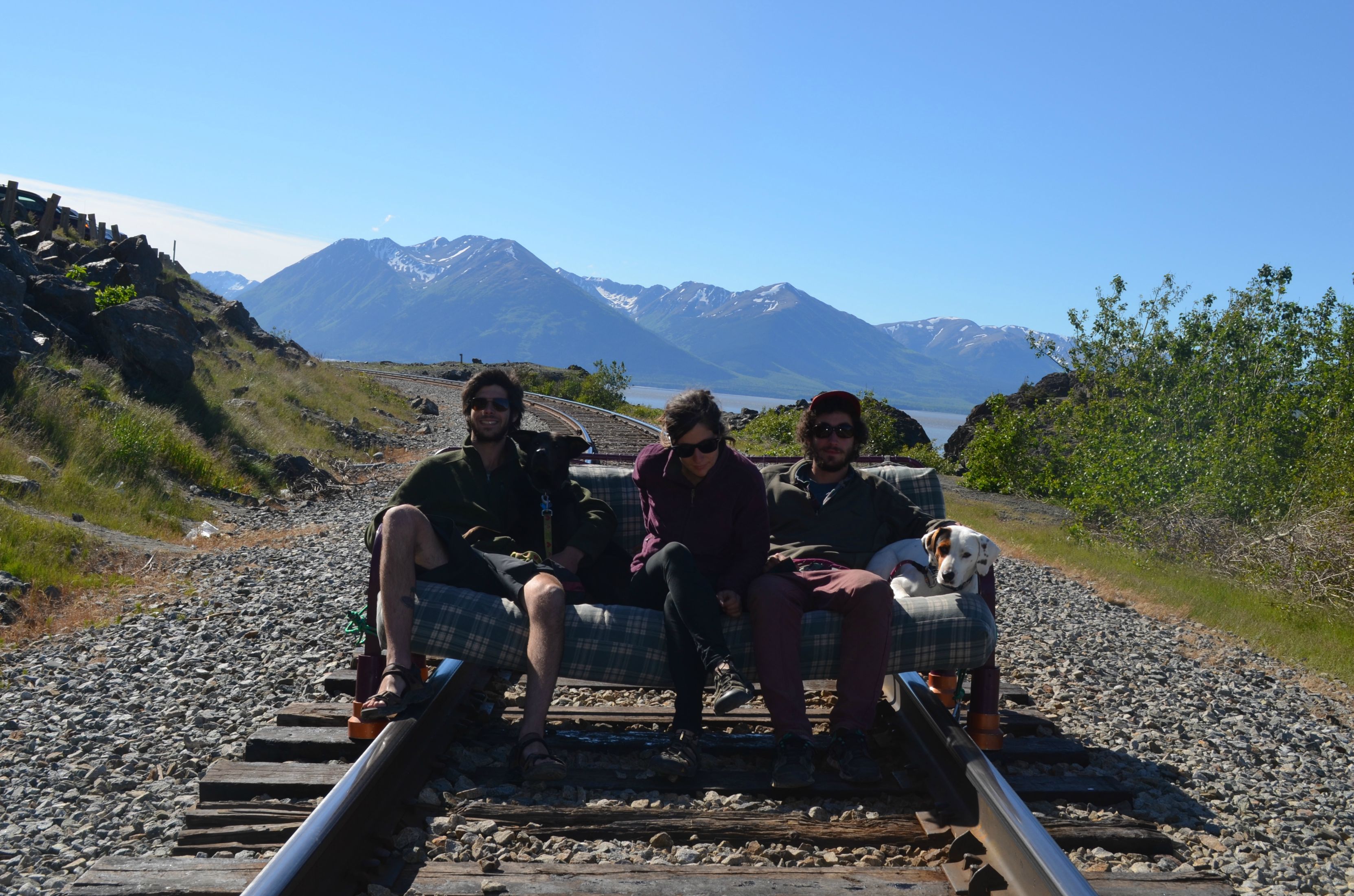 Why a futon? Simple: it was the bed that the three friends shared on their travels. Needless to say, getting it out of their van and onto the desired site was somewhat of a monumental task.
"We would have to take pretty much everything out of our van in order to get the futon out," D'Agostine said. "The futon was clipped in, so we had to unclip it too. Two people would carry the futon to the location, sometimes up cliffs and over streams, while the other person brought the camera, tripod and two dogs."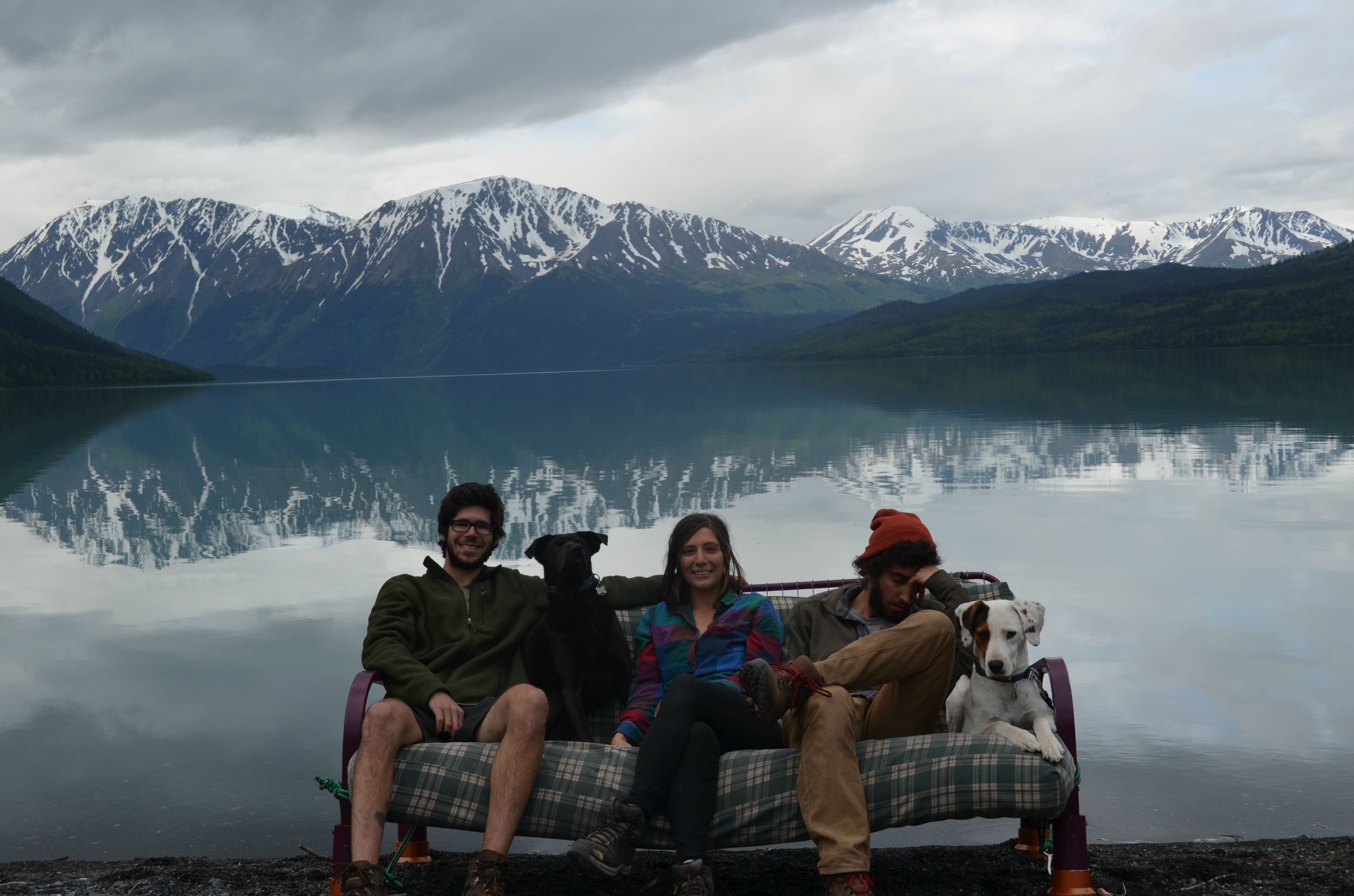 Despite the added hassles of furniture lugging and dog wrangling, neither D'Agostine nor her friends regret capturing their extraordinary shots. The inclusion of the futon only added to their stories from the road.
"After taking a picture of the Pacific Coast Highway in Big Sur, CA, we flipped the futon around and were staring out to the ocean," D'Agostine said. "As we were sitting, we saw a woman lay down her horn on a couple of bikers. Later that night, we were at a campsite 10 miles down Route 1, and met a couple of kids on a bicycle touring trip down Big Sur. We discovered that not only were these the people we saw get honked at 8 hours earlier, but they snapped a quick picture of us on our futon while biking by. It was awesome to see a picture of us on a random Canadian kid's cellphone."
Truly a harbinger of things to come.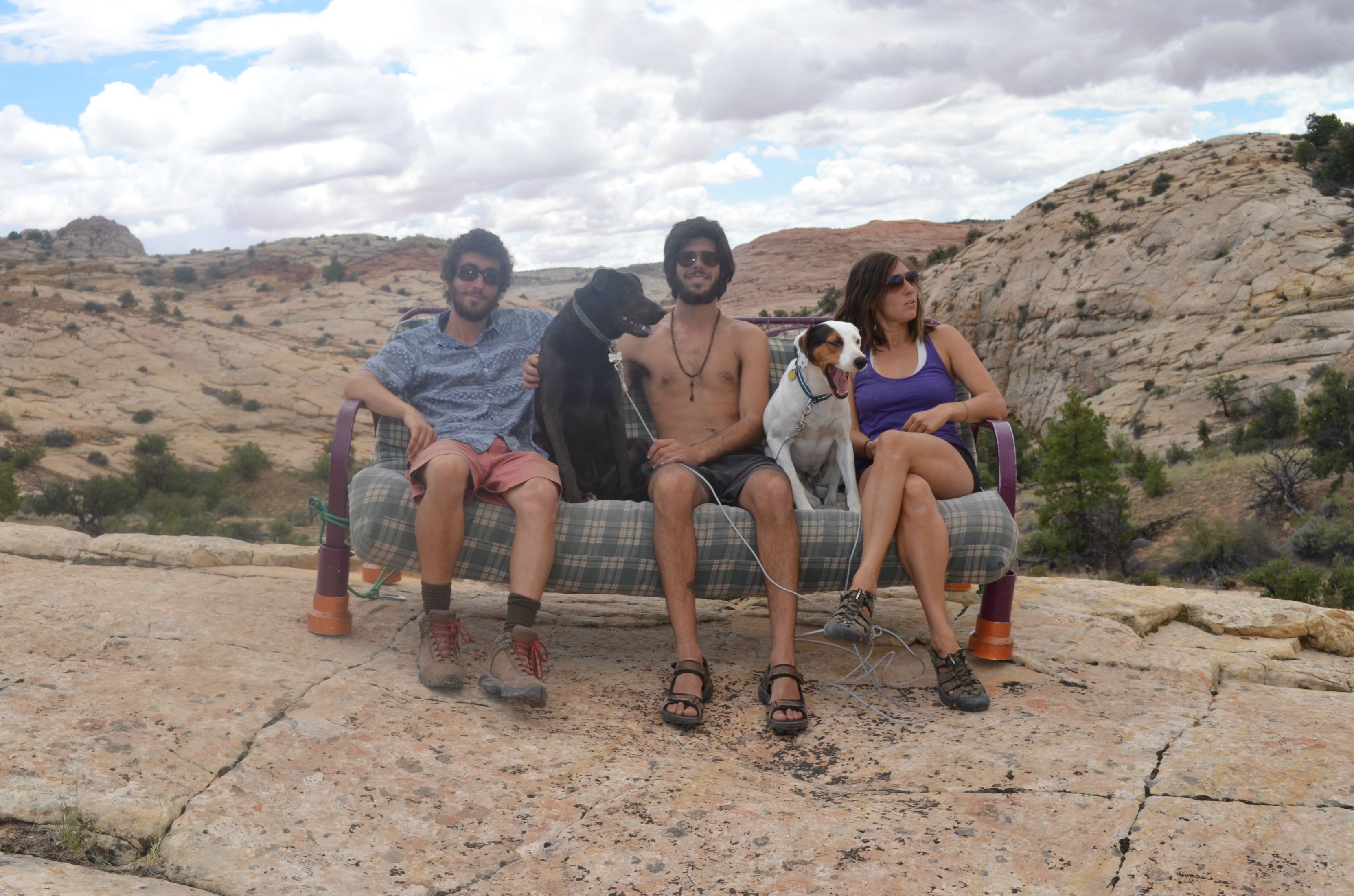 Photographing natural beauty from the comfort of a futon was not the main purpose of the friends' trip. Their goal—which was definitely achieved—was to see and enjoy nature up close. Now, thanks to the viral spread of their memories, D'Agostine hopes that others will be inspired to follow in their footsteps—futon or not.
"There's no reason that most young people wouldn't be able to do this kind of thing. It took a few years of planning and working 2 jobs to save enough money, but as long as you're willing to rough it for a few months, it can be done for cheaper than you'd think," she said.
So what's next for D'Agostine, Fuhrmann, and Fine (and their futon)? There's no shortage of places they would love to take their unique setup.
"We thought it would have been funny to get a shot on the strip while we were in Vegas," D'Agostine said. "I would like to set up in/over a slot canyon in Utah and also in the desert near saguaro cacti. We also probably should have gotten a shot of us in Middle America farm country. It's not fair to leave them out."
All we can do is wait. And pester Zach.
All images via radagost/Imgur