Just months after being touted as a "social media prodigy," Vine celebrity Nash Grier has learned the hard way that Internet backlash spreads even more quickly than Internet fame—especially if it's in response to sexism.
Grier just celebrated his 16th birthday with his 4.2 million followers on Vine—the third highest on the platform. But the North Carolina sophomore, whose following largely consists of teenage girls enamored by his blue-eyed charm, did more than party over his Christmas vacation.
He also caused an Internet uproar when his attempt to tell his young female audience "what guys look for in girls" backfired in a major way.
In a video Grier uploaded to YouTube five days before Christmas, he and his friends, 18-year-old fellow Vine star Cameron Dallas and 20-year-old YouTube star JC Caylen, attempt to tell their mostly female fans "What guys look for in girls."
In the nine-minute long segment, the boys describe their ideal girl as someone who can be entertaining, spontaneous, and fun, girls who can cook, and who can "make you a better you," i.e. improve the boys themselves. They criticize girls who they see as having no personalities and who are just waiting to marry rich husbands.
Then they move into more contentious territory: Caylen criticizes girls with "fake tits," while Grier dislikes girls who are "obnoxious and loud." Then the boys talk about physical appearance, favoring girls who are short and petite, with "natural" looks and "really good smiles." They criticize girls who don't shave their facial and body hair, implying that "peach fuzz" and other types of natural hair on women is "gross."
Grier also tells girls that "the chase is such a big part" of what makes a girl appealing, encouraging them to "play hard to get."
"If you play too hard to get, then it's just like, 'oh, she doesn't even like me,' but if you play easy, then it's just like, oh, she's a whore," Grier states. "Find a balance."
"You can't be better than me" at playing video games, Dallas adds. "I mean I don't even play video games. You can't be better than me."
Grier's video stood for five days as it gathered major backlash over what many viewers felt were the boys' reinforcement of horrible beauty and behavioral standards in young women who already battle with low self-esteem. Among the prominent YouTubers who commented on Grier's video before it was deleted were comedy vlogger Lamarr Wilson and beloved Vlogbrother Hank Green.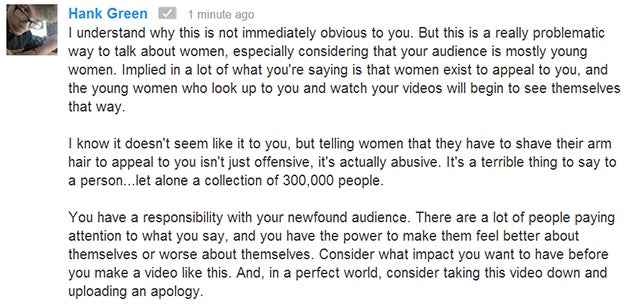 Screengrab via greedydancer/Tumblr
Screengrab via BuzzTube Online
On Tumblr, anger is still brewing, as a viral repost of Green's comment has garnered over 200,000 notes and reblogs.
Before he removed the video, Grier defended it:
Just so you all know girls are most attractive when they're themselves! I thought I made that pretty clear in the end of my video!

— Nash (@Nashgrier) December 23, 2013
But in a video where young men insist that they want girls with "natural" hair but then state that they prefer "brunettes," it's easy to see how professed double standards applied to young women can leave them feeling frustrated and angry. As one Tumblr user put it:
So according to Nash Grier, as a girl you have to be yourself but still:

– got to have a personality (whatever that means)
– got to have naturally weavy long hair
– have to entertain him
– have to be funny
– have to be talkative
– got to have clean and "perfect" teeth
– have to shave all your body hair (probably except your hair on your head, your eyebrows, and eylashes)
Grier deleted the video on Christmas Eve, though copies of it were quickly uploaded to other channels. And as some fans have pointed out, he's not the only one in his circle of teen boys with large fandoms on social networks to make these kinds of statements about women. Tumblr user macbookho took screengrabs of similar videos made by Caylen and other members of Caylen's YouTube group Our2ndLife, a collective channel of 6 popular male teen vloggers that has nearly a million YouTube subscribers.
Screengrab via macbookho/Tumblr
Meanwhile, Grier's YouTube channel continued to grow in popularity. In the wake of the debate, it ballooned in a matter of days from 300,000 followers to over 430,000.
In the end, the public censure of a noted vlogger like Green could go a long way to check such videos before they happen.
But it won't do anything to check the messages that Grier and his fellow rising stars of social media are sending to their followers across all platforms.
Screengrab via YouTube