What's even better than a high-res photo of a corner of the universe? A high-res GIF, of course.
Images from NASA's Cassini mission, a spacecraft mission launched in 2004 to explore Saturn and its moons, have been compiled into a color filtered movie that shows Saturn's North Pole, and the hexagonal pattern of the planet's fierce jet stream:
This colorful view from NASA's Cassini mission is the highest-resolution view of the unique six-sided jet stream at Saturn's north pole known as "the hexagon." This movie, made from images obtained by Cassini's imaging cameras, is the first to show the hexagon in color filters, and the first movie to show a complete view from the north pole down to about 70 degrees north latitude.
Cassini imaging team member Andrew Ingersoll compared the jet stream to a hurricane—if a hurricane lasted for decades, and perhaps even centuries.
GIF via NASA
A closer black and white view also shows the turbulence of the storm at the center of the jet stream, and the 200-mile winds that flow across the jet stream's 20,000-mile expanse.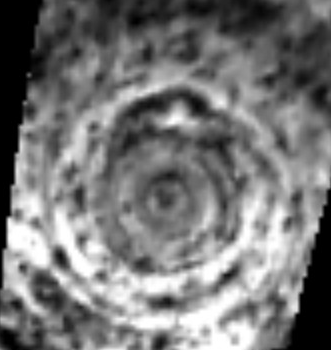 GIF via NASA
The Cassini spacecraft captured the movie's 8 frames over 10 hours on December 10, 2012. The spacecraft launched in 1997, arrived at Saturn in 2004, and will complete its mission in 2017.
Photo via NASA