The Craigslist rental game is rough. Misleading photos, terrible locations, roommates from hell; you're almost certainly getting ripped off—so it's nice to know someone's out there who doesn't care about making a profit. He's offering an incredible deal: a D.C. penthouse for just $1 a month. One dollar. That's unheard of. There's gotta be a catch, right? 
Well, you've gotta be 26 or younger and "very attractive." OK, whatever. It's his space.
You also have to be naked.
"Sounds crazy, but this is for real," the poster writes. "I'm a male looking for another male (straight or bisexual w/girlfriend preferred, but masc gay is cool too) to be my naked roommate."
You should also be OK with a little groping and fondling—just a little. "Arrangement would be mostly 'looking' but some 'touching' will be required," he says. How much and how often are negotiable.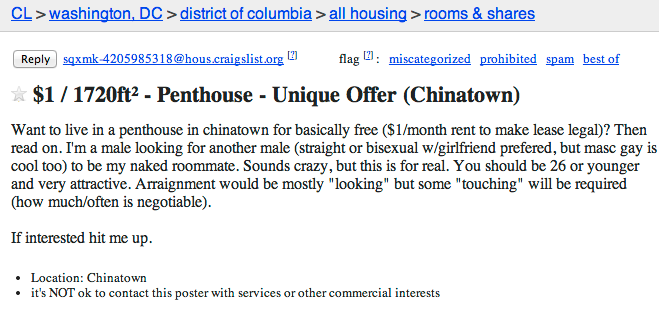 HuffPo wasn't sure if a grope-for-rent deal was kosher, so it reached out to a legal expert. Could you be evicted if you throw on pants? What happens if you're no longer comfortable with the touching? 
"I don't think the fear of eviction could be eliminated because you can't say certainly that the agreement would not be enforced," D.C. landlord-tenant attorney Dorene Haney said. "And the landlord might try to evict the tenant, legally or not, if it were not performed. … I don't think the nudity is illegal, but I don't know if a court would enforce that part of the agreement either."
So things could get pretty messy, which is about par for the course when you're not wearing pants.
H/T Curbed | Photo via travelingbone/Flickr