Forget that Dos Equis character. Lieutenant-General Sir Adrian Paul Ghislain Carton de Wiart is the most interesting man in all of Wikipedia.
Carton de Wiart has a list of titles as long as his name. He was awarded, respectively, the Victoria Cross, the Knight Commander of the Most Excellent Order of the British Empire, Companion of the Order of the Bath, Knight Commander of the Most Distinguished Order of Saint Michael and Saint George, and the Distinguished Service Order—all for combat served in the British Army. Oh, and he also held the Belgian Croix de Guerre and was an Officer of the Order of the Crown of Belgium.
What does it take to win all those awards? We'll let Wikipedia tell you:
"He fought in the Boer War, World War I, and World War II, was shot in the face, head, stomach, ankle, leg, hip and ear, survived a plane crash, tunneled out of a POW camp, and bit off his own fingers when a doctor wouldn't amputate them. He later said "frankly I had enjoyed the war."
Oh, and there was that time he reportedly removed his own eyeball because it was keeping him from aiming his gun, then threw his own glass eye out of a taxi because it annoyed him.
It's amazing no one's tried to turn Carton de Wiart's story into an epic biopic. But then again, maybe Hollywood just isn't interested in a one-eyed fingerless war hero whose favorite sport was a rousing bit of animal cruelty called "pig-sticking" and who was said to be the illegitimate son of the King of Belgium.
On second thought, Hollywood, what are you waiting for?
Carton de Wiart's Wikipedia entry reads like a template for becoming the star of the next Old Spice commercial. He lived in Belgium, Egypt, England, India, South Africa, Poland, and China. He studied at Oxford before dropping out to fight in the Boer War. He worked out every day, played polo, and refused to wear Italian suits, calling them "gigolo suits." His friends found him "delightful" and joked that he "must [have held] the world record for bad language."
Also, he looks a lot like Alec Guinness.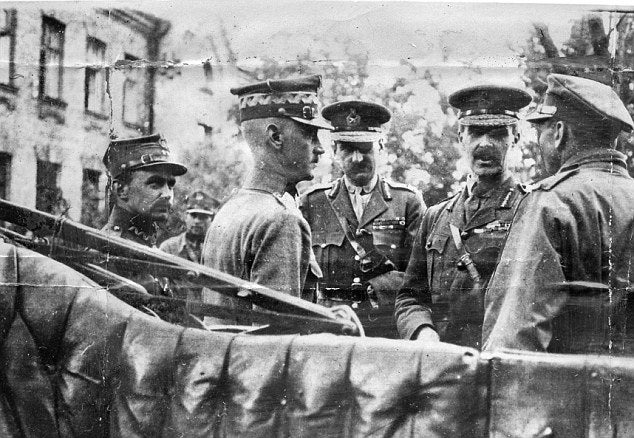 Photo via WarHistoryOnline
Carton de Wiart advised Winston Churchill prior to World War II and did double duty as an unofficial diplomat during every major war of the early twentieth century. When he was 60, younger commanders told him he was too old to lead a troop, but then Carton de Wiart turned out to be so indispensable to the British Army that they un-retired him shortly afterwards. Then, when he was 61, he dug his way out of an Italian POW camp and pretended to be an Italian peasant for a week despite not speaking Italian. Years later, he tripped on a coconut mat in Burma, broke his back in multiple places, and still survived, living to the ripe old age of 83 as he "continued his tireless pursuit of snipe and salmon."
Did I mention he married a countess. Specifically, Countess Friederike Maria Karoline Henriette Rosa Sabina Franziska Fugger von Babenhausen. That's right, Countess Fugger von Babenhausen. You can't make this stuff up.
Of course, nobody's perfect. Apart from getting a kick out of pig-sticking, Carton de Wiart wrote a whole autobiography where he left out any mention whatsoever of his wife and children. Yeesh. And for all his valour, he lacked any sense for politics. Instead, he was incredibly zealous about war. Not only did he call it "fun," he also questioned "why do people want peace if the war is so much fun?"  In his memoirs he added that he believed government force was "the only real and unanswerable power." No wonder he was a terrible diplomat.
Were he alive today, Carton de Wiart would probably be giving Edward Snowden healthy competition as the people's hero. After all, the man was described as "an elegant pirate."  And if the Internet can make Julie D'Aubigny into a cultural meme after all these centuries, it can surely do the same for Carton de Wiart.
But good luck finding someone badass enough to play him in the movie.
H/T mistresscurvy/Twitter | Photo via Wikipedia