On July 5, 2011, Reddit user dignityblows decided to change her life. The 5-foot-4-inch gal weighed 222 pounds and couldn't stand it any longer.
"I took a good, hard look at myself and decided to reclaim my health," dignityblows wrote on Reddit's r/keto community, a forum for those on the high-fat, low-carbohydrate ketogenic diet. 
Thanks to her diet, dignityblows ended up losing 87 pounds with "virtually zero intentional exercise." 
Dignityblows captured photographs of her progress and uploaded them to Imgur. On Monday night, a friend of hers created a stunning time-lapse GIF of her progress.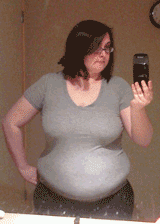 "Please believe me when I tell you I did not plan my facial expressions, nor did I intentionally arrange them in a way to make my face more flattering in later photos," she said. "In the early stages of taking progress pictures, I literally only took one photo of myself. I hated the way I looked and wanted to spend as little time in front of the mirror as possible. I didn't realize that I should've opened up my face more, smiled, cleared the hair out of my eyes and stood up straight. I had so little self-confidence that the thought honestly never crossed my mind."
For more info on how dignityblows lost the weight, check out her lengthy post on r/keto from last summer. It includes a breakdown of her daily calorie intake and vitamin regiment. 
Photos via dignityblows | GIF via andrewinmelbourne