Digitally placed thigh gaps, removed limbs, human heads pasted onto digital mannequins: All in a day's work to sell beauty, right? Not anymore. Models, online magazines, and retailers have started fighting back against Photoshop, and one company is sharing how it's leading the charge. 
This is great news! RT @AliciaAdamczyk: Rejoice! ModCloth is first retailer to sign anti-photoshop pledge http://t.co/uCKLlznXV5 via @forbes

— Lois Capps (@RepLoisCapps) August 22, 2014
ModCloth made fashion history last month when it became the first retailer to sign an anti-Photoshop pledge. The promise to not overly retouch photos of models came in response to the steady rise in airbrushing in advertisements and magazines, mainly targeting women. It's one thing for a company to promise it won't Photoshop its models; it's another to actually do it. But ModCloth isn't shying away from the discussion; in fact, the team is inviting it. 
"Since we signed The Heroes Pledge For Advertisers, we've received an outpouring of love from across the globe," Christopher Preis, senior writer and editor for ModCloth, wrote. "While we're thrilled to be leading the charge, we also realize that this is just the first step towards a more inclusive and truly inspiring shopping environment." 
Photo via ModCloth
Preis recently went in-depth about ModCloth's photo-editing process with Carrie Thovson, ModCloth's head of retouching. The extensive interview on Sept. 23 details exactly what kind of retouching they're doing—and not doing—on their models. 
"The don'ts are easy," Thovson said in the interview. "We don't smooth skin bumps or rolls, and we don't remove natural freckles or moles. We refuse to enhance or diminish bust, thighs, arms or buttocks. We don't do 'airbrushing' with the paint tool, and we avoid over-using the stamp tool."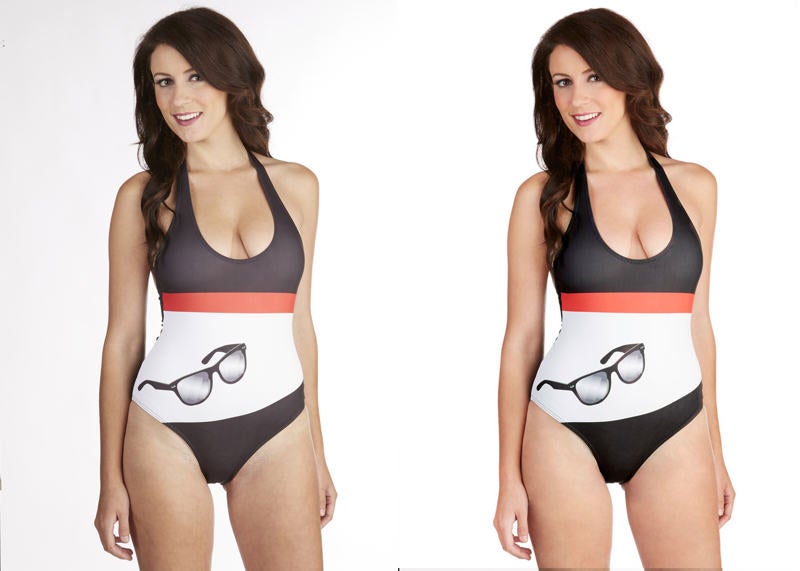 Photo via ModCloth
While the retailer still uses Photoshop, Thovson explains that it's more to balance colors, fix minor problems, and keep the overall esthetic. She said she tries to respect the model's image while not changing her look or body shape.
"Yes, we still use Photoshop," Thovson said. "It's a powerful tool, certainly, so we try to wield it with care. When we sit down in Photoshop, we all start with a series of fundamental, natural choices. I crop and make sure the colors look true-to-life, removing fly away hairs or a wrinkle in a garment. I'm not jumping in to give someone a thigh gap or reshape their hips."
Digitally reshaping someone's body to create a thigh gap or larger breasts might seem strange, but it's actually become a standard practice for many retailers, advertisers, and magazines. Some people, like Amanda Fortini in The Cut, have even argued that it's a modern artistic illusion, like modifying women's figures in paintings, sculptures, and other works of art. 
However, more medical professionals are arguing that photo editing creates an ideal that girls and young women mistakenly think is real. The American Medical Association even has an official policy discouraging advertisers from using Photoshop, because it contributes to poor body image and eating disorders. 
"The appearance of advertisements with extremely altered models can create unrealistic expectations of appropriate body image," AMA board member Dr. Barbara McAneny said in the official statement. "We must stop exposing impressionable children and teenagers to advertisements portraying models with body types only attainable with the help of photo editing software."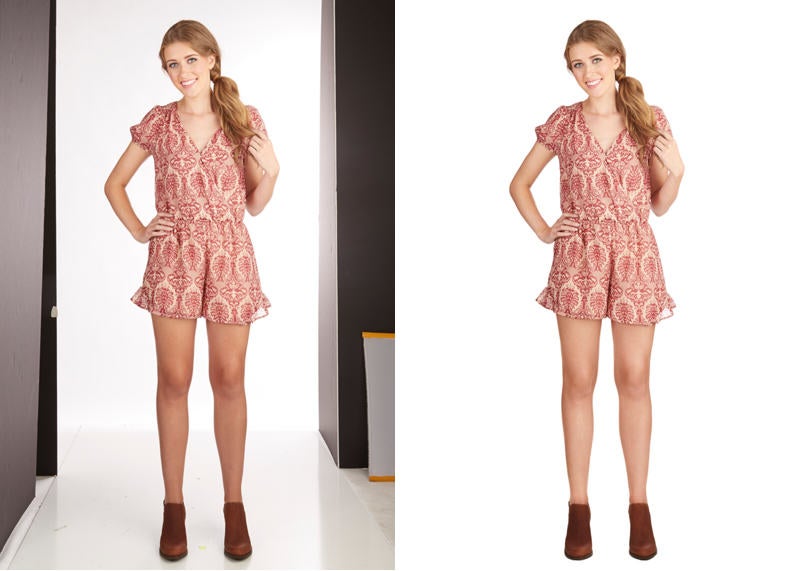 Photo via ModCloth
According to the website, ModCloth will continue to be open and transparent about its pledge to not overly retouch photos, including labeling photos of models who have been Photoshopped. Thovson said it's not so much about bypassing Photoshop entirely, but more about making sure women don't look like they've undergone "plastic surgery."
.@ModCloth's stance on photoshop is awesome. Be anti-'photoshop plastic surgery' instead of anti-photoshop. http://t.co/ZnsjL6QH21

— Lyndsay Wasko (@waskowasko) September 24, 2014
Photo via ModCloth