A video released this week calls into question police use of force.
Posted online by the American Civil Liberties Union (ACLU), the video shows in graphic detail how a homeless Michigan man was shot and killed by eight police officers in 2012, in what has been characterized as a "firing squad."
The ACLU has posted multiple videos of the shooting on its website. We have not embedded them here due to their disturbing nature.
Milton Hall was shot at 46 times by the officers in a parking lot of a shopping center in July 2012, after brandishing a pen knife. Hall was struck by 14 bullets, and the video shows officers appearing to try to handcuff him as he lay motionless on the ground. One officer also puts their foot on Hall's back. 
The dashcam video was released by the ACLU's Michigan branch ahead of it testifying at the Inter-American Commission on Human Rights, where it plans to criticise "the failure of the U.S. Justice Department to prosecute officers involved in the unjustified police shooting death of Milton Hall in Saginaw, Michigan."
The Independent reports that Hall "had been arguing with police after an alleged altercation with a shop assistant," and the video shows officers opening fire after Hall takes a step forward after refusing demands to put down the penknife. No legal action has been taken against any of the officers that fired on the 49-year-old Hall dozens of times.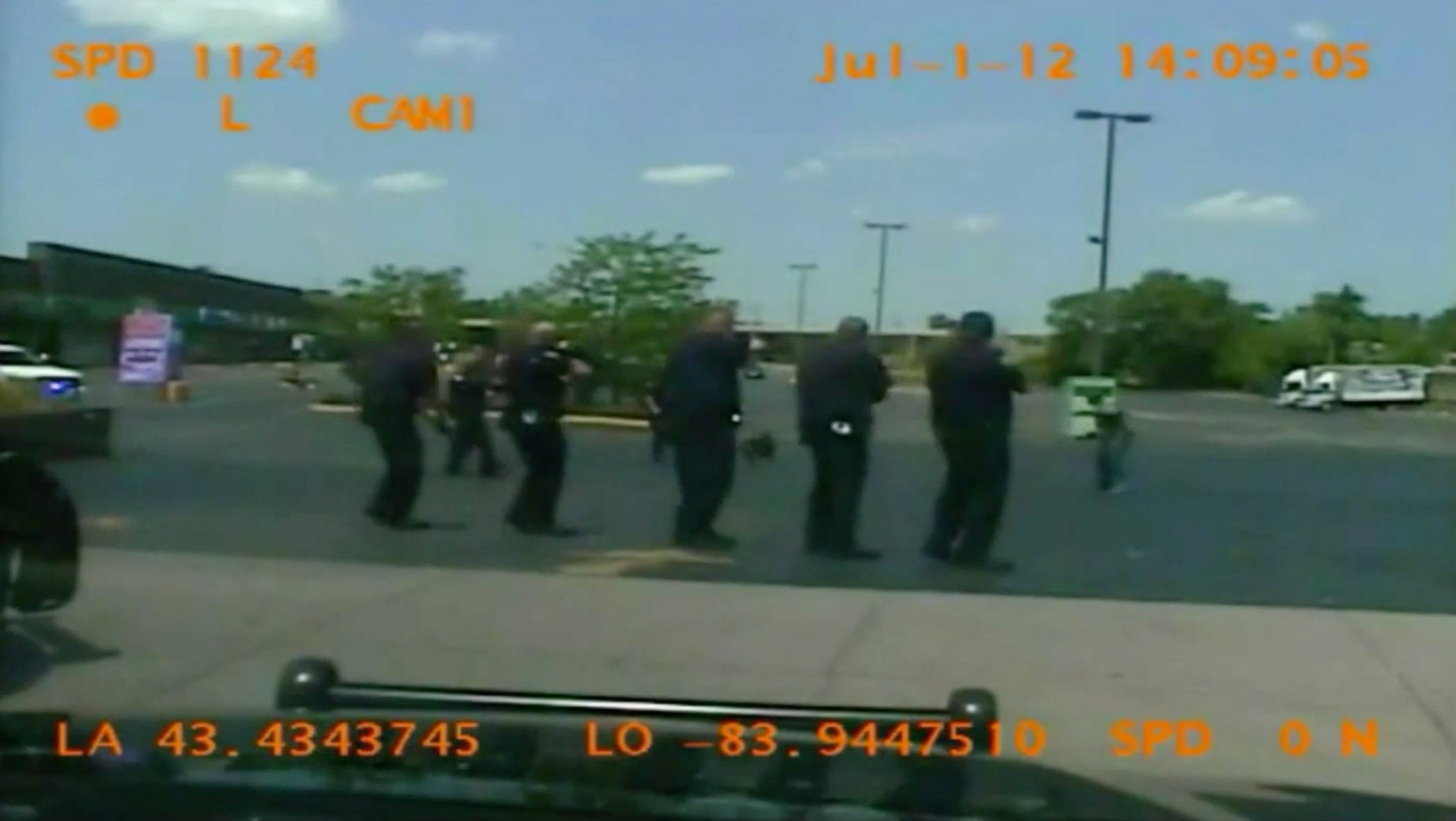 A still from the video released by the ACLU.
Hall, who was a community worker and had worked with civil rights icon Rosa Parks, was mentally ill, and his mother told the ACLU that when not on his medication he could be "impatient" and could "become intolerant."
Her son was "assassinated" by the police, Jewel Hall says. "His blood running down the street like water. And he wasn't a threat, I mean, he had a little pen knife. He had no idea that those policemen would do that to him."
The police were a "firing squad dressed in uniforms," she says in the video. The Department of Justice maintains that the officers' actions were justified "in the face of what they felt was a threat."
H/T Independent | Photo by hydropeek/Flickr (CC By 2.0)