When Gene returned from his deployment overseas, he sought out therapy with his wife of six years, hoping to overcome his struggles with PTSD. It was in those sessions that an even harsher reality came to light: During his tour of service, his wife had cheated on him with a man he knew.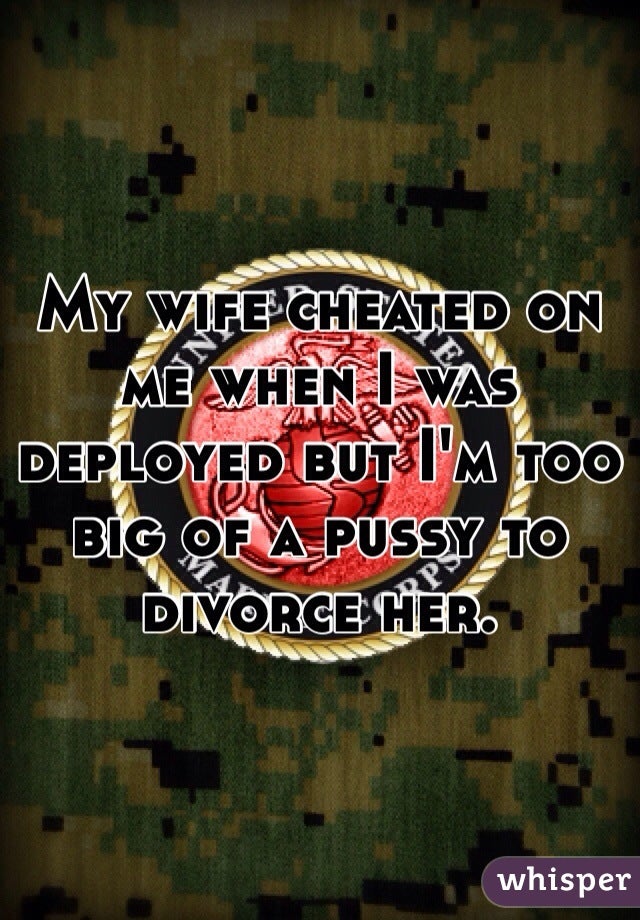 Distraught, Gene turned to the secret-sharing app Whisper. He told the Daily Dot he was hoping to "hear from others who have been in similar situations [and] maybe get some words of advice." The responses to his post varied. He said he heard from a few "tag-chasing girls," which should come as no surprise—the app is notorious for hookups. 
"I've had a response from one guy where it happened to him and they eventually divorced because he couldn't forgive her," Gene said. He struggles to forgive his wife. He's still unsure of the future of his relationship. 
The digital confession booth known as Whisper was launched in March 2012. Based in Venice, Calif., the app prides itself on anonymity, allowing users to voice their deepest thoughts and darkest deeds in white block letters—without fear of repercussions. After gaining pop-culture prominence for breaking the news of the split between Chris Martin and Gwyneth Paltrow earlier this year, the app now boasts an audience that reads more than 6 billion whispers a month.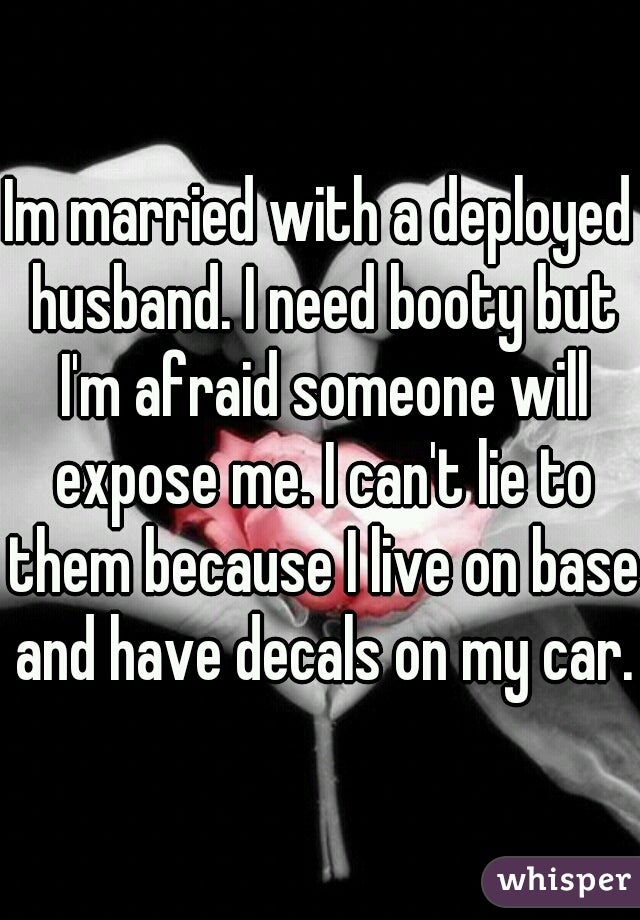 Unlike its antiquated predecessor, PostSecret, Whisper lets its users engage with others. The replies section and direct-messaging feature foster a virtual community, promoting ethical or moral discussions around current issues. The most recent incarnation of Whisper categorizes posts based on shared interests. Themes are quickly beginning to emerge.
With just a few thumb flicks through the military category, you'll find instances of the cliched marital tragedy that drives the plots of Homeland and Army Wives. In between posts yearning for men in uniform, or soldiers disclosing their fears of death and war, there are confessions of military cheating. It's a subject so prevalent, some posts even lampoon the topic and the way Whisper users respond.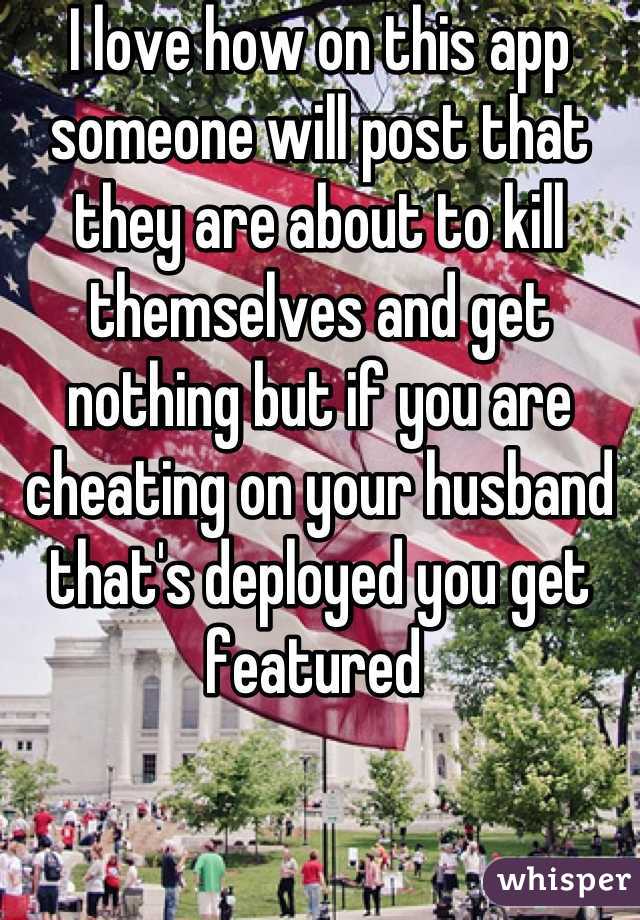 A search for "military cheating" yields posts from cheaters and victims alike. Tales of unfaithfulness are written in heartbreak and anger. Those at home seem to cheat as often as those deployed overseas.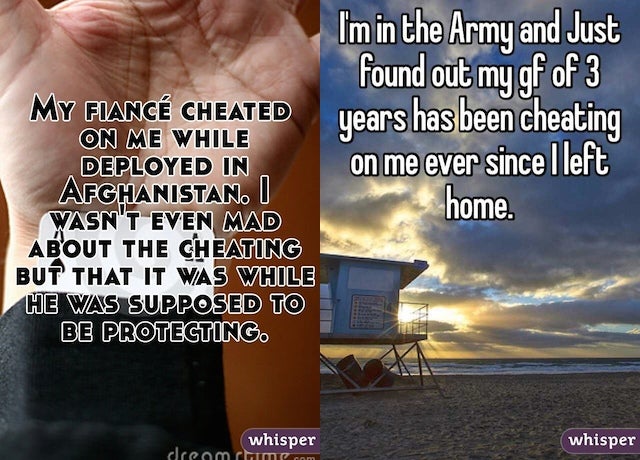 Users display a clear gender bias when it comes to cheating. Whether it's ignorance to the fact that those deployed cheat as well, or a belief that those enlisted get a pass because of service to their country, the Whisper community's animosity is unmistakably reserved for women who cheat while their soldier is deployed. Moreover, much of the slut-shaming must come from fellow women; Whisper classifies 70 percent of its audience as female.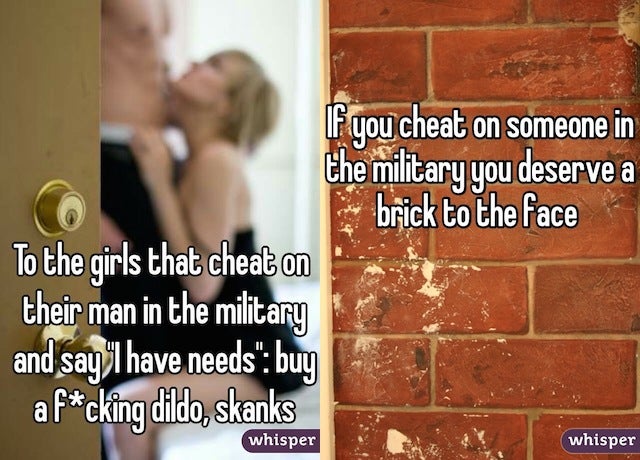 The responses can be disheartening, but that doesn't seem to deter users from spilling their guts. A user whose ex-boyfriend cheated on her while he was deployed spoke with the Daily Dot about the culture of military infidelity and her reason for posting on Whisper.
"[I posted] to stand up for the military girlfriends and wives. That it's not always the ones left behind, it's also the ones who are deployed. … Both of my brothers are military and they are both single. My oldest brother was engaged and she cheated on him while he was on the submarine. It works both ways."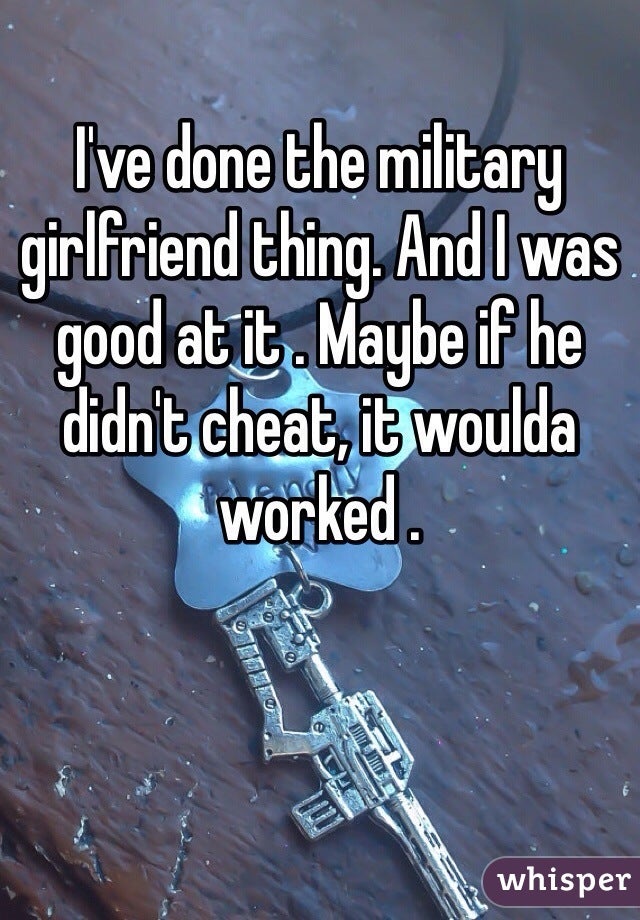 Another user, who prefered to remain anonymous, told us how she turned to Whisper when her boyfriend of more than a year cheated on her three months into his deployment. 
Having only her parents and her best friend to share her feelings with, she was frustrated by silence and found an escape in the app. "I felt like I needed to get it off my chest to someone that I wasn't the reason we broke up and that I was a good girlfriend even [through] a deployment," she said. Many users were supportive. Others started to hit on her. She also heard from military men trying to justify her boyfriend's actions. 
"[There were] some military guys saying that it's harder than you think being deployed which pissed me off because I was here and I didn't cheat. So why does he get to cheat because he's away?"
Ultimately, she concludes, she found some closure in posting her story on Whisper and advocating for her character and her faithfulness.
Unfaithfulness in the military isn't restricted to straight couples. One man, whose boyfriend of five years revealed he had been cheating with a coworker during his deployment, found the outlet for release he needed in Whisper. "I've been drinking a lot, and telling it on Whisper helped," he said. 
In his experience, the reality of cheating isn't something discussed among the wives and significant others of those deployed, a drastic contrast to the Whisper community. "Most army [wives] don't talk about it openly," he claimed. "They try to look like perfect families."
Infidelity among couples in the armed service is no new trend. What's different is having an anonymous medium on which to discuss it. While some log on in hopes of finding resolution or commiseration, others just wish to make their voices known. As one user said, "It feels better just to say it and know someone heard me."
Illustration by Jason Reed