The good news is that McDonalds' Chicken McNuggets do not contain pink ooze—in Canada, anyway. The bad news is that the substance they are filled with is far more terrifying.
An image of pink slime has been making the rounds on social media lately, convincing people everywhere that the disgusting paste is one of the key components of the fast food chain's menu item.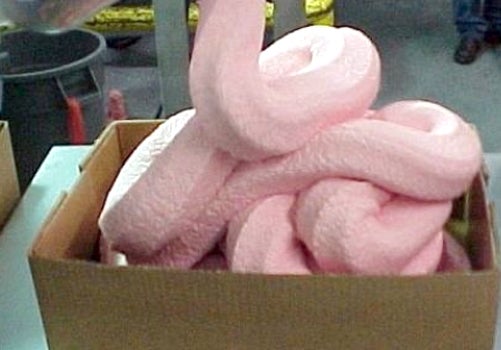 Image via AWeaverOfDreamsAtTheLoomOfTheMind/Imgur
McDonalds Canada finally decided to put an end to the rumors. They released a video wherein supply chain manager Nicoletta Stefou takes viewers on a tour of the factory that produces McNuggets. The video was aired in Canada as a commercial during the Super Bowl.
Over the noise of the machines surrounding her, product development scientist Jennifer Rabideau explains to Stefou that pure chicken breasts are ground up into a slimy substance. It is decidedly not slime, but looks about as appetizing. Next, they are seasoned (with God knows what), slapped with skin, and cut into fun shapes.

In an attempt to have the last word on this subject, McDonald's disabled comments on the video. Since being posted to YouTube on Jan. 31, it has received over 1 million views.
The company has yet to produce a video showcasing what, exactly, is inside the "secret sauce."

H/T Business Insider / Image via McDonalds Canada/YouTube