We all have our daily Internet routine: We check Facebook, linger on Twitter, post to Instagram, search Google. Are people doing the same thing in America as they are in, say, Kazakhstan? Two researchers from the Oxford Internet Institute have created one map of the world's most popular websites.
Using data gathered from Alexa starting in 1996, Mark Graham and Stefano De Sabbata mapped out the most visited websites per country, "using a combination of the estimated average daily unique visitors to a site and the estimated number of pageviews on that site from users in that country over the past month."
In the United States and Canada, Google reigns supreme. That extends to Eastern Europe, and countries like Brazil, Australia, New Zealand, and Thailand. Facebook is the site of choice in Mexico, Norway, Egypt, Yemen, Pakistan, and the Philippines. China and Korea's Internet data ranks search engine Baidu as most popular, and Yahoo! rules Japan, thanks to their venture with SoftBank in the mid-'90s.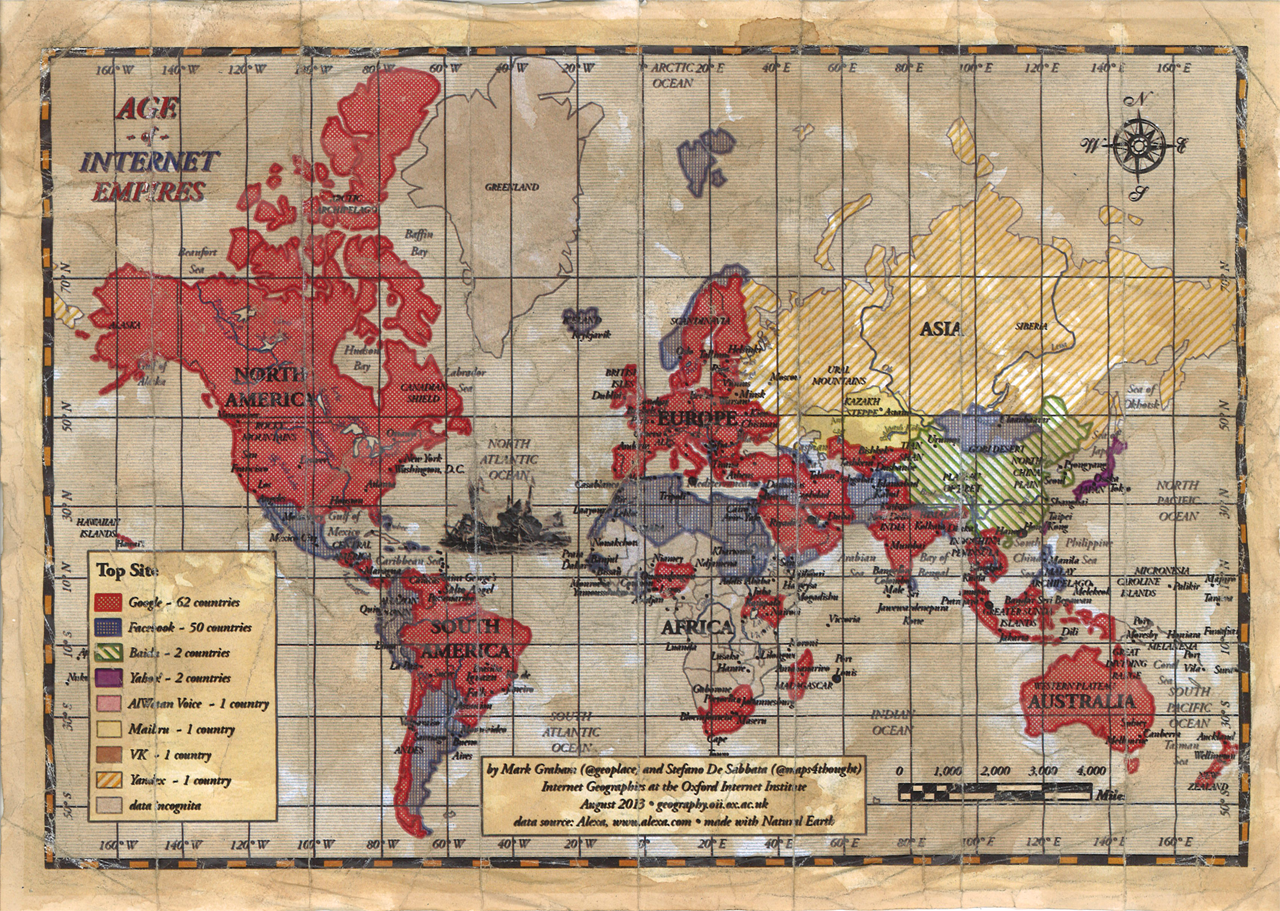 The map also highlights some of the more obscure sites visited. The social networking site VK is most popular in Belarus, but not Russia. That country's most visited site is the search engine Yandex. In the Middle East, Google and Facebook are largely on top, but in the Palestinian Territories, the daily newspaper Al-Watan gets the most traffic.
With Facebook and Google as the world's two "empires," Graham and De Sabbata also note that "[a]mong the 50 countries that have Facebook listed as the most visited visited website, 36 of them have Google as the second most visited, and the remaining 14 countries list YouTube (currently owned by Google)."
In this new era of virtual territories, Graham and De Sabbata state we're still in the frontier stage:
"We are likely still in the very beginning of the Age of Internet Empires. But, it may well be that the territories carved out now will have important implications for which companies end up controlling how we communicate and access information for many years to come."
 
However, with just two major empires dominating our Internet activities, how does this skew how we receive and distribute information? And as more people leave Facebook in favor of other networking sites, which empire will take its place when it falls? Google just announced its effort to bring affordable Internet to poorer parts of the globe. How will that affect this map in a decade?
Photo via Oxford Internet Institute