Watching Lucas Weakley on YouTube, you wouldn't guess he's a high school student. With his hair combed to the side and his deep voice, he speaks with a confidence and guile that would suggest years of experience working in broadcast journalism. The ease with which he can transition from discussing radio frequencies to actually installing electronic hardware onto a RC model plane will convince you that, no matter how much of a novice you are, you can do all this too. And that's the point.
"I have been designing, building, flying, and crashing electric RC models for the past four years now," he declares in the first video of a new show, Maker Hangar, launched in July.
Weakley is just one of thousands of DIY enthusiasts who have flocked to YouTube, uploading how-to videos for inexpensive, easy-to-construct gadgets and crafts. Some of these videos have generated millions of views and, in the process, created maker celebrities who are recognized at DIY and hacker conferences the world over.
Like most of his contemporary craftsman, Weakley determined there would be a market for a video series explaining how to build RC planes by simply observing that no such information existed when he first took up the hobby.
"That deterred a lot of people who just wanted to have everything done for them so they could learn it really quickly and build it out," Weakly, a 17-year-old from Central Florida, told me. "And that was the whole goal of Maker Hangar, to put everything in one place so everyone could learn it. It would supply them with a plane that's easy enough to build and anyone can do it in like a day."
Each episode of Maker Hangar, a 15-part series he shoots for Make magazine, runs between  five and 30 minutes, and many have amassed upward of 20,000 views. In his introductory episode he lists out all the materials an aspiring RC hobbyist needs to order, and in each subsequent video he walks viewers through, in meticulous detail, everything from the intricacies of how the motors work (spoiler: magnets) to how to actually assemble the plane. The series has spawned a community on Google+ with nearly a thousand members, and many of them have uploaded photos of their own finished planes or use it as a forum to ask questions and request feedback.
Though the concept of DIY is nothing new, the practice has evolved into a democratized, hacker-minded movement on YouTube that can be traced back, in part, to the initial publication of Make. Created in 2005 by Dale Dougherty, a cofounder of O'Reilly Media, the publication is published quarterly with the tagline "technology on your time."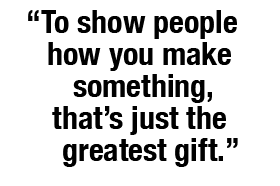 "[Dougherty] saw this community popping up online that just wanted to share and make stuff," said Jason Babler, Make's creative director. "And he saw more and more people wanting to own what they buy and change them and take them apart."
Within a year of that initial issue, Make launched the Maker Faire, a massive conference that's been held in cities across the U.S. Built on a kind of science fair model, the Maker Faire attracts thousands of gadget and craft geeks who want to showcase their creations and skills, and it provides a fun, less-corporatized alternative to stodgy tech conferences like Consumer Electronics Show. In 2012, the New York and Bay Area conferences attracted more than 165,000 people.
If Make was the catalyst for this new community, Maker Faire allowed it to organize and become self-aware, and YouTube provided the perfect platform to enhance the learning process and discussion.   
"The barrier to participation has been significantly lowered," said Mike Warren, the editor and community manager at Instructables, another DIY publication. "Anyone can have a YouTube channel or social media account and share. This presence allows information to travel much faster and more freely than before, bridging the gap between a static audience member and an active participant."
In many ways, Weakley's entry into the DIY community mirrors many others who have joined the movement. He started off as a young kid building things with Legos and eventually, partly with the help and encouragement from his father, a woodworker, grew into building RC planes and other tech gadgets. In the eighth grade, Weakley attended his first Maker Faire. He'd gone to a Catholic school for both elementary and middle school; the conference afforded him his first opportunity to be surrounded by other makers. He applied and got into the Engineering and Manufacturing Institute of Technology, a magnet high school in Central Florida, and joined the school's robotics team.
He stumbled onto Make through its podcast and then, when he found out there was a magazine attached, subscribed to it. He created a YouTube account merely as a way to follow his favorite video series, but it was only a matter of time before he considered uploading his own tutorials to the platform.
"I said to myself, 'I build a bunch of cool stuff and I think other people might like it,'" he recalled. "'And so why not start making videos?'"
Those early videos, he readily admits, were not very good. "I was excited when I got my first view," he recalled. "When I got 10 I was ecstatic."
More important than view counts, he knew, was his YouTube subscribership—the key repeat visitors. By the end of 2009, his first year of posting, he had barely cracked 50. When he was about to hit 100 subscribers, one of his videos was featured on a channel called Flite Test, "a show for the people that build and fly planes and helicopters as a hobby," and he jumped by 300 subscribers in a single day. With the wind at his back, Weakley's following steadily grew, as did his confidence.
His videos continued to improve as he made more of them. One posted in 2012 features tighter editing and musical integration, and a thinner Weakley, his hair shorn in a buzz cut, speaks with more speed and familiarity with his audience. "Did you like that new intro?" he asks his viewers. "Yeah, I've been working really hard on that."
Weakley's decision to contribute videos to Make, he told me, had nothing to do with recognition or even money. It was out of a sense of loyalty to the magazine, which had done so much to inspire him and fill his free time and weekends with things to build. "I really wanted to give back to them because they had really helped me develop my own skills," he said. "They taught me so many things I wouldn't know how to do without them."
Jason Babler signed on as Make's creative director in 2011, and under him the magazine's YouTube channel has transformed from a regular live show that often struggled to find traction to one populated with real-life, everyday makers who have helped grow it to nearly half a million subscribers. In the past year, Make has gone from making all its videos in-house to farming most of them out to freelance makers like Weakley who practice a variety of different disciplines.
"We think that if you're working on something really interesting, then the world needs to see it," he told me. "That's how I pick videographers. First of all they have to be capable of being able to record a video, but they mainly have to have something that an audience would be generally interested in.
"To show people how you make something, that's just the greatest gift. It's free to readers, to viewers. It's a free source of inspiration."
The DIY community has close ties to the open-source movement, one that promotes sharing and collaboration over proprietary intellectual property and patents. And though it welcomes makers of all ages, it puts effort into recruiting members who are in high school and even younger, many of whom, inspired by what they've been able to accomplish with simple home materials, will go on to become engineers and scientists.
Babler has noticed that the YouTube community, in particular, skews younger, and many of the comments there are more juvenile and less sophisticated than the level of discussion that's posted directly to the Make website. (It's not uncommon for a YouTube video to contain the type of comments hated by community moderators the world over: "First!" "Second!" "Third!")
"What I love about the YouTube audience is I know kids are watching this," Babler said. "So if I'm getting juvenile comments, I'm actually happy those kids are out there doing that because they're actually tuned in to watch something. That means there must be an interest there."
DIY videos have also provided a way for parents, many of whom struggle to connect with their kids, a way to bond with them. "We see the light bulbs go off and they realize through making they'll be able to connect with their families or with their peers," Babler said.  "It gives them confidence and helps them realize they're not alone."
Weakley graduates high school in the spring and plans to double major in mechanical and aerospace engineering. Looking back at his videos, you see a precocious teenager with the intelligence and technical aptitude that every parent wishes for his or her child. You see the kind of student who executives at places like Facebook and Google and NASA say we need more of, the future engineers they're desperate to recruit and without whom our nation's technological hegemony is threatened.
And when you consider the millions of views amassing on hundreds of DIY YouTube channels across dozens of disciplines, you realize the potential they have for inspiring future scientists and makers to provide the kind of life skills that will transform a hobby into a career. For a young child who maybe likes to play with Legos or build crafts, who goes to a school without a robust science program and isn't challenged by his classes, stumbling upon your first DIY video can make a difference.
For the next generation of DIY makers, YouTube helps instill a simple message, a lesson that will allow kids to persevere and seek out other like-minded individuals: "You are not alone."
Illustration by Fernando Alfonso III