Behind every great Internet-famous pet is the human owner that loves her.
Lil Bub, the 2-year-old perma-kitten from Bloomington, Ind., who captured the hearts and minds of the Internet by simply being herself, is no exception. Her proud owner, Mike Bridavsky, is constantly by her side, whether she's appearing on a national morning show, going on a tour for her new book, or meeting the Internet's other most famous feline.
Bub and Grumpy Cat's now-iconic meeting at the Second International Cat Film Festival in August may have been a publicist's dream encounter, but Bridavsky just saw the opportunity as something that would be hilarious, and in the end it was just a meeting between two very special cats.
For Bridavsky, it's essential that everything about Bub is about Bub. He was initially approached by "meme manager" Ben Lashes shortly after Bub's appearance on Good Morning America, but he turned him down.
"Ben seemed like a really nice guy, but it just wasn't right for me," Bridavsky told me. "I didn't feel comfortable seeking out opportunities, which is what Ben does. There were enough opportunities coming to me organically, and that's what I was comfortable with."
Internet memes can turn into a million-dollar business if the cards are played right, and nobody demonstrates that better than another one of Lashes's clients: With her face plastered on thousands of memes and plenty of merchandise, her own book, and a movie deal, Grumpy Cat—who Bridavsky called "the yang to Bub's yin"—is the ultimate meme success story.
Bub could have been another successful meme (and even more famous than she already is), but her owner took a different spin on Bub's viral Internet fame.
"Sure, she probably would be way more famous if I went along with the memes and helped fuel them through her Facebook page and blog, but I really have no interest in that," he noted. "I want Bub's content to be about her, to respect her, and to be totally original."
With more than 7.5 million YouTube views, 24,000 followers on Twitter, and 294,000 likes on Facebook, people seem to be just fine with his business model.
Bridavsky is both a proud papa and a manager (cat-ager?) in one, and despite owning one of the most famous and recognizable cats on the Internet, there are only a handful of photos of Bub together with her owner online.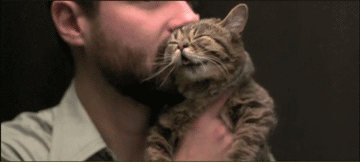 He prefers it that way, but he also realizes that he's an essential part of Bub's story.
"I went pretty long staying out [of the pictures] and I still try to keep myself out of it when I can," he noted. "But at the airport, just this time while we were waiting, three to four people came up and said hi. And of course, I live in a small town, so everyone in town knows that Bub's my cat."
Bridavsky and Bub have been doing a lot of traveling in the past month or so. In just one day, her Internet talk show with Revision3 premiered on YouTube—a present he got Bub for her second birthday—she released her first book, and Vice posted its award-winning documentary Lil Bub & Friendz online.
The documentary looks at the Internet cat phenomenon, but it mainly focuses on Bub's story from the runt of the litter to an Internet star. Vice describes it as a "boy and his dog" story (only with a cat), and it's almost as much about Bridavsky as it is Bub.
It even includes Bub's origin story, which Bridavsky started as a joke: She's an alien cat from space who landed on Earth and found him.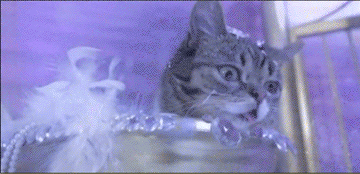 Not convinced that Bub is a one-of-a-kind cat? Just look at how she handles travel. For most cats, it's an absolute nightmare for their owners to get them into a carrier just to take them to the vet, let alone trekking across the country to meet hundreds of people for TV appearances and book signings.
But Bub just loves it.
"She has mobility issues, so she doesn't move around as much at home and gets kinda stiff, but as soon as we get in the car, her ears perk up, and she just loves looking out at the window and meeting people," he explained. "The only thing that stresses her out, really, is other cats."
Maintaining Bub's online persona has become a full-time job for Bridavsky. He estimated that he spends about 80 hours a week hanging out with Bub on his laptop taking pictures, uploading videos, and working on various projects.
Team Bub is very much a family affair. One of Bridavsky's conditions for agreeing to work on a project is if his family and friends are able to work on it with him. The other is complete creative control, which thankfully hasn't been an issue.
His family and friends are extremely supportive and open-minded, and not only does everyone get to collaborate on a project together, they're excited about what they're doing and they get to hang out with Bub in the process. 
And she has always been a source of inspiration for her owner. He was at a rough point in his life when he first adopted Bub, and he originally posted the photos online for his friends as "kind of like a joke." A couple months later, the photos ended up on the front page of Reddit, and not only did Bub become a phenomenon, she started to inspire others just by being herself.
"We get dozens of messages a day about what an inspiration she is," he said. "She shows that it's better to be different, and people are always insecure about their differences, and Bub takes it all in stride. She turns it into her thing, and she's awesome, and people love her for it."
Bridavsky makes an effort to donate most of the profit he makes from selling merchandise to animal shelters and pet adoption centers; the Internet fame may not last forever, but he's trying to help others while he can. He compared the experience to making his own music that other people happen to love.
"I honestly don't mind if it ends tomorrow," he said. "But that's why I also have this charitable component to it and just spreading this positive message about adopting pets and rescuing pets. That's kinda what Bub represents. She shows that if you look around in a shelter, you can find a one-of-a-kind cat and save a cat's life."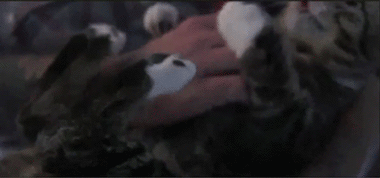 Main photo via @IAMLILBUB/Twitter | Photos and GIFs via Vice