After tackling sexism in the workplace in her bestselling book Lean In, Sheryl Sandberg's next goal is to eradicate Women Laughing Alone With Salad. Well, kind of.
In recent years, the rise of online stock photography has led to the appearance of some pretty ridiculous new clichés—for example, hackers illustrated as balaclava-wearing computer thieves, and feminists always shown wearing the weird combination of business attire and boxing gloves. 
According to Sheryl Sandberg, that last one is a serious problem. The three most searched terms in the Getty Images database are "women," "business," and "family," and you're probably already be familiar with the results: lots of attractive women with straight hair, wearing business suits and holding a baby in one arm and a briefcase in the other. Along with all-American scenes of photogenic families sitting around the breakfast table, these are the staple illustrations for articles about women in the workplace, and Sandberg wants that to change.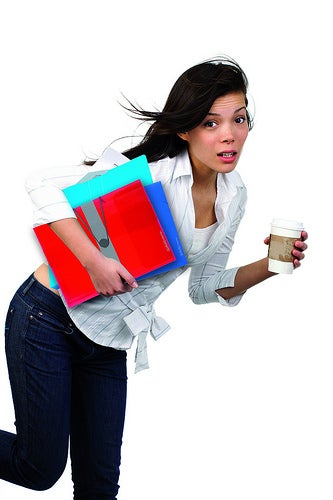 Photo via herlitzpbs/Flickr
In the New York Times, Sandberg announced that she and her nonprofit organization, Lean In, would be partnering with Getty Images to create a more diverse and realistic portrayal of modern-day women. 
Getty's new Lean In images include girls using computers and playing with skateboards, older people doing physical activities, a racially and visually diverse range of women at work, and pictures of men at home with their children. The hope is that journalists and advertisers will begin to think more about the kind of visual message they're sending by using stereotypical stock photos, and instead will decide to go for some of Lean In's more feminist photos instead.
As a response to sexist imagery in the media, this new project is probably more successful as a publicity drive than a practical solution. The Lean In gallery only includes about 2500 photos, a mere drop in the ocean of Getty's database of over 80 million images. By comparison, a search for "women + salad" brings up 5461 results on Getty Images, indicating that Sandberg's project still has a long way to go. 
Photo via victor1558/Flickr