New York City-based artist and designer Jon Burgerman had an interesting response to the deluge of violent movie posters he came across in the subway: He inserted himself into the potential carnage.
"Head Shots" is the UK-born Burgerman's "ongoing series of interventions staged in public against the backdrop of advertising panels," which he's been posting on his personal blog. Burgerman poses in front of movie and television ads in which weapons are featured, positions himself in the line of fire, then digitally adds in fake blood.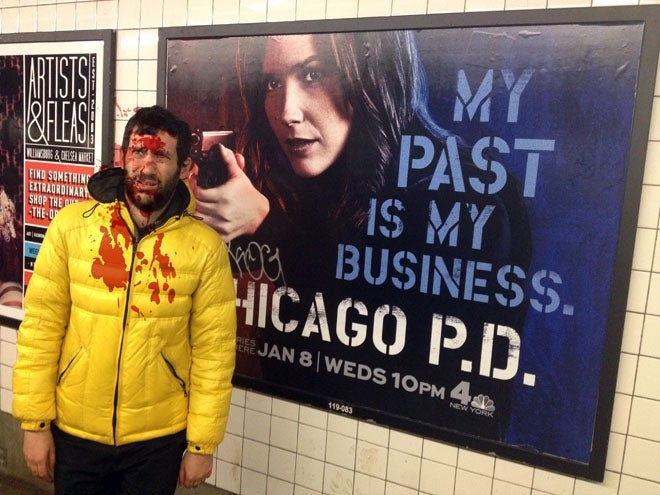 Just last summer, the Tribeca Film blog took a look at all the movie posters containing guns. Here's a montage of the two-guys-holding-guns trope. It's become a default pose for action films and beyond: A weapon gets the point across to consumers as to what the movie's about, but what else is it conveying?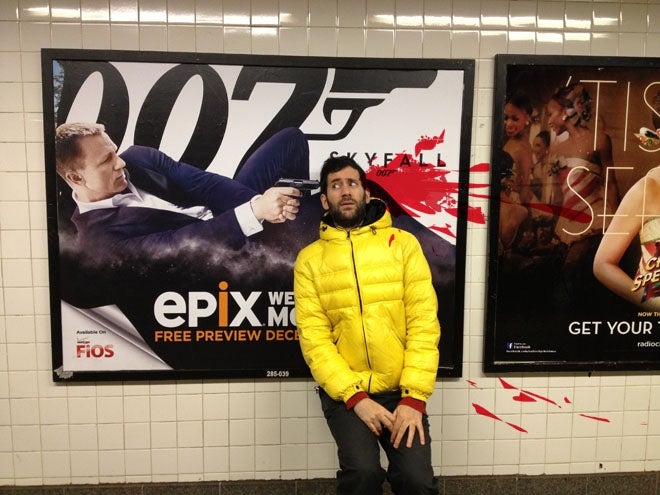 In an interview with Yahoo! Movies, Burgerman explained his reasoning for this series:
"With each reoccurring high-profile tragedy in the US involving shootings, I find myself being evermore paranoid and vigilant when I leave my apartment – my senses attuned to seeking out and avoiding any potential trouble. Whilst on the look out for guns and violence in general, I've noticed there are some very obvious threats right under our noses, in plain view, for everyone to see. How have we missed these? Who are these people aiming at?"
In this light, the consumers are the ones being aimed at, and though Burgerman's recreations are meant to be a bit cheeky, he's also critiquing  the epidemic of gun violence by adding himself into the action, to "complete the compositions to their natural conclusions."
Burgerman plans to continue updating the "Head Shots" series, and he'll likely continue to have plenty of source material.
Images via Jon Burgerman