Jada, a 16-year-old girl in Houston, Texas, was recently raped at her classmate's house after she says she blacked out during a party. If that wasn't horrifying enough, she found out she was raped after she spotted videos and photos of her taken of her during the rape on her social media feed.
And if that wasn't horrifying enough, people are now mocking her rape by tweeting photos of themselves lying down in a splayed position as Jada does in the video, with the hashtag #jadapose.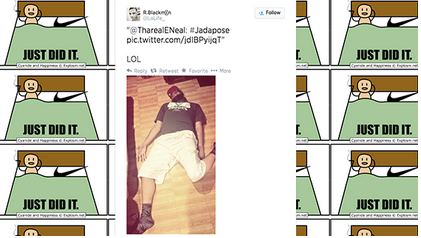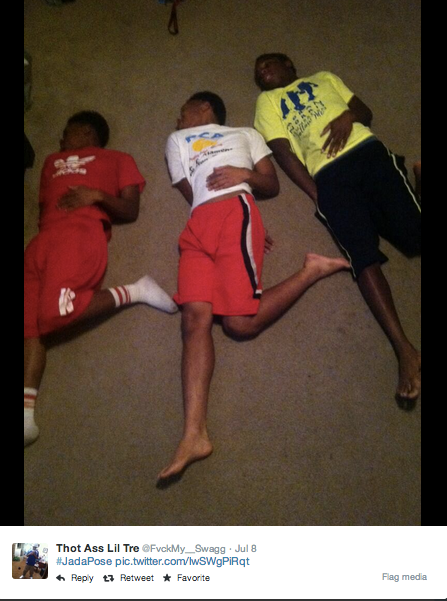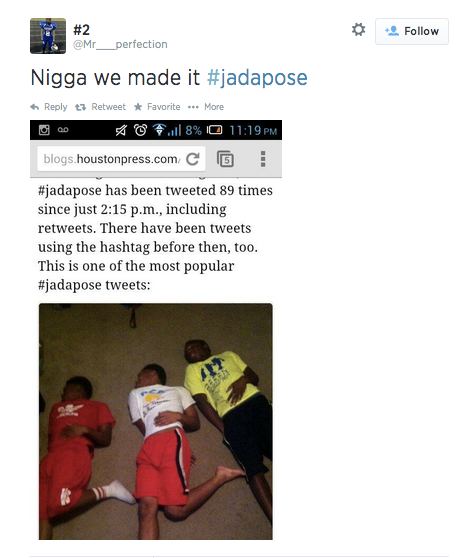 As of yesterday, the Houston Press reports, the hashtag had been tweeted 89 times. Isn't that lovely? In other news, people have souls made of garbage, and the end of the world just isn't coming soon enough.
To her credit, Jada has kept her head held high after the incident and her humiliation on social media, giving an interview to Houston news station KHOU after the photos went viral. "There's no point in hiding," she told KHOU. "Everybody has already seen my face and my body, but that's not what I am and who I am."
Fortunately, there's a silver lining to this incredibly horrific story: Inspired by Jada's courage and strength, people have taken to social media to speak out against the missed opportunities for crib death that have been mocking her rape, tweeting in support of Jada:
Jada, you've shown incredible strength in the face of incredible evil. That's what both the rape AND the meme are. Pure evil.#jadapose

— Cx (@Ms_CeMx) July 10, 2014
People who mock a 16-year-old's sexual assault should be sent off, one-way ticket, into outer space. #jadapose

— Nathalie Kossek (@nathaliek) July 10, 2014
The real #jadapose is standing tall in the face of violation and harassment and good for her for not backing down.

— Deus Ex Mockinya (@OnTheFallLine) July 10, 2014
So many people have tweeted in support of Jada that when you search the #jadapose hashtag now, only positive messages come up. So maybe the human race isn't so terrible after all.