Like many of us, Felicia Koch found herself spending more time online during the pandemic. And she found herself needing an outlet to post jokes, memes, and content related to lesbian culture and being a queer woman in general. She could post on her personal Instagram account, but she didn't have many queer friends or followers.
"My straight friends on my regular Instagram account would be like, 'Here's Felicia again, posting some lesbian stuff nobody gets,'" Koch told the Daily Dot in an interview.
So, she created @distresseddyke, an Instagram account that now has over 19,000 followers and is a place for her to post and memeify "all the funny, gay things [she] sees online" and share laughs with people who get her jokes.
Recent posts include memes sourced from the reunion episode of Netflix's The Ultimatum: Queer Love, selfies posted by actresses who have played gay characters, WNBA games, and stills of Angelina Jolie in the 1998 movie Gia.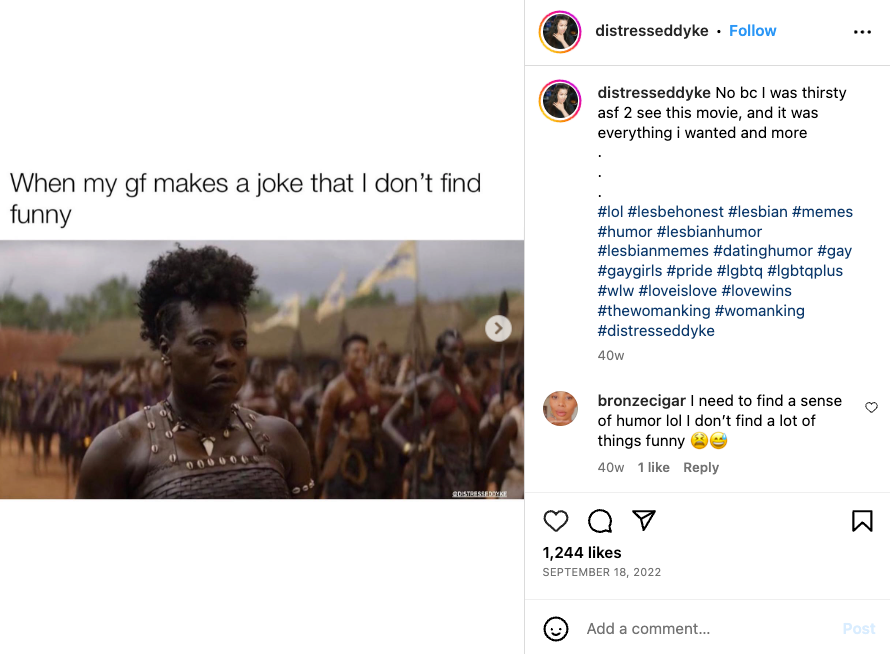 Her account has become more than just for laughs: Koch said that she's struggled to find queer female friends IRL, let alone form a queer female friend group like the infamous one in the most popular example of lesbian media, Showtime's The L Word.
"You feel like you have a friend," Koch said of the connections big and small she's made through @distresseddyke. "You feel like you have these gay friends that you don't have in real life."
Koch isn't alone in finding solace and robust connection through creating a lesbian-focused meme account. The sapphic meme account universe is huge: Some accounts are centered around celebrity culture, while others post about the trials and tribulations of lesbian dating. What they all have in common, however, is that these accounts are supportive and positive spaces for lesbians—like this reporter—and non-men who date women to feel understood and seen.
Memeing the lesbian experience
Wendy Spears, who runs @Gay_Girl_Inc with over 124,000 followers on Instagram, said that she, too, started her meme account because most of her IRL friends are straight, and she wanted a community to relate to. So, she made a "gay version" of the popular meme pages she already enjoyed.
Doing so proved therapeutic, Spears told the Daily Dot, because she was able to create relatable content from her own experiences as a queer person.
"Every experience that I wanted to validate for myself, I have made into a meme now," Spears said.
Kim of @sapphic_sandwich also created her account, which has over 40,000 followers, to share in a specifically queer experience: having "obsessions [with] people that you can't have." Kim declined to share her last name for privacy reasons.
On her account, she posts content about heterosexual female actresses who have given the lesbian community vital representation on screen, among them Cate Blanchett, Jodie Comer, Melanie Lynskey, Jennifer Beals, and Natasha Lyonne. She also posts about gay celebrities, like Kristen Stewart and Adele Haenel, and news related to queer film projects that are in the works.
"I've got my finger on the pulse. I'm always reading entertainment and celebrity news," Kim told the Daily Dot. "I find [the account] really rewarding."
Read the entire
Internet's Queer Era
series
And even though there are so many lesbian meme accounts—I interviewed only a fraction of them for this article—the lesbian admins behind @HypeDykes, Aby James and Keira McGill, said that running a sapphic meme account doesn't mean that you're in competition with your contemporaries.
"We really weren't expecting how close-knit and supportive the queer meme account community is," James told the Daily Dot of her experience starting @HypeDykes, which has almost 21,000 followers on Instagram. "Larger accounts began connecting with us and trying to share our posts to give us more exposure."
That encouraging spirit is in line with @HypeDykes' credo. James and McGill, who are both comedians, started the meme account to promote a lesbian-focused stand-up comedy show that they never got to organize because of the pandemic. So, they focused on the online-only angle of the project and used the account to make jokes and also hype people up, or give compliments, to their followers via messages and comments.
"We get a lot of messages of people saying how much the account means to them, which has been a surprising element," McGill told the Daily Dot. "It brings a sense of normalcy, for especially younger people who are still at home, still in high school, maybe don't have the most access to [queer] community."
@HypeDykes memes include content about being an "astrology gay," Jamie Lee Curtis kissing Michelle Yeoh at the SAG awards, being the gay cousin, and a couple of jokes about Hulu's How I Met Your Father, on which James plays a recurring queer character.
Censorship and representation
Unfortunately, running a sapphic meme account isn't all positive. A majority of the creators we spoke with for this article said that they had dealt with censorship from Instagram. James and McGill of @HypeDykes said that they had had the account taken away from them for two months "with no warning."
"We got our account taken away for two different memes. One was making a joke about cis, straight, white men. Apparently, it got reported for being offensive," James told the Daily Dot. "I wonder who reported that?"
The @HypeDykes enlisted their followers to send messages to Instagram about the account and petitioned to get it back. Though they were successful, losing their account has changed the way they now post.
"We now approach every meme with an extra layer of anxiety and walking on eggshells because you can get one thing flagged and then the next day, it disappears and there's no real opportunity to appeal or talk to a real person" at Instagram, McGill said. "That's challenging."
Cheyenne M., who runs one of the biggest lesbian meme accounts, @HotMessbian with over 193,000 followers, said she's dealt with censorship, too. While she prides herself on posting content on the raunchier and more risque side, Cheyenne told the Daily Dot censorship has forced her to "tone it down."
"I can be really careful about what I post and how I post it, which kind of ruins the creativity," Cheyenne said, adding that her account has at times been at risk of being "fully shut down."
But despite the looming threat of censorship from Instagram, Cheyenne says running the account is worth it because of the representation she's able to offer to her followers: The queer female characters shown in mainstream media tend to anthropomorphize lesbian stereotypes (or, are featured in lesbian period pieces). Memes are a way to express a myriad of different, unique experiences.
"We're not really getting to see that much of ourselves or our experiences reflected back" in mainstream media, Cheyenne told the Daily Dot. "Meme pages are a way to connect."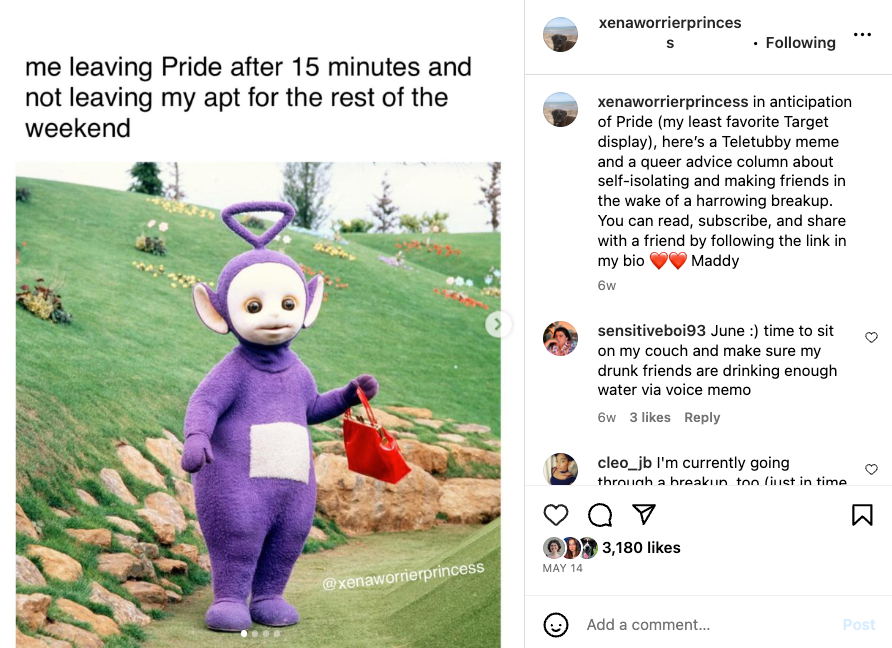 "We're not really getting to see that much of ourselves or our experiences reflected back" in mainstream media, Cheyenne told the Daily Dot. "Meme pages are a way to connect."
Similarly, so much of media depicting lesbians feels like it was made "by straight people for straight people," Carmen Maria Machado, a well-known author and frequent consumer of lesbian meme accounts and queer media told the Daily Dot. She wrote multiple essays about The Ultimatum: Queer Love on her Substack.
"No one really gives a fuck about us," Machado told the Daily Dot about the accuracy of how lesbians were presented in The Ultimatum, which ended in claims of domestic violence. "We are we are not interesting or worth protecting to the world."
Maddy Court, a writer who runs @xenaworrierprincess, a lesbian meme account with over 70,000 followers, and posts TV recaps of lesbian shows agrees: Many depictions, even recent ones, of lesbians and lesbian life in media don't feel true to our experiences.
"[The L Word: Generation Q] felt like it was written by AI," Court told the Daily Dot. "It doesn't feel like it's representing any kind of queer experience or lesbian experience in a way that feels detailed or interesting."
Because there's a disconnect between how lesbians live their lives and what is seen on screen, memes pick up some of that slack.
And there's no material barrier to making a meme, unlike working in the entertainment industry, Court said, so more lesbians and Sapphics can actually create representations of themselves that feel specific to them—that's why there are so many lesbian meme accounts.
"It is hard to find things that are genuinely funny," Court said. "And reflect actual experiences."
So, we make our own.
Update 3:07pm CT, June 29: This story has been updated with quotes from Carmen Maria Machado.

We crawl the web so you don't have to.
Sign up for the Daily Dot newsletter to get the best and worst of the internet in your inbox every day.