Porn has always been an escape that allows you to play out your fantasies in an alternate reality. Now, thanks to VR porn, anyone with a smartphone can experience pornography from a hyperrealistic perspective. You may have heard that VR porn provides a more vivid and engaging experience. But if you're wondering how to watch VR porn yourself, you'll need a few basic pieces of equipment.
Jumping into the world of VR porn may feel daunting and expensive at first, but chances are you already own most of what you need. Here's how to watch VR porn your way, whether you just want to start out on a budget or you're ready to drop a couple of hundred dollars on the top porn sites.
How to watch VR porn
If you're looking for the basics of VR porn your existing smartphone is almost certainly up to the task. Every major VR porn site supports both Android and iOS even if Apple technically has banned adult content from their devices. Keep in mind, buying the biggest phone can come back to haunt you when you try to use VR. Many of the VR headsets for smartphones don't take into account the largest modern models. Make sure before you pull the trigger on your purchase that it actually fits your phone.
Where to watch VR porn?
When we ask "where to watch VR porn" we don't mean "what sites can you find VR porn on." We mean where the hell will you actually watch it. Watching VR porn is a vulnerable experience in ways that watching normal porn isn't. For starters, you're not blindfolded when you're watching porn unless you're into kinky stuff we've never heard of. Make sure you've figured out a private place to enjoy VR porn before you take the leap. Your experience will be dramatically improved by making a plan before you take off your pants.
Should you watch VR porn on a Smartphone or PC
Users who want the most top-shelf, high-quality experience will need to buy a PC rig that can run high-end VR options like the Oculus Rift. According to Oculus, your machine has to meet the following specs to fully take advantage of the system.
Intel i5-4590 / AMD Ryzen 5 1500X or greater

NVIDIA GTX 1060 / AMD Radeon RX 480 or greater

8GB RAM or more

HDMI 1.3 and USB 3.0 ports

for Oculus Rifts S or 3 USB 3.0 ports plus 1 USB 2.0 port for the Oculus Rift

Windows 10
These are just recommended specs for an Oculus system, but if you want to experience the full spectrum of VR capabilities we suggest you have them. Here's the thing though, unless you already own a powerful PC and have money to burn, there's really no reason not to just use your smartphone. VR headsets that use your smartphone are cheaper. Also, you don't have to worry about getting bodily fluids on a piece of computer equipment your family will definitely want to use. Oculus VR porn might look incredible, but it's not worth buying a system over.
How to watch VR porn: VR porn headsets for every budget
For a long time, Google Cardboard had been our recommended VR headset of choice for mobile phone users. The Freefly Beyond has usurped Google's position, however, by being cheaper and not made of cardboard. This comfortable headset fits phones from 5.3 to 6.5 inches, meaning it'll even work with the new iPhone XS and XS Max phones. This is the perfect headset for streaming VR porn off your phone.
Offering exceptional comfort and quality at a low-budget price, DESTEK's V5 headset is a powerful budget VR headset Offering a 110-degree field of vision, a comfortable fit that makes room for glasses, and focal length adjustments for near- and far-sighted users, there's a lot of love in this simple package.
Simply insert your smartphone, download some porn apps, and get started. However, be aware is lacks much in the way of outward controls. Still, it's hard to beat this price. Compatible with smartphones with a 5.5-inch to 6.5-inch screen DESTEK is a solution almost anyone can afford.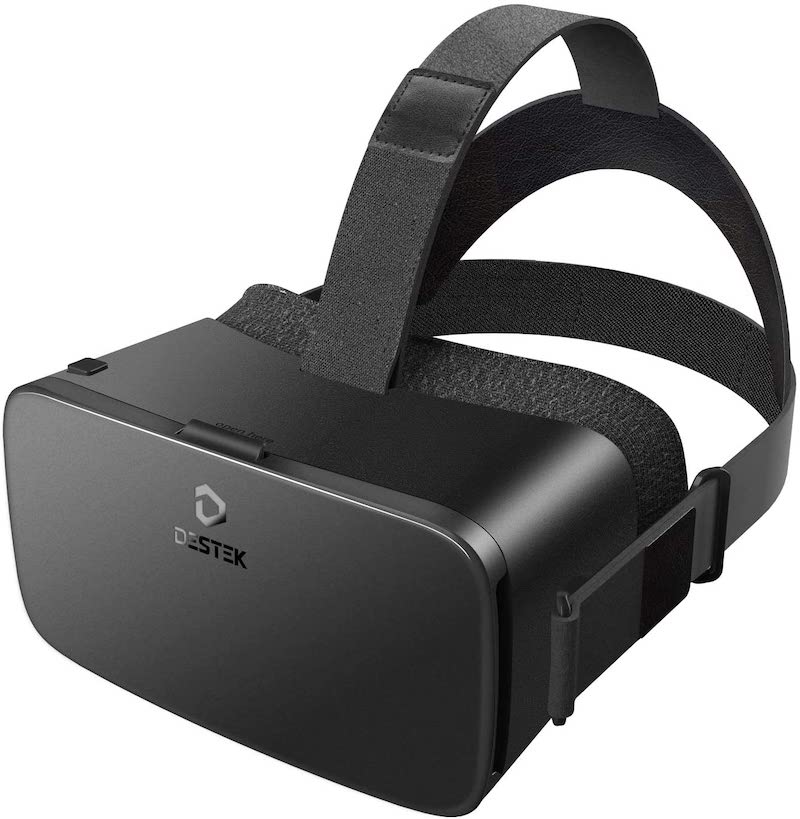 The PVR IRIS is a standalone VR headset, meaning you don't need to plug it into any external devices in order to watch your wildest fantasies come to life. Using cutting edge technology and a WiFi connection, the device can access the cloud or individual VR porn apps for users to stream, download, and play content. It's even Bluetooth enabled if you want to pair it with any of your sex toys.
The 5.5-inch screen display has a resolution of 2560 x 1440 and plays back video in 6K. But what really sets it apart from other VR goggles is Fresnel optics, anti-distortion, and anti-dispersion systems that cooperate with an auto-adjustment feature to keep you from getting a headache (or dizzy). It also means that when you turn around, look down, or change your perspective, the image stays crystal clear and in your line of view. The device also features built-in speakers, though we found ourself using the headphone jack for obvious reasons.
All of this comes with a major caveat; while PVR IRIS was still receiving support updates in May of 2020 its blog hasn't been updated since 2019. That means this device could be at the end of its life span. Still, this is one of the best alternatives to an expensive system that requires you to also have an expensive computer.
If money is no object, but you still don't want to buy a high end PC, the Oculus Quest is for you. This all-in-one VR wonderland has built-in HD headphones, a stunning HD display, one of the most comfortable headsets on the market, and the entire Oculus software library on top of its incredible porn abilities. You even get handy controllers to help navigate your favorite apps, no matter what they are.
With a resolution of 1600 x 1440 and with a fast 72Hz refresh rate, apps and games run as beautifully as they look. Also, Oculus has special Touch controllers that allow you to ditch the controller, tracking your hand movements to control the device. If you're a heavy gamer, the device also supports connecting an Xbox One controller. While that may not have many applications in porn, it's a nice bonus for when you're enjoying more wholesome content.
Like mainstream porn, the world of VR porn is quickly getting crowded. We understand if you've been burned by a bad site. It's reasonable to ask "is VR porn good?" The answer is, yes, provided you go to the right sites. Like any genre of porn, what matters most is who makes it.
If you'd like to read a deep dive into what sites are currently shaking up the VR porn landscape, we've collected the best VR porn sites and the best gay VR porn sites out there. In the meantime, here are some of our top picks.
---
Even in the oversaturated VR porn market, VR Bangers stands out from the pack. With just over 400 scenes in its library, VR Bangers have made up for a lack of back catalog by releasing a steady stream of world-class Ultra HD VR scenes. You'll find megastars like Aidra Fox, Riley Steele, and Maitland Ward next to the rising stars of tomorrow. Currently shooting in 6K, VR Bangers scenes look better than almost anything on the market. The only downside is the daily download limit. VR Bangers has stunning, creative, and high-quality scenes almost any porn fan will love.
---
Badoink VR is one of the only completely VR-focused brands in the adult space. That alone makes it the top porn choice on our VR specialty porn site list. Every week, they release one new, high-quality, 4K VR porn. 18vr, BabeVR, RealVR, and VRCosplayX all fall under the BadoinkVR brand umbrella. BadoinkVR has clips from more well-known porn stars like Tori Black, but the biggest selling point is its well-designed site.
The company is known as a tech company first, albeit one that specialized in the adult film space. As a result, BadoinkVR is a breeze to navigate. The user experience is clean and offers some of the most vivid scenes of any company online.
---
Looking for something way outside the mainstream? KinkVR is the virtual reality component of Kink.com, the legendary BDSM site that put all your darkest legal fantasies on the internet. If you want vanilla content (or are afraid of seeing anything but cisgender, heterosexual sex), this probably isn't for you.
KinkVR features straight, gay, cis, trans, solo, BDSM, and role-play scenarios for every preference under the sun. The problem is it lacks content, being a relatively new site that updates only once a week. Given the lack of kink content available in the VR space, KinkVR is a valuable resource.
---
---
At one point VRB Gay was one of the world's leading VR gay porn site, winning accolades and fans alike. Sadly, they stopped updating in 2019. The good news is VRB Gay still has a small, yet impressive, 4K back catalog of award-winning scenes for your erotic enjoyment. VRB Gay offered a diverse and sexy array of hardcore gay porn, ranging from twinks to bears. Each scene has enough plot to build a mood, but quickly gets right to the dick filled action. While long term membership no longer makes sense, this is a great deal for amazing legacy content. You'll certainly mourn that they aren't updating anymore once you're done celebrating.
---
Sex Like Real is the perfect porn site for VR hardcore aficionados who don't want to be tied down to just one site, or sexuality. Drawing content from a host of different production companies, Sex Life Real works as a VR porn smorgasbord. There's straight and gay content, all offered under one roof. Sure, there's certainly far more straight than gay scenes. But Sex Like Real's inclusion of 170+ gay VR scenes makes it one of the only VR or 2D porn sites that offer subscribers both. That's something to celebrate.
Rather than just subscribe to one of these sites, you can sample scenes from all of them. There are bigger studios like Yanks and Virtual Real Porn included in the 150+ companies you'll find on Sex Life Real. However, the real stars are the upstart studios seeking to make their mark in VR porn, offering unexpected kinks and thrills.
---
The Daily Dot may receive a payment in connection with purchases of products or services featured in this article. Click here to learn more.