For years, 4K television seemed like a pipe dream for average consumers—a cool but expensive novelty out of reach for all but the super-rich. But thanks to Amazon, Roku, and the rise of smart TVs, 4K is cheaper than ever before. If you're looking to experience life in ultra-high definition, why stop with Netflix and Amazon Prime? Now you can watch 4K porn movies and Ultra HD porn to your heart's content. Here are the best 4K porn sites when you're having a little personal time.
The best 4K porn sites with 4K porn movies and Ultra HD porn
Winner of over 34 awards in 2020, including Paysite of the Year from XBIZ, Adult Time is quickly becoming one of the top super sites around, especially for Ultra HD porn. With over 100 channels, 50,000 episodes, 5 new releases per day, and a mix of original and curated content, Adult Time is almost too much porn. Spanning full-length movies to themed scenes, Adult Time offers a little bit of everything. Its award-winning original content is augmented by scenes from Vivid, Girlsway, Burning Angel, and other top companies. They even feature an incredibly diverse range of performers. Adult Time is one of the best deals in porn.
---
Brazzers is one of the biggest and best porn sites in the world. This gonzo porn site is filled with HD and 4K content and 4K porn movies, focusing largely on fetishes, from simple ones like big boobs, threesomes, and blowjobs, to more intense niche fantasies. Featuring over 30 sites worth of content for the price of one, Brazzers always has something fresh to watch. And, because you're paying for the experience, there are no pop-ups or malicious ads to worry about making it an incredibly safe porn site to surf.
---
Reality Kings has been around so long it's legally able to have a membership to Reality Kings. For over 20 years Reality Kings has been pumping out thousands of scenes of pov-fantasy porn magic. Long-running sites like the lesbian fantasy We Live Together, the legendary MILF Hunter, and self-explanatory Big Naturals have kept subscribers coming back year after year. There over 14,000 scenes to discover spanning their history. New content is shot in 1080 for those of you looking for that Ultra HD porn experience, though some SD legacy content remains. Our only complaint is the extra fee to download scenes and some occasionally problematic content. Reality Kings are compelling rulers in the pov-fantasy scenes.
---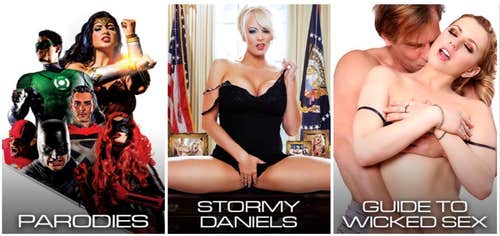 For nearly 30 years Wicked Pictures has been one of the biggest names in mainstream porn. While still active in retail, the company's website is an incredible resource for fans. Featuring over 5,500 scenes and 1,000 full movies, the sheer amount of content available is stunning. Beyond its incredible original hardcore scenes, Wicked is one of the few porn sites with educational content with classes in everything from fellatio to BDSM for Beginners. Wicked is an incredible deal, with a ton of 4K porn movies and starts at just $19.99 for streaming.
---
In the world of glamour porn Babes is a topnotch supplier of hardcore action. Babes focuses on fantasy fulfillment, giving each scene a setting and an incredibly beautiful woman to live it out. While technically a super site, only a few of Babes sections are still updating. At the moment Babes, Elegant Anal, and Step Mom Lessons are still being updated while Babes Unleashed, Black is Better, and Office Obsession is inactive. With new uploads every three days, Babes offers plenty of new content for your Ultra HD porn needs. Our only complaint is the extra $14.99 it costs to download scenes.
---
Everyone already uses Pornhub, the biggest porn tube site on earth, so why should you pay for it? The answer is simple; user experience. For the low price of $9.99 per month Pornhub Premium unlocks the site's full potential. Premium members get access to thousands of full HD, 4K, and VR videos from companies like Brazzers, Teenfidelity, Naughty America, and more. There are no ads. But most importantly, Premium members can download clips. $9.99 per month is a small price to get the full Pornhub experience.
---
PornPros is a mega-network, collecting hundreds of scenes from 24 different sites into one massive collection of hardcore. There are over 2,000 scenes with a new one usually added once a week. New scenes are in 4K, featuring stars like Lana Rhoades and Layla London, among a host of up and coming talent. The new content they produce is incredible, but there are a few sites included that barely update anymore. We love PornPros' scenes and wish they would update with more 4K porn movies.
---
Tiny 4K caters exclusively to audiences who like watching tiny women have sex with giant dudes. As advertised each scene is shot in brilliant 4K Ultra HD, complete with 3D high definition sound for a fully immersive experience. We appreciate that it avoids the creeper aspects of its centered fetish, leaving out violence or coercion. Instead, these are simply nuclear hot sex scenes featuring gorgeous tiny women shot with as much detail as possible. With only one update per week on average, it may not be enough content for some. However, the Ultra HD porn they put out is world-class.
---
Porn fans often complain that the women in porn all look the same, an endless parade of perfect blonds with big boobs. Exotic 4K is an Ultra HD porn alternative, specializing specifically in nonwhite women performers of African American, Asian, Latinx, and Middle Eastern backgrounds. There are over 140 scenes averaging about 20 minutes each that feature a mix of big names like Janice Griffith and new faces alike. This is a great site, other than it's slow updates. Sometimes you'll only get one new scene a month. However, if you long for more diverse content, Exotic 4K will be hard to pass up.
---
Cum 4K is an over the top gonzo cream pie extravaganza. Nearly every single scene on this site features an internal finish, often with exaggerated levels of fake cum for effect. From messy facials, to vaginal and anal creampie scenes, you get exactly what you would imagine from a site called Cum4K. Shot in 4096x2160 resolution, each scene of these 4K porn movies feels so real you might need a slash guard. We just wish it updated more than once a week. With over 100 scenes there is plenty to discover, but realize you'll be paying a premium for niche content. After all, there are very few sites that push cum play this far, in such Ultra HD porn clarity.
---
Naughty America is mainstream porno supersite, uploading content at a breakneck pace and while providing a cutting edge experience for users. Everything they shoot is in 4K, your membership includes both standard and VR scenes, and after years of operation, they have thousands of existing scenes to choose from. Even if you could manage to run out of old content to watch it uploads a new scene every day. Add to that top tier stars like Kendra Lust, Riley Steele, and Ava Adams and Naughty America is too good to not try. Just make sure you get a premium membership so you can download scenes.
---
Updating every five days, Vixen emphasizes quality over quantity. It's scenes only feature the most beautiful performers, are shot in stunning 4K, and feature exotic locations to fully enhance the fantasy. Particular attention is paid to setting the scene, giving you time to get turned on by the fantasy along with the action. If you don't need a porn site that updates every day, Vixen's nuclear hot content is work the five day wait between new scenes.
---
Tushy is the classiest place for anal online. This fantasy focused site isn't about pushing limits, but rather shooting anal scenes that are fun to watch. New videos are uploaded every 5 to 6 days, but you can tell they take their time with each scene. Tushy is all about building a fantasy, from the performers who look like models to the high-class settings they're having sex in. Like its sister sites Blacked and Vixen, Tushy values the quality of its scenes over the quantity. However, if you're into anal porn, the love and attention Tushy puts into each 4K scene is a far cry from the extremity-over-pleasure of its peers.
---
Interracial porn is a controversial subject because of how it presents the relationships. Blacked takes a more high minded approach, exploring an occasionally problematic fantasy without ever falling into racism or violence like other sites. Blacked scenes are shot with a glossy high production vibe and 4K video quality. Similarly to its sister site Vixen, these scenes are designed to feel like high-quality fantasies from the production value to the gorgeous performers. While they only update once every five days it's understandable given how much effort goes into each scene. Blacked is one of the few interracial sites in the industry that won't leave you feeling like you set progress back.
---
Even if you've never heard of them in America, Private is one of the oldest operating porn companies on Earth, dating back to a Swedish magazine in 1965. Today they're one of the premier European porn sites around, offering thousands of video starring the hottest performers on the other side of the pond. New subscribers are asked a series of questions, which allow the site to tailor itself to your interests. Unfortunately, the UHD 4K movies can only be streamed right now. Standard HD downloads are available for over 2,000 titles. If you've exhausted sites like Brazzers, give Private a spin for a European change of pace.
---
Born from the same minds as the softcore supersite MetArt, SexArt is a hardcore glamor porn site that focuses on artistically thoughtful porn. New content is shot in pristine 4K and featuring 50MP photos from each shoot, you'll never miss an inch of these performer's bodies. SexArt scenes have beautiful sets, indie film like direction, and an explicit focus on story-driven sex. There are some older scenes that are only HD, but you'll be too busy to care. There are already over 1,000 scenes on the site, with 4 videos added each week. We particularly loved SexArt's navigation, which makes it easy to find scenes that meet your interests using tags.
---
BONUS: Free 4K porn on Reddit
Maybe you hate the hustle and bustle of signing up for a site and paying for it. That's too bad, as the industry depends on it. But there are plenty of alternatives, and they're not limited to free trials, either. For starters, there's r/4k_Porn, a part of NSFW Reddit that's full of porn GIFs and clips from today's best 4K porn. But "free" comes at a price: You'll regularly find clips that aren't actually in 4K, or just barely meet the criteria. Then again you're getting it for free. Why are you complaining?
---
Popular Porn Categories
The Daily Dot may receive a payment in connection with purchases of products or services featured in this article Click here to learn more.
Editor's note: This article is regularly updated for relevance.