After a student who wore traditional Palestinian clothing to school was sent to the office for a dress code violation, several other boys came to school dressed in traditional clothing to protest dress code discrimination.
In a TikTok slideshow posted last week, user @mohammadali92730 posted a photo of a high school student dressed in a traditional Palestinian thobe and a kaffiyeh worn around his head. The next slide explains that the student was sent to the office for an alleged dress code violation.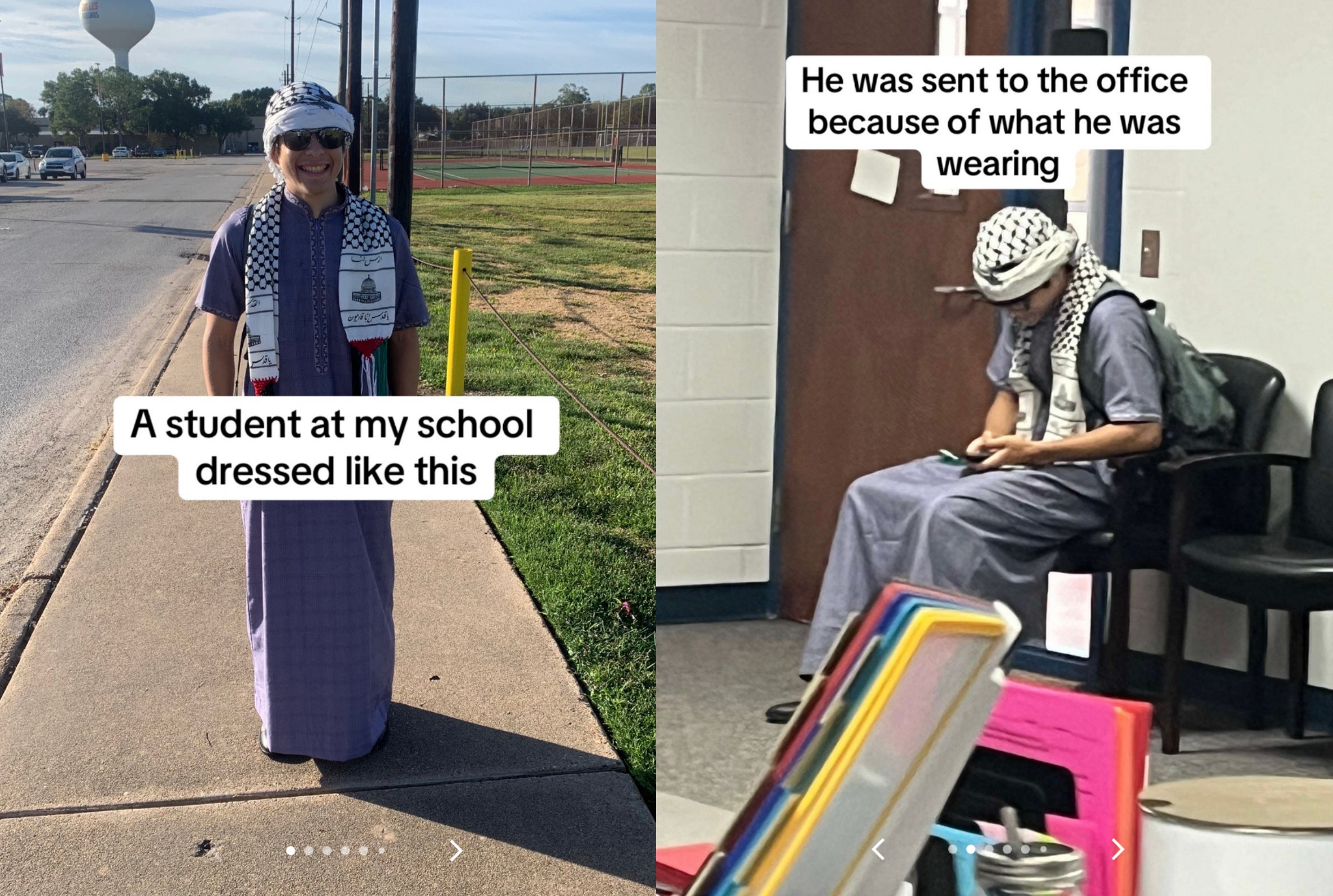 A thobe is an ankle-length Arab robe, loose fitting and often made of breathable cotton. The garment has a deep significance to Muslims as a part of their religious and cultural identity. A thobe can be worn casually or for important religious or formal events such as weddings or ceremonies.
A kaffiyeh (also spelled keffiyeh or kufiya) is a traditional Palestinian scarf with origins dating back to Mesopotamian times. The scarf is large, with trademark patterns representing connection to the sea, olive trees, and the trade routes crossing through Palestine.
The scarf has long been associated with Palestinian freedom fighters, as it was used by those resisting the British occupation. Today, the kaffiyeh has become a marker of solidarity with Palestine and is quickly becoming contentious for that reason.
In response to the student being sent to the office for his attire, @mohammadali92730 and at least 14 other students came to school dressed in thobes and kaffiyehs. In a series of photos, the boys can be seen in the hallways of their school and posing for photos in a group, decked out in the traditional clothing.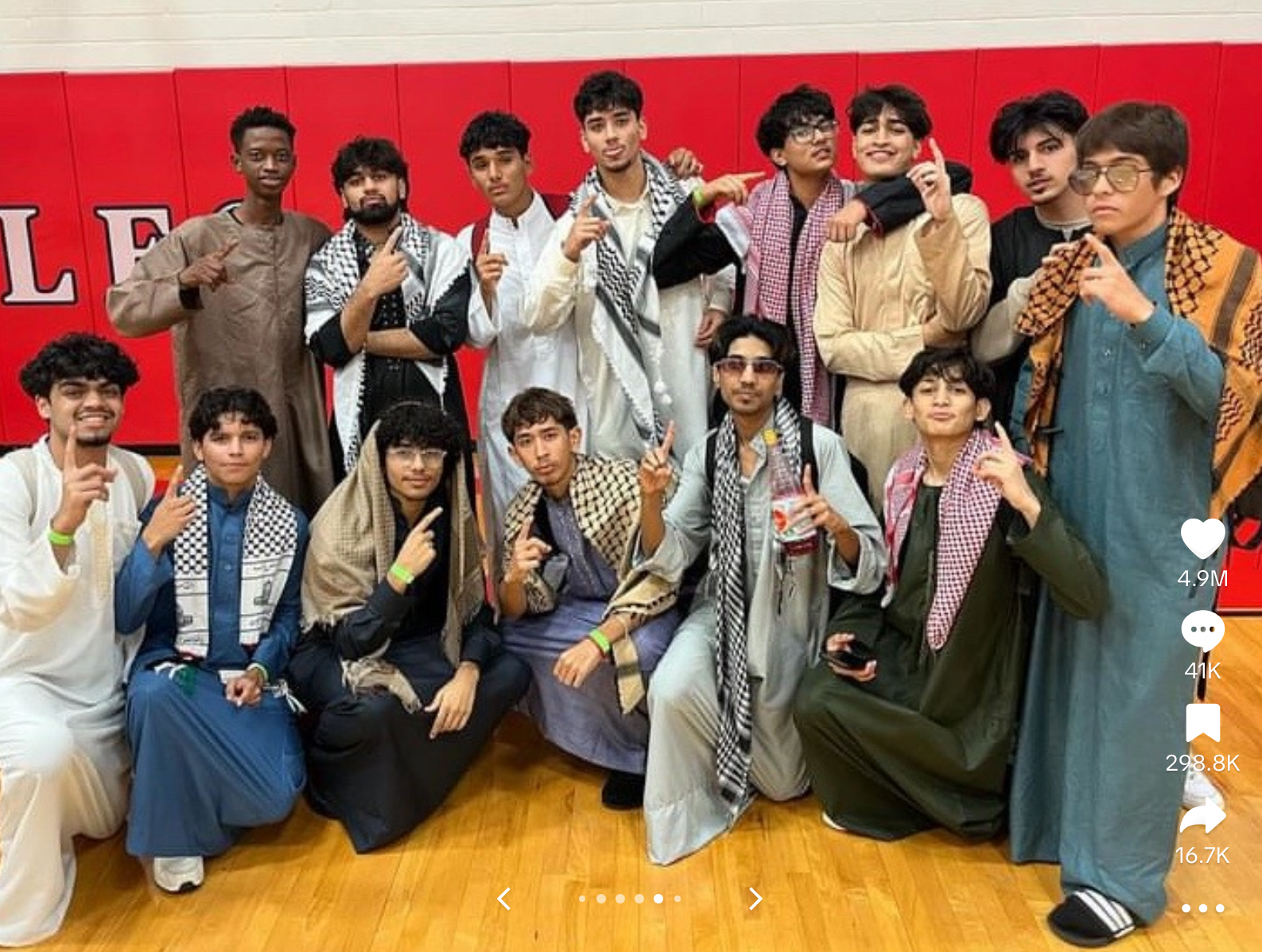 By Monday, the slideshow had over 22 million views.
Several commenters shared their own stories of facing dress code discrimination for wearing traditional Arab dress.
"They suspended a kid in my school for wearing a thobe," one user wrote.
"i was brought to the office and questioned for wearing a keffiyeh," another shared.
"I got suspended for wearing a keffiyeh," another wrote.
The discrimination faced by students is not an isolated event. Recently, a viral video showed a woman attacking 40-year-old Ashish Prashar and his 18-month-old son at a playground because Prashar was wearing a kaffiyeh.
In the video, the woman can be seen storming toward the man and throwing a cup of hot coffee at him while calling him a terrorist. In an interview with NBC New York, Prashar shared that she had previously thrown her phone at him, as well, while screaming anti-Islamic insults at him. 
Prashar said in the interview, "This is post-9/11 again. […] Every brown person now is a target."
Recently, Berlin banned the wearing of kaffiyehs in schools, claiming that the garments "represent a threat to school peace." Additionally, Germany has also banned pro-Palestinian demonstrations, claiming that such gatherings are "in support of Hamas." This has sparked concerns from Amnesty International, which insists that the right to protest must be observed.
Despite this, protests have continued with many demonstrators facing police violence and discrimination.
In an interview with Al Jazeera, a Palestinian man living in Germany who has been peacefully organizing demonstrations with police support for years shared his experience of facing police discimination for wearing a kaffiyeh. 
"I was even forbidden to walk inside the city for 24 hours because I was wearing a keffiyeh," he said.
Discrimination against kaffiyehs began long before the events of Oct. 7. In March of this year, Nova Scotia residents protested outside of the education minister's office after Palestinian students were told to remove their kaffiyehs during a "multi-cultural day" event at school.
One student was told that he could not wear his kaffiyeh as it was "a sign of war." Another student reported that their attempts to educate officials about the significance of the kaffiyeh was met with resistance as the vice prinicpal of the school "pulled the phone forcibly from the girl."
The school later apologized for the incident and insisted that its staff do not support anti-Palestinian discrimination.
In 2019, a redditor shared that they were nearly fired for wearing a kaffiyeh to work. In the same year, Palestinian-American Congresswoman Rashia Tlaib faced backlash for her decision to wear a kaffiyeh, fielding accusations that the garment was a "symbol of Hamas." 
The push to destigmatize the kaffiyeh has been an ongoing struggle. In 2021, an article from the Middle East Eye reported that a Google search for "what scarf do terrorists wear" prompted exclusively images of kaffiyehs.
Despite the initial act of dress code discrimination, @mohammadali92730's act of protest seems to have been positively received. In a follow-up video posted yesterday, @mohammadali92730 and his friends are shown walking proudly out of the school, dressed in their thobes and kaffiyehs. 
"Couldnt have done it without yall," he wrote in the caption.
The Daily Dot reached out to @mohammadali92730 via TikTok comment. 

We crawl the web so you don't have to.
Sign up for the Daily Dot newsletter to get the best and worst of the internet in your inbox every day.