New York offers little natural relief in the summer from hot and sticky afternoons. Despite their proximity, the Hudson and East rivers surrounding Manhattan aren't the most obvious—or appealing—swimming spots for residents, no matter how desperate they might be to cool off.
A team of NYC locals are working to change that with their new crowdsourced initiative, + POOL. It's essentially a floating filtration system that transforms dirty river water into an Olympic-sized pool, creating a veritable swimming hole in an urban waterway.
Shaped like a massive plus sign, the pool will offer a warm-weather respite for anyone who wants it, from lap swimmers to casual bathers, with each quadrant catering to a different use. And while guests splash and athletes practice flip turns, the walls of the floating pool remove bacteria and other hazards from the river, filling the pool with safe, swimmable water.
"You don't look at the river as a place that you can access," noted Archie Lee Coates IV, one of the pool's co-designers. "It just kind of seems like this strange border between boroughs—something that you kind of cross over and maybe smell in the summertime."
Swimming in New York's rivers was actually once common. Floating bathhouses dotted the rivers around Manhattan until 1936, as Coates is quick to note, when contamination and increased industrial use of the waterways rendered them unsafe.
Recent waterfront development in New York has provided increased access to the city's shore, where kayaking has seen a slight spike in popularity. But while some organized swims occur, and a pop-up waterfront pool at Brooklyn Bridge Park has brought more back to the area, we're not yet heading into the waters en masse. And with good reason: An estimated 27 billion gallons of pollutants flows into the rivers each year, Coates said.
"The city is looking at the waterfront as a place that they want to go to," Coates said, noting that organizations such as Hudson River Park Trust have been instrumental in the efforts. "The problem is you can't jump in it yet."
+ POOL was inspired in part by Coates childhood in Virginia Beach, where a plunge in the Atlantic Ocean was easier than hailing a cab in midtown Manhattan.
"As a kid if I wanted to go swimming, I would go out my front door and into my backyard," Coates, 31, said.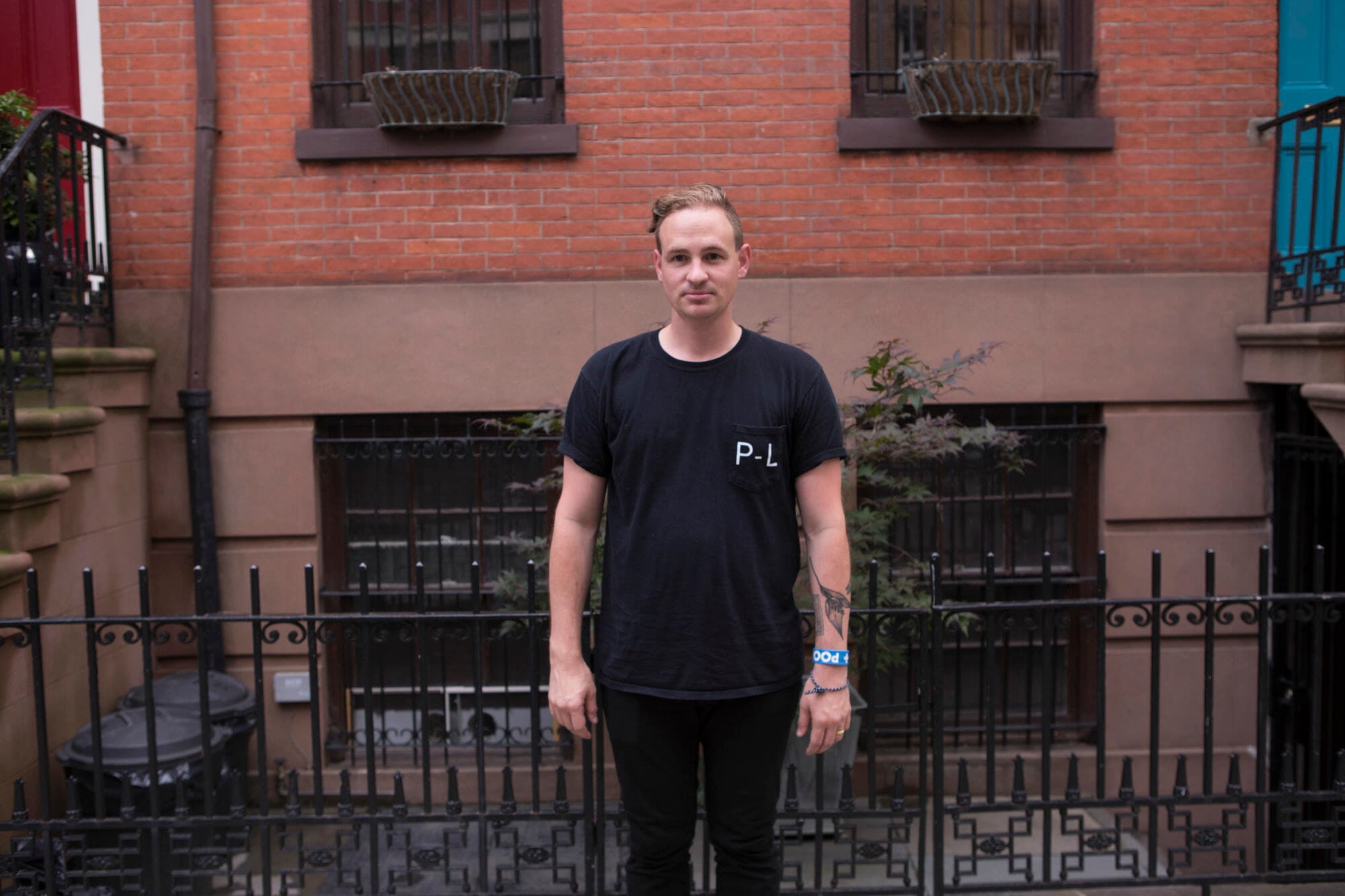 The actual concept for + POOL originated in 2010, shortly after Coates started creative design office PlayLab, Inc., with his college friend Jeffrey Franklin. Over coffee, the pair's friend Dong-Ping Wong, who operates architecture firm Family with Oana Stanescu, suggested a project that could make swimming in the city's rivers a reality.
In 2011, the founders of + POOL launched a Kickstarter campaign to fund the development and testing of their layered water filtration wall. The campaign met its initial fundraising goal of $25,000 in just six days and ultimately earned more than $41,000 from 1,203 backers. A second crowdfunding effort in 2013 hauled in another $273,000, financing a test site for the filtration system on the Hudson River called Float Lab. Working with engineers, scientists, naval architects, and other experts, the team tested the system and captured data over a six-month period.
The campaign page likened the filtration process to a "giant strainer dropped into the river." In short, the system has three layers: the first to prevent things like wildlife, oil, and debris from entering; the second to remove bacteria, suspended solids, and algae; and a third layer for disinfection. The results thus far have been promising.
Donations for the campaign came in from around the world, even from those who may never have the opportunity to take a plunge in the pool. One backer from Guatemala gave to the campaign because, Coates said, the once-clean lake where his mother used to swim became contaminated with sewage.
Through Kickstarter, the designers built enthusiasm and excitement for a project that can help transform a key component of urban city life. Donors will get their names engraved on the pool's tiles, a reminder of their roles in reclaiming the waters.
"Now we have this community that is unwaveringly supportive of this vision that is now not ours but everyone's," Coates said.
While the project is firmly rooted in New York, it's already having a ripple effect. That's because, Coates said, about 90 percent of the world's large waterfront cities are surrounded by water that's potentially problematic for swimming, the waters often serve as dumping sites for sewage. During + POOL's 2011 Kickstarter campaign, the mayor of Sydney, Australia, inquired about the project and its possible replication in its harbor, and since then, Coates has consulted with several other cities, most notably London, Berlin, and Munich, about comparable projects.
As a design strategy, Coates said he and his co-designers look for "one small, beautiful thing" that might go unnoticed. In the case of + POOL, that's the natural river water—currently little more a decorative border for the Manhattan skyline or a place for a scenic cruise—masked by the city's pollution.
Diving in is still years away, with a potential pool opening date in the summer of 2018. Coates recently co-founded the nonprofit organization Friends of + POOL with the goal of raising funds for the construction and design of the 9,300-square-foot, 285,500-gallon pool. He estimates construction will cost $15 million, and the organization must first acquire permits from various city agencies, including the Department of Health and Mental Hygiene, a process that could take anywhere from six months to a year or more.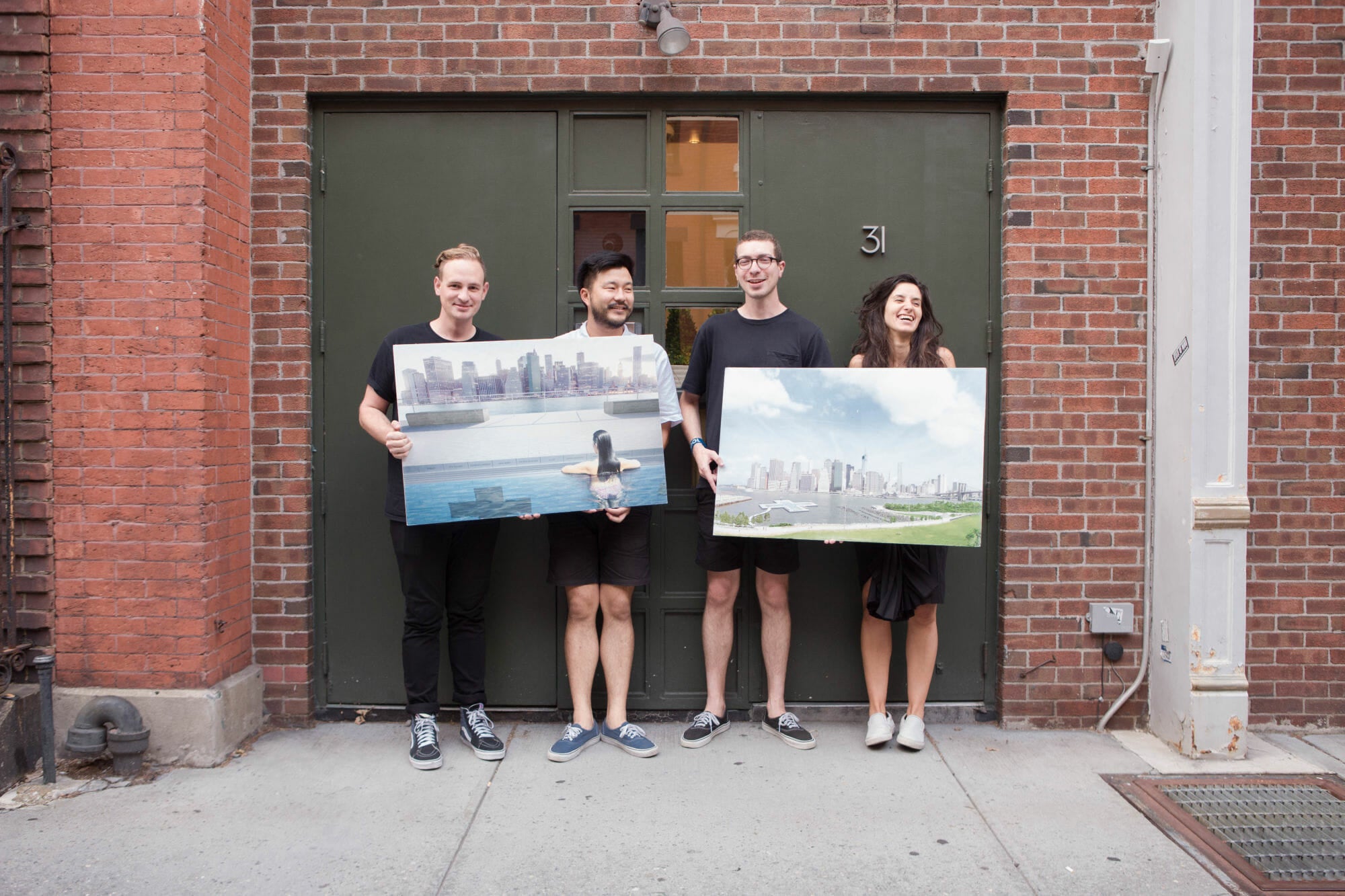 Meanwhile, the nonprofit will continue to engage and grow a community that Kickstarter helped cultivate online. Friends of + POOL is launching a community swim program, and along with Google, created an online tool that let users see river quality in real time—efforts that create good stewards of the city's resources and get residents closer to the water.
The pool's eventual location is still to be determined. Friends of   + POOL launched a study of 10 potential floating sites, including Governor's Island, Hudson River Park in Manhattan, and Bush Terminal Park in Brooklyn.
Once the pool does open, the designers will face a new challenge not uncommon in New York's public places: managing the inevitable crowds at the 481-person pool.
"There's only a limited amount of space so that's going to be a thing," Coates said. "But if we're able to solve water filtration, I hope we'll be able to solve that."
This Daily Dot article was made possible by Heineken. The City Kickstarts editorial series has no formal relationship with Kickstarter. The project featured, +Pool: A Floating Pool in the River for Everyone, is independent and is in no way affiliated with or funded by Heineken or the Daily Dot.