On June 27, Google released Street View photos of Hashima, a Japanese island uninhabited for almost 40 years. Tourists have been allowed access to its concrete ruins since 2009, though always under tight restrictions. Hashima Island: A Forgotten World, an interactive project by U.K. designer Bryan James (and best seen using Google Chrome) changes all that.
James has created beautiful, award-winning interactive websites before, analyzing the human ear and providing a system for identifying and kicking your worst habits. His panoramic photo-by-photo reconstruction of Hashima, however, is of another order entirely. It's at once a historical educational tour and an uncanny experience occurring outside of known time.
It's a startling projection, for one, of a post-apocalyptic world. Travel to Hashima was shut down in 1974, but in "walking" around the place, it looks more as though humans have vanished off the face of the planet.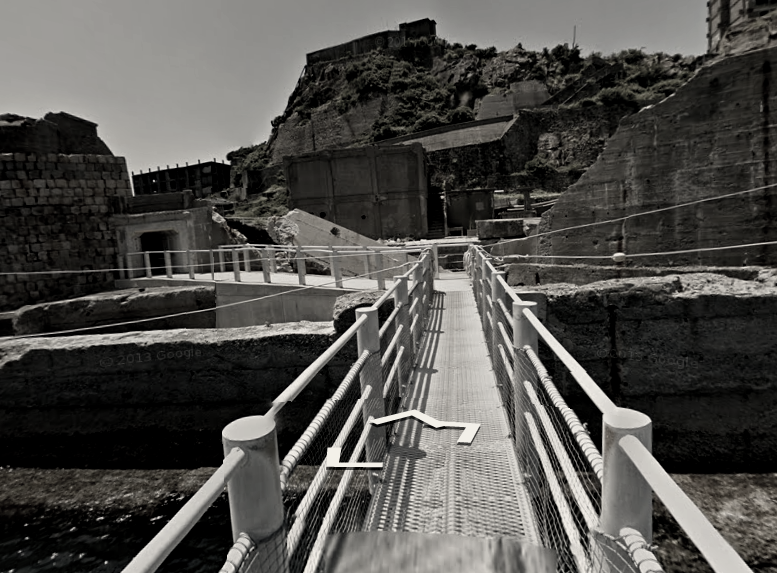 "When I was browsing Twitter, I saw an article saying that Google had street-viewed [Hashima]," James, who had been interested in the island for a few years, explained in an email. "I had a browse around and the one thing that came to mind straight away for me, was that I didn't know where I was. The land and architecture looks so tortured, and visually looks like it could tell tale after tale and yet it was lacking any history in this context, as amazing as it was."
In 2009, the year travel to the island was reopened, the infrastructure's state of disrepair was fodder for a History Channel show called Life After People, which documented how just a few decades of decay could cause the products of industry to crumble. It's no wonder the place has been nicknamed "Ghost Island." Hashima's almost alien landscape was even the inspiration for Javier Bardem's remote villain lair in Skyfall, the most recent James Bond film.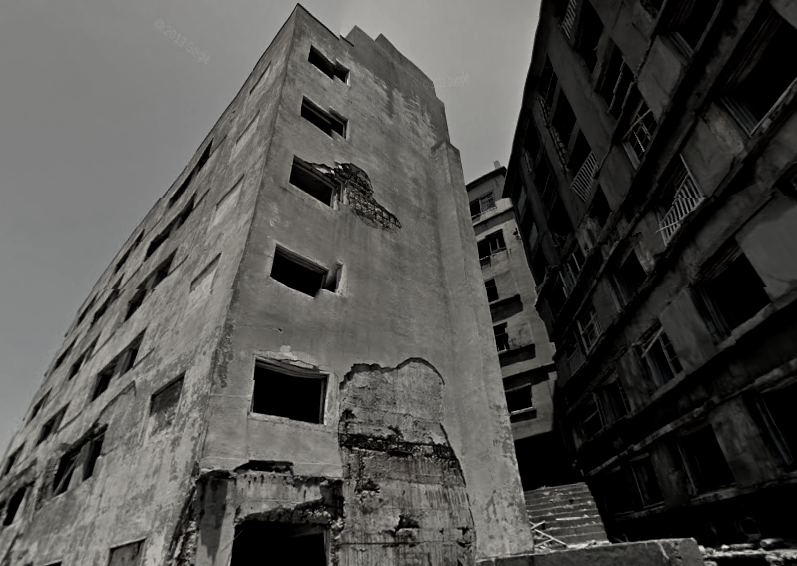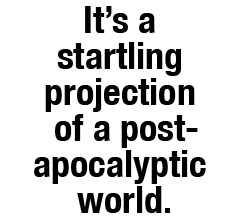 Hashima is but one of about 500 uninhabited islands in the Nagasaki Prefecture. It was only ever occupied as a coal mining facility. The Mitsubishi company bought the land back in 1890 for those purposes, and eventually more than 5,000 people, mostly employees, called it home.
Then, in the years after World War II, Japan's energy demands shifted to petroleum, and suddenly undersea coal mines were a far less profitable proposition. Hashima in this sense is a monument to the ruthless cycles of capitalism. It's not just a ghost town—it's a ghost business.
James's interactive site borrows Google's 360-degree photography to achieve an altogether creepier effect than Street View can. His Hashima is a wonder to behold: monochromatic, with spine-tingling ambient music to accompany your journey, and some sound effects that would be at home in a horror film. It unnerves as much as it delights—even while imparting little sidebar lessons on the island's notable landmarks.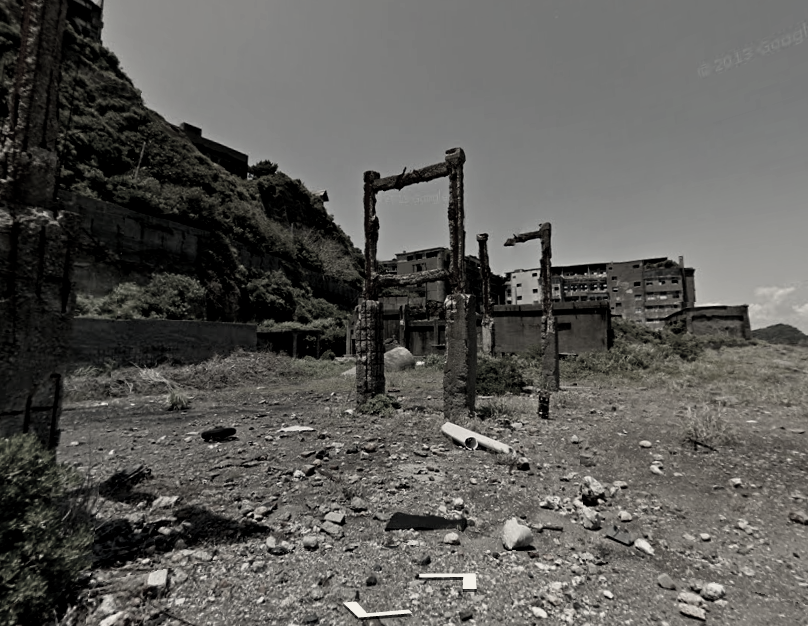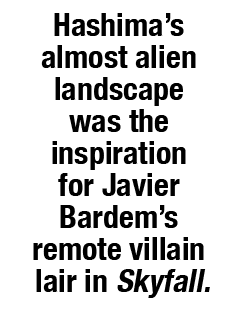 "I felt the creepy atmosphere was necessary for a few reasons," James explained: "First and foremost, to engage a user who hasn't heard of the island, nor has an interest in it. I feel some of the best things you see online, are when the user is suddenly gripped by the hand (or mouse) and taken somewhere—you could compare it to the ride Rita, at Alton Towers—people are suddenly, and explosively, sucked into an unexpected and thrilling experience, and I really wanted to do something that wasn't simply 'nice.'
"Nice doesn't tell the story of the island, casually exploring the visuals isn't how I wanted people to interact, so the dark environment worked well for this. Another reason was to differentiate from street view, and maybe do something with it which people hadn't seen before."
Compare that dark mood with the cheerful video of a Google employee mapping the island, all of it green with resurgent nature, featuring an inspiring soundtrack to boot:
James's site is instead an immersive experience that, at times, feels almost like a puzzling video game—think Myst on an island that really exists. Users can climb the vertiginous "Stairway to Hell," to reach the sumptuous view at Senpukuji Temple, or poke around inside the dilapidated Nikkiyu Flats, a company apartment complex for miners built after the First World War—made of concrete to withstand the force of typhoons.
The website's macabre atmosphere can be said to have roots in what occurred later in the 20th century. Brian Burke-Gaffey described the wartime conditions of Hashima in Cabinet.  
Hashima's annual coal production reached a peak of 410,000 tons in 1941. But it was an achievement that exacted a heavy toll in human suffering. While Japanese youth disappeared onto the battlefields of China, Southeast Asia, and the Pacific, the Japanese government forcibly recruited large numbers of Koreans and Chinese to fill the empty places in its factories and mines, and many of these men perished as a result of the harsh conditions and a starvation diet.
Hashima was no exception. By the time the atomic bomb rattled the windows on Hashima apartment blocks and Japan surrendered to the Allied forces in August 1945, about 1,300 laborers had died on the island, some in underground accidents, others of illnesses related to exhaustion and malnutrition. Still others had chosen a quicker, less gruesome death by jumping over the sea-wall and trying in vain to swim to the mainland.
Picking over the abandoned industrial facilities and odd features of the associated town often yields more questions than answers: What was it like to live here, and is there a lesson to be drawn from the rubble?
According to James:
One essential lesson the island tells us is that man isn't as powerful as maybe it thinks it is. The island was internally, constantly under harsh living conditions because of it's reliance on outside-'aid', such as water, food, etc. The island wasn't self-reliant, and this continually affected the people inhabiting the island when these supplies were delayed. I think personally, the other great lesson the island teaches, rather unexpectedly in my eyes, is to make every day matter because everything can change or even end for anyone, in the blink of an eye. Within the space of a few days, an entire island was emptied, without consultation with the people whose lives were completely changed, either for better or worse. In this manner, entire lifetimes of memories can be completely forgotten in this same blink, and in my eyes, 'worlds' are merely the holders of memories.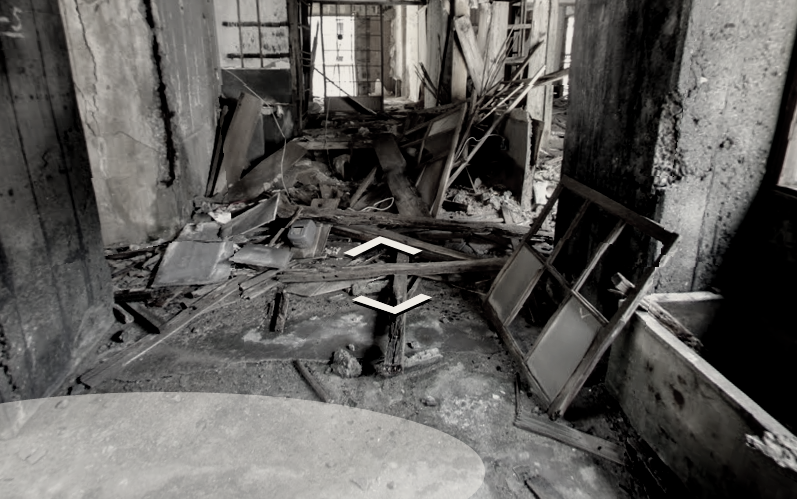 Eventually, though, a visitor to this strange realm may stop hunting for meaning in the rune-like remains of massive human effort. Impermanence is surely the piece's theme, but the solidity of Hashima itself, apart from its maze of old buildings, presses up under your feet. Crisscrossing it yields an impression of eternity as well as one of transience.
We won't last, but the island might.
Photo by Brian Burke-Gaffey