A Green Day fan in Nebraska was arrested last week after she stole a car, robbed a bank, and then bragged about both of the heists on YouTube.
Hannah Sabata, 19, was taken into custody after police found a video titled "Chick Bank Robber" on her Jellee Beanie YouTube channel. In the video, the blonde teenager uses a series of handwritten notes to admit to both crimes.
The description: "I just stole a car and robbed a bank. Now I'm rich, I can pay off my college financial aid and tomorrow i'm going for a shopping spree. Bite me. I love GREENDAY!"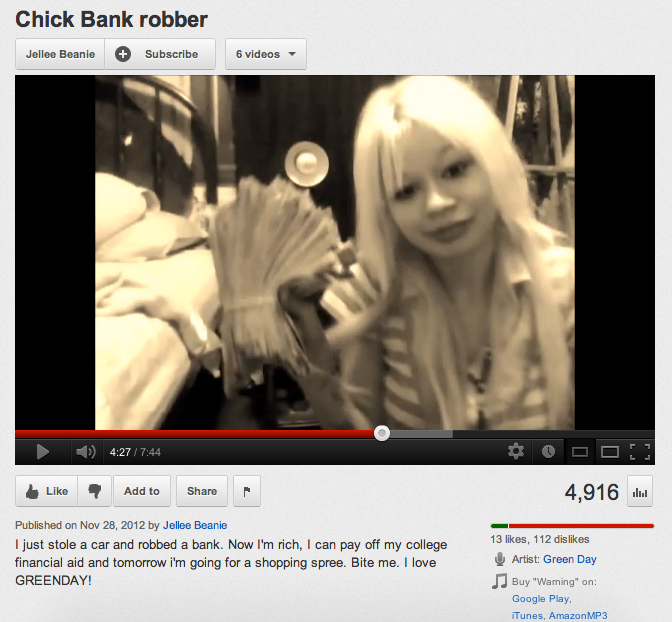 Sabata said that she stole a Pontiac Grand Am and disposed of the license plates before heading to a bank and using a gun, pillow, and handwritten note to rob it of $6,255.
"Why?" she asked rhetorically. "I am a victim of the government. The whole system is just a game."
She wrote that "the government stole [her] baby and they took him away before I could even take him home" before charging her with neglect.
"I may not be a mother anymore," she added, "but I can still find my purpose."
According to a Grand Island Independent report, Sabata was wearing the same clothes in the video as she was at the time of her arrest, and the outfit she was wearing in both instances matches the outfit worn by the female bank robber seen on surveillance cameras.
Sabata had said in the YouTube video's description that she planned to use the money to pay off college financial aid and go on a shopping spree, but that plan is almost surely derailed by now. Sabata currently remains in the York County Jail (Neb.) where she awaits trial.
Photo via Hannah Sabata/YouTube