The photograph Bill Stoneham's parents took of him when he was 5 years old wasn't worth a thousand words. It was worth a million nightmares.
At the time, Stoneham's father was in advertising and did quite a bit of traveling. The family was staying at his grandmother's apartment in Chicago to save money. The place was so small, Stoneham was forced to sleep on a mat in a closet filled with dresses, coats, and hats. 
"It was like not being in a room at all," Stoneham told the Daily Dot. "It was like being an article of clothing."
Stoneham regularly played outside with one of the girls from the neighborhood. During one of these occasions, his parents had both kids pose in front of a glass door for a photograph. They couldn't have known that, two decades later, Stoneham would transform the mundane childhood photo into a terrifying painting that has become the stuff of Internet legend. 
It is called "The Hands Resist Him," and since Stoneham finished the work in 1974, three people associated with it have died. Countless followers of 4chan's paranormal portal /x/, Reddit's r/creepy, Encyclopedia Dramatica's creepypasta wiki, and other corners of the Web devoted to the unsettling and unexplainable truly believe the painting is haunted.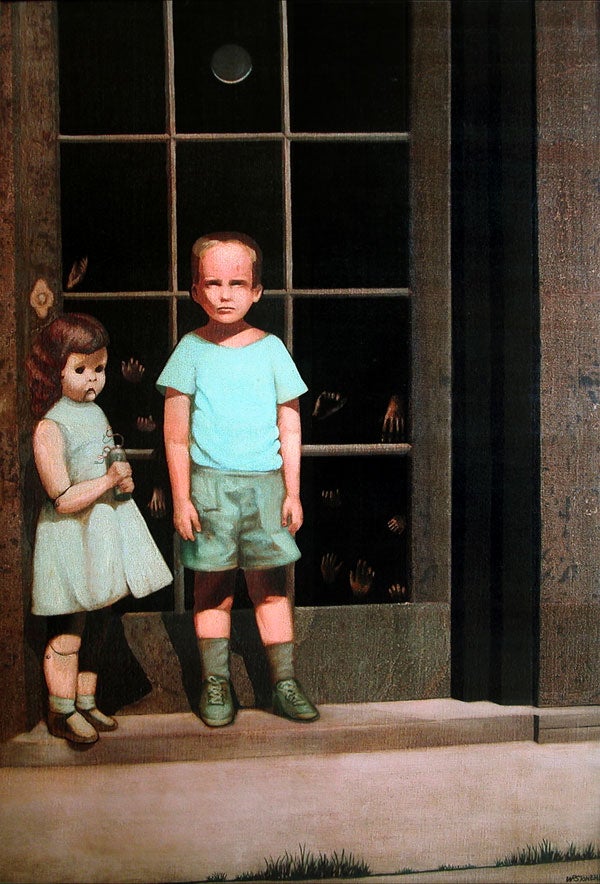 "I still refuse to look at/study this picture more than like, five seconds," jupiknight wrote on Reddit on Aug. 23. "It creeps me the f**k out."
"I actually purchased a print of this painting from his website. I put in on display in my living room and man that thing made everyone who saw it uncomfortable," snoos_my_dog added. "People actually would stop coming over because of it. I ended up taking it down due to popular demand, and now its under a cloth in my jampad."
This is the story of how "The Hands Resist Him" went from a photograph of an innocent childhood moment to an image that haunts the Internet's collective nightmares. 
The year was 1972, and Stoneham's first wife Rhoann had just penned a poem called "Hands Resist Him." It was about Stoneham's experience of being adopted and never knowing his biological siblings. At the time, the couple lived in California. Stoneham was under contract with gallery owner Charles Feingarten to produce two paintings a month, for a fee of $200 each.
With his next deadline looming, Stoneham seized upon his wife's poem and that 20-year-old photo from Chicago for inspiration.
"The hands were all of the possibilities," Stoneham explained. "You were left with the question, 'Are these disembodied hands? Are they dismembered, floating there in space? Or are they connected to bodies?'"
Stoneham wrapped up his contract in 1974 with a large gallery show put on by Feingarten. There, "The Hands Resist Him" was purchased by actor John Marley, famous for his role as the movie producer in The Godfather—the character most people remember for a scene where he wakes up to find a severed horse's head in his bed. 
That gallery show also led to the painting's first press mention: a review in the Los Angeles Times by noted art critic Henry Seldis. 
Between 1978 and 1984, three of the men closest to "The Hands Resist Him" died: Seldis in 1978, Feingarten in 1981, and Marley in 1984—although he actually sold the painting before he passed.
It would be another 26 years before Stoneham heard of his painting again. Unbeknownst to him, it had been abandoned behind a California brewery turned art space.
In 2000, the painting resurfaced in a listing on eBay. The family selling it wrote a horror story of a product description that reads like something out of a bad Stephen King knockoff: 
"WHEN WE RECEIVED THIS PAINTING, WE THOUGHT IT WAS REALLY GOOD ART," the eBay seller wrote. 
"AT THE TIME WE WONDERED A LITTLE WHY A SEEMINGLY PERFECTLY FINE PAINTING WOULD BE DISCARDED LIKE THAT. ( TODAY WE DON'T !!! ) ONE MORNING OUR 4 AND 1/2 YEAR OLD DAUGHTER CLAIMED, THAT THE CHILDREN IN THE PICTURE WERE FIGHTING, AND COMING INTO THE ROOM DURING THE NIGHT."
The father of this young girl set up a motion-sensitive camera in her room to show his daughter there was nothing to be afraid of. Instead, he saw the boy crawl from the painting. 
"The last two pictures purport to show the doll coming to life and using a 'gun' held in her hand to force the boy to leave the painting," the BBC reported in 2002.
These details proved to be a huge draw for buyers. The eBay listing was viewed more than 30,000 times. Some of these viewers even complained to the seller about experiencing supernatural occurrences after merely visiting the listing.
"One reported hearing an exorcist-type voice, along with a blast of hot air," the Spokane (Wash.) Spokesman-Review reported. 
"Another reported that he became ill while viewing the painting and had to burn white sage to cleanse his house afterward. Another reported 'blackout/mind control experiences.'"
By the time the painting was sold to gallery owner Kim Smith for $1,025, its legend had spread across the Internet.  A month after the eBay auction ended, Smith spoke with paranormal website surfingtheapocalypse.com about life after purchasing what had become known as "the haunted eBay painting."
"I wish I could report a bizarre happening or mind possession type of thing, but the unusual things started happening with the first email and counting," Smith said in 2000. "Prayers and quotes from the scriptures from a man of faith. Advice as how to cleanse my residence of this evil thing from a Native American Shaman in Mississippi. Reports of people being repulsed, made physically ill, or suffering from a black out/mind control experiences."
Today, the painting rests in a storage pocket in Smith's gallery in Grand Rapids, Mich.
Documentary filmmaker Gregg Gibbs has been in Grand Rapids since Tuesday, filming a documentary on the history of the painting. A feature film by director Darren Kyle O'Neill is also in the works, but the status of the project is unclear.
Smith, now 61,  has only been asked to show the painting six times. One of the most memorable occasions was in 2007, when about a dozen men, ranging in age from 14 to 60, came in to see it.
"Twenty seconds passed, and just silence," Smith said. "And then someone said, 'that's creepy.'"
Smith recently received a low six-figure offer for the painting, but turned it down.
"Nothing has ever been to the point where I consider serious," he said. "It's kind of got it's own mystique that's growing here."
To this day, Stoneham, 67, still receives a handful of messages each week from people terrified by "the haunted eBay painting."
"We live in an age of science of revelation and hard realities and hard facts, but we are still drawn to the mysterious," Stoneham said. "And what is more mysterious than paintings? More than any other object, paintings are a one-of-a-kind thing created by someone using their hands."
And sometimes, those hands create something that terrifies people for decades.
Photo via Bill Stoneham