Google Doodles have become well-planned events celebrating important issues, and the company's received a lot of praise for their themes, which often tie into pop culture or the birthdays of historical figures. But SPARK, a group of young activists working to change the representation of women in media, thinks the Doodles could use more women.
In a blog posted today, Celeste Montaño references the Google Doodle of author Zora Neale Hurston back in January, and the dialogue and excitement that surrounded it. She posits that this buzz came from the fact that Google featured a woman of color in their Doodle, which is not very common. The appearance of Harriet Tubman in honor of Black History Month furthered the debate about the importance of women and people of color being featured on the homepage.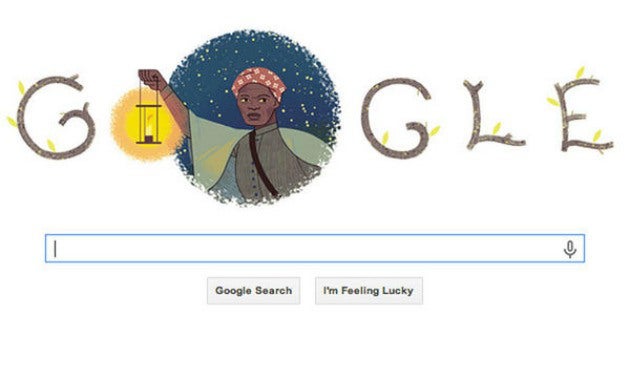 Last fall, members of SPARK started combing through the numbers from 2010, when Google Doodles first started appearing, to 2013. This resulting pie chart, released today, shows the disparity. (They discuss what "uncertain" means here.)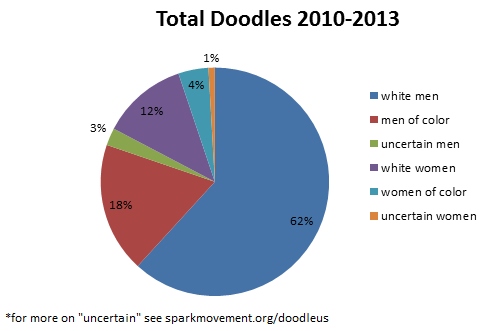 Educator Ann M. Martin has been working on similar research on the Speaking Up blog, which she started in 2011 with an open letter to Google. She highlights women featured in Google Doodles, and suggests notable women who should be. Here's writer Shelby Knox's list of the men honored on the homepage in 2012, versus women. SPARK's research ties in with another set of data released this week: VIDA's count of women's bylines in literary publications. 
The good news: 2013 had a much higher number of women featured in Doodles, and in the first two months of 2014 alone, 11 women have been included. Ryan Germick, Google Doodle's team lead, told the Wall Street Journal they've acknowledged the problem, and have taken strides in 2014 to close the gap:
"Women have historically been underrepresented in almost all fields: science, school curricula, business, politics — and, sadly, doodles."
To nudge the company along, there's also a Change.org petition asking Google to keep up the public commitment about diversity, and the hashtag, #doodleus, to keep the conversation going.
Screengrab via SPARKsummit/YouTube