As if dodging land mines overseas isn't enough stress, one U.S. soldier almost had to worry about never seeing his beloved pet again. His girlfriend sold the dog on Craigslist while he was deployed.
But luckily, the social power of the Internet kicked in to make his search to be reunited with his dog a viral success.
Friends and family of Colorado Army Specialist Robert Gabbert turned to the power of the Internet and local media for help after a local family bought Gabbert's Shiba Inu, Baxter, and refused to give it back.
Local news outlet KOAA reported that the family initially rejected at least $1,400 in reward money, as well as an offer from the Colorado Shiba Inu Rescue Society to help them find a new dog if they would just give Gabbert back his.
The family claimed that they bought Baxter fair and square off of Craigslist while Robby was deployed in Afghanistan.
In March, Gabbert made plans to have Baxter delivered to his parents' house in Ohio while he was overseas, because his girlfriend was having trouble taking care of the dog in his absence.
Instead, when Baxter never made it to Gabbert's parents, they discovered that not only had his girlfriend sold the dog on Craigslist without consulting him, but she had no idea to whom she'd sold the dog.
In order to locate the family to whom Gabbert's girlfriend—now his ex-girlfriend—had sold the dog, Gabberts' friends and family put up missing pet flyers around the Fort Carson, Colo., area where Gabbert lives. Their search went viral, and a Facebook page made by Gabbert's supporters, Help Bring Baxter Home!, had over 2000 followers before it was deleted earlier this week.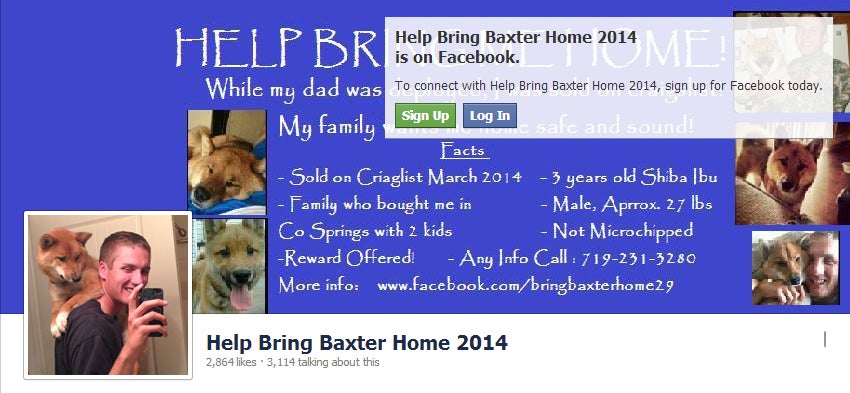 After realizing that Gabbert was searching for his dog, the family contacted him to let him know the dog was safe. But they initially wouldn't give Baxter back to his original owner because they said they had children who would miss him.
To that, Gabbert's mother, Karen Fraley, insisted, "My child's attached to the dog! Just because he's older doesn't mean he's not my child."
Gabbert is still overseas for the next six months, but in the meantime, his viral search has gotten even more popular, as more and more media outlets converge on the family.
It was all apparently enough to persuade the family to give Baxter back: Gabbert now claims the recalcitrant family has returned the dog to him and his family at last.
Praise the lord and pass the Purina.
Screengrab via KOAA