Chicago Police Department is investigating the gang-rape of a 15-year-old girl that was broadcast on Facebook Live sometime before Monday. According to authorities via the Associated Press, five or six males sexually assaulted the girl as an estimated 40 people watched the stream, none of whom reported the attack to police.
Police learned of the attack when the girl's mother contacted police Superintendent Eddie Johnson on Monday afternoon, according to a police spokesperson. The mother told Johnson that her daughter had been missing Sunday, and showed him a screenshot from the Facebook Live stream.
Johnson immediately ordered an investigation, and the department asked Facebook to take down the video, which it did. Earlier Tuesday, the police spokesperson announced that the girl was found and reunited with her family, and that the department is conducting interviews.
According to the AP, this case is the second time the department has investigated a Facebook Live-streamed attack this year, the first being a group of four people who taunted and beat a man with a mental disability in January.
Johnson told a local news station that he found the video disturbing, as well as the fact that so many people witnessed the attack but didn't call 911. Facebook does provide a way for live video viewers to report inappropriate content, but advises contacting law enforcement if someone is in danger.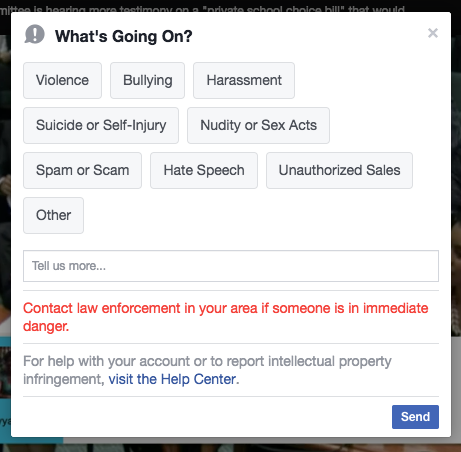 Update 1:50pm CT, Jan. 12: According to NPR, the two teenagers pleaded guilty to child pornography charges in November and have now been sentenced to five years' probation and have to register as sex offenders as part of a plea deal. Prosecutors originally sought prison sentences in juvenile facilities, but the judge decided that a decade on the sex offender registry "would have more repercussions than jail time." Charges are pending against a third teen boy.
"[S]he said the sexual assault 'has very traumatically altered my life…' The teen said she lost longtime friends, with some even sending her threats through social media," a prosecutor read a statement from the girl during the hearing. "'The worst part of this is being able to Google my name and seeing everything that happened to me,' she wrote."